Keurig 550 2.0 Product Review
My husband and I have hosted a church group in our home one night per week for the past few years. It's really just a group of friends hanging out, sipping coffee, talking about the recent sermon, and how little sleep we all get with the dozen or so small children we are all raising together.
Each week, we trade off who brings snacks and dessert, but as the hosts, we always supply the coffee.
We're serious about coffee. You have to be with so many sleep deprived parents coming to your house. If there is going to be any coherent conversation, there must be coffee to fuel it.
The last couple of months, we've been using a Keurig 550 2.0 during our Tuesday night group. It's been a great addition to the weekly gathering.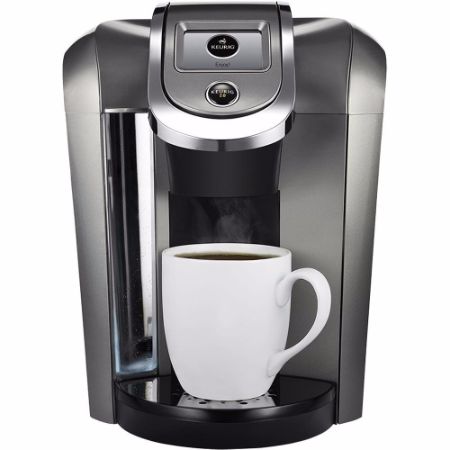 Each person can brew whatever they like, which is a fabulous feature. Some like their cups stronger, some weaker, some want to skip caffeine altogether, and some want a little flavor. As the hostess, I really like the opportunity to give my guests options without a ton of extra work on my part.
What I really like about the Keurig 550 2.0, is that it also comes with a carafe. I have the option to brew a pot of coffee and bring it to the living room where we can refill while we chat and not break up the party to fill our cups.
The Keurig 2.0 K550 brewing system is the first Keurig system that allows you to brew a 4-cup carafe with the same ease and convenience of brewing a single-serve cup — all at the touch of a button. It's so smart, and so simple! The brewer has other great features including an extra large 80 ounce Water Reservoir, 2.8 inch color Touch Display, programmable clock, an auto brew option, and a strength control setting for brewing bolder coffee. There's even a separate setting for hot cocoa and other specialty beverages like lattes and mochas. The K550 model also has a customizable night light in the Water Reservoir and offers hot water on demand.
The sleek design definitely compliments our decor and makes for a very classy addition to our dining room. The instructions are easy to follow and very intuitive for guests as they make their personal selections.
My one negative about this model is that it does not take every type of K-cup. You have to look for brands that say complatible with Keurig 2.0. We ran out of decaf, and I asked a friend to bring some over. We were unable to brew with her K-Cups because they were not Keurig 2.0 compatible. Not that big of a deal, but I would have been frustrated if I purchased K-Cups at the store without knowing to look for Keurig 2.0 compatiblity.
All in all, I'm very pleased with Keurig 550 2.0 and love having it to serve my guests.