Key Lime Cove – A Splash-tastic Good Time
A couple weeks ago my family took a trip to Six Flags Great America to take advantage of the beautiful Chicago weekend we had.  To turn the weekend into an "event" for the kids, we booked a room across the street at the waterpark resort Key Lime Cove.  Key Lime Cove is an indoor waterpark resort located in Gurnee, IL (just north of Chicago) that is open year round and packed with kid-friendly activities to keep the kids active and happy the entire stay.

ARRIVAL
When I checked in at the front desk of the hotel, the staff was friendly and the process was quick and easy. I was given a wrist band for each person in my family which not only gave us access to the waterpark but worked as our hotel room key as well. A hotel crib was offered for the 2 year old but I declined as I usually bring my own. I was given a "Passport to Paradise" brochure that explained all the amenities at the resort, asked if I had any questions and sent on my way to my room within 5 minutes.
ROOMS
I loved the colorful hallways that were not only cheery but reminded me that we were on a mini-vacation!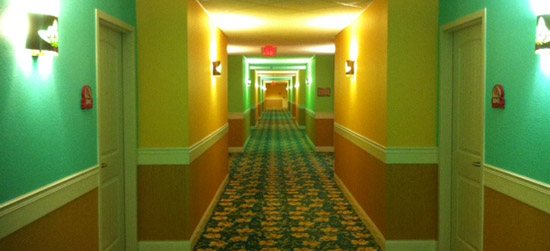 When we arrived at our room, I was pleasantly surprised at how clean everything was. Sparkling clean! We had a standard room with 2 queen beds, a pull-out couch, coffee table, small table and set of chairs, dresser, mini-fridge, tv and bathroom with bath/shower. The room was a perfect size for my family of 5 with sleeping areas for everyone since the couch pulled out to a bed. If I returned though I would probably book the "Mangrove Suite" which comes with an added room with sliding door so that parents can watch tv or chat while the kids are sleeping.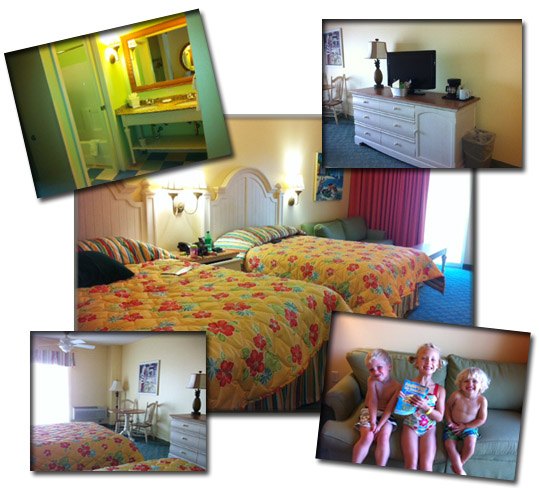 COMMON AREAS
After checking out the room, we headed to Duval Street in the hotel. The entire resort is made to constantly remind you that you are on vacation while visiting. Duval Street is right off the front desk area and is so fun! Don't be surprised if you see balloon artists, stilt-walkers, Scooby-Doo and other fun characters in this carnival-type area. My guess is that Key Lime's Duval Street was designed to look like a kid-version of Duval Street in Key West, FL. It's very island-inspired!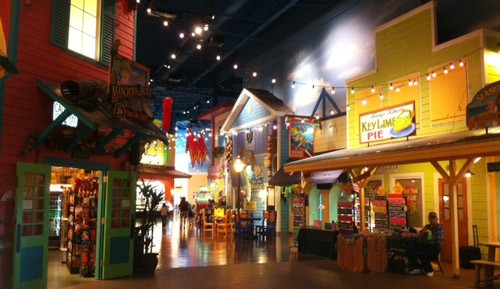 There are gift shops, a yummy candy bar/shoppe (that is hard to resist) and the "Pet Palace" where you can buy and stuff stuffed animals similar to Build-a-Bear.
WATERPARK
The highlight for the kids of the entire stay was, of course, the indoor waterpark. This IS the reason to visit this resort. With the cold, brutal winters of Chicago, Key Lime Cove offers a year-round indoor waterpark that allows you to escape to the water for a while with the kids. From the time we pulled into the parking lot, the kids couldn't wait to get their suits on and hit the waterpark. While it's advertised to be Chicagoland's largest indoor waterpark, I don't know of another indoor waterpark in IL that exists. Nonetheless this one is pretty awesome! It has 12 waterslides, a wave pool, lazy river and a giant interactive play structure!
We are not new to indoor waterparks (not much else to do in the winter in the Midwest!), so I was pleasantly surprised by the temperature of the waterpark area. Not too hot and not too cold. We have been to other indoor waterparks that are excrutiatingly hot inside for parents sitting on the sidelines. Not Key Lime Cove. I am told it is always 82 degrees but whatever temp it was – it seemed just right. Warm enough not to give the kids a chill in the water but cool enough not to have me sweating buckets in my chair.
My kids are young (2, 4, and 6) so we skipped the big waterslides and headed right to the giant water play structure. My kids could have spent days on that water playground climbing, spraying and sliding. The play structure has plenty of pint-sized slides, rope ladder-type things and water sprays that they could spray others with. The highlight for the older kids was the giant pinapple drink at the top that dumps tons of water all over the structure every few minutes. Since my 2 year old was not a fan of this water dump, I was happy there was a faint bell to warn of the dump just before it happened. Note: You really have to listen for the bell because it is very quiet!
This play structure was perfect for all three of my kids since the water was very shallow even perfect for my non-swimming 2 year old. For those kids who cannot swim, Key Lime offers life jackets to borrow.
If you can manage to drag your kids away from the water play structure, you will find a large wave pool complete with inner tubes to ride the waves or head for the lazy river. You won't find huge waves like at the outdoor Florida waterparks but it didn't seem to bother my kids. In front of the wave pool are rows of island chairs for parents and grandparents to rest or enjoy a drink from the Sand Bar or bite to eat from Sharky's Big Bites.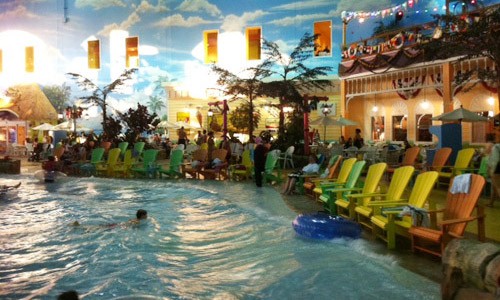 On the other side of the wave pool (opposite side from the giant water structure) is the Lil' Limers Play Pond. This area is complete with two little waterslides perfect for toddlers and young children. This area is gated so that toddlers can't run out to the large pool and complete with more chairs for people on the sidelines. While my 4 and 6 year old were obsessed with the water play structure, my 2 year old's favorite area was the Play Pond. It was just his size.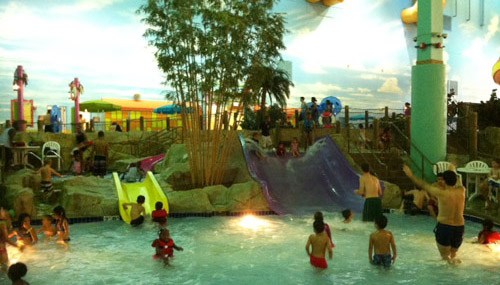 The waterpark also has restrooms, lockers and showers which are important if you plan to take advantage of the waterpark the day you checkout. Even after your 11am checkout, Key Lime Cove allows you to use their waterpark the entire day.
FOOD
After dragging the kids away from the waterpark and getting cleaned up, we headed to find something to eat. Our choices were The Crazy Toucan Margarita Grille, Anna Chovy's Pizzeria and Hot Diggety Dawg's D.W. Anderson's Eatery and Ice Cream Parlor. While the Pizzeria was more a walk-up and grab a slice kind of place and D.W. had a buffet, we opted for the Margarita Grille. The menu had everything we like – burgers, nachos, drinks and a kid's menu.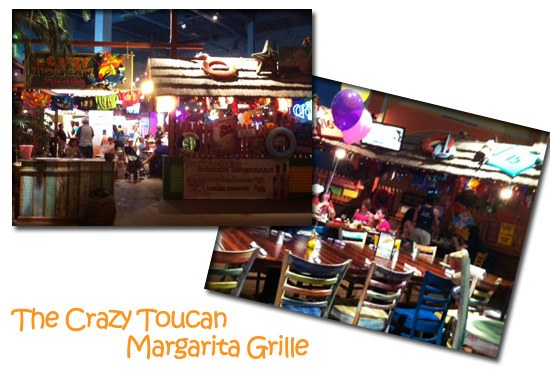 The Crazy Toucan Margarita Grille
At 7pm on a Saturday night, I was happy that we only waited 10 minutes for a table. The host staff was very friendly and informative. My only complaint would be if there is a long wait, there is no pager system or intercom. You just stand there and wait. Since this is a kid-friendly resort, I would like to see them offer pagers to people waiting for a table so that they can explore the resort such as the arcade with the kids while waiting.
The inside of the restaurant was super fun in a "Cheeseburger in Paradise" kind-of way! I loved that there were TVs hanging throughout that not only had sports for the dads but cartoons for the kids. Monsters Inc. was playing on one TV which was a life-saver for 3 antsy kids waiting for their meals.
Our waitress was super friendly but unfortunately a little slow. While our order was taken quickly, I felt like we waited longer than usual for our meals and drink refills and even longer for the check at the end. Having a family with three small kids wait for a check can be a disaster!
We ordered nachos, burgers, and mac & cheese for the kids. All our meals were very tasty with even the kids cleaning their plates. Overall, even with the slower than normal service, the food quality and atmosphere made up for it.
ARCADE
Besides the waterpark, the next biggest hit of the resort for the kids was the huge arcade. It is stocked with all types of games from skee-ball to car racing games to those Dance Dance Revolution games. All the games took credits that you add to a card when you walk in so there are no coins to deal with. It reminded me of a smaller version of Dave & Busters. Many of the games award the player with tickets that they can turn in for trinkets at the end just like a Chuck E. Cheese.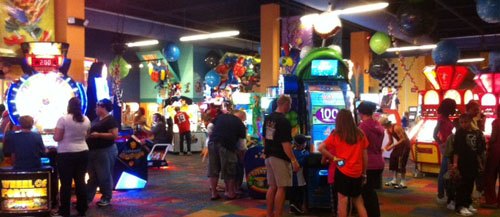 Not only are there games in the arcade but there was an improptu Dance Party for the kids that happened when we were there. Scooby-Doo and a man on stilts set-up a boom box and the party began.  It was the only thing that would drag my daughter away from the dreaded claw games.  Damn you, claw games!!! (See my hate for claw games HERE.)
OTHER RESORT AREA
While we only visited one night, there were other resort amenities that we did not take advantage of. Leapin' Lizards is a family center with art supplies, funky crafts, games and toys for kids and parents to do together. They offer scheduled activities in this area every day.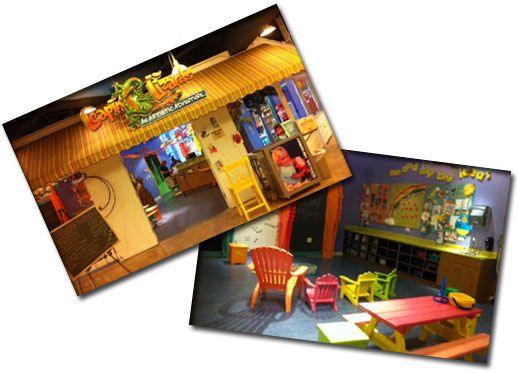 If a spa is your thing, they have that too. You can even do a Mommy & Me spa experience to get your daughter hooked early. The Paradise Mist Spa offers massages, body scrubs, facials, manicures and pedicures. There is even a Kids Spa that offers manicures, pedicures, colorful hair extensions, sea-glitz make-up and make-your-own lotions, sugar scrubs and lip gloss. This is sure to be an area that my daughter will want to visit during our next trip.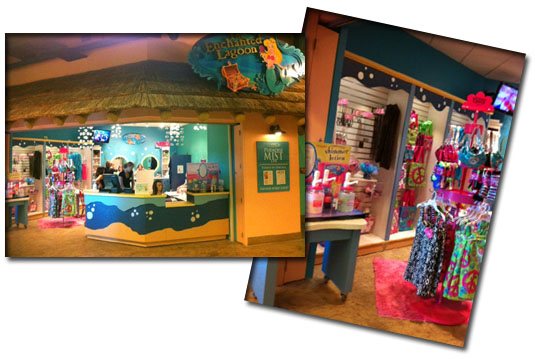 Overall, we have a fabulous time at Key Lime Cove. Some would say it was Splash-tastic! Yes, they use words like "splash-tastic" and "splash-tacular" at Key Lime Cove! If you are in the Chicago area and you are looking for a fun indoor experience from a fabulous resort, I highly recommend checking out Key Lime Cove. My kids are begging to go back!