Kids Kitchen Helper Safety Tower Product Review
A few months ago, my nearly two-year-old twin boys became very interested in what I was doing in the kitchen. As I'd try to prepare meals, they'd whine, grab my leg, or tug at my shirt—anything to get me to pick them up. I'd end up struggling to mix or knead or stir one-handed while balancing a toddler on the opposite hip.
Then I bought something that solved this problem—One Step Ahead's Kids Kitchen Helper Safety Tower. Like the popular Learning Tower by Little Partners Inc., the Safety Tower is a sturdy wooden platform with railings on all four sides to safely bring kids up to counter top height. It is made of solid birch wood in either a cherry or white finish and has steel hardware and stabilizing feet to keep it from tipping. And it is super easy to assemble—my hubby and I did it in less than 15 minutes.
Now while I am cooking, my boys can get up close to the action. While they are still too young to really help me, they love to stand next to me at the counter and pretend to mix with a plastic spoon and bowl, sample little bites of veggies and fruits as I chop, or just watch me as I cook. When they are older, they'll actually be able to assist with meal preparation!
Now, let's compare the two towers – Kids Kitchen Helper Safety Tower vs. Learning Tower. We'll start with the similarities:
With both towers, the platform on which your child stands can be adjusted to different heights. The Safety Tower has three heights, while the Learning Tower has four.
Both towers can fit right up against your kitchen counter.
Kids can easily climb in and out of both towers.
Both towers are very large. The Safety Tower is 20" long x 17 ¼" wide x 37" high, just slightly smaller than the Learning Tower. But the Safety Tower has a built-in solution to this problem: See the first difference below!
Differences between the two towers:
The Safety Tower folds up! This was a major selling point for me because I have a narrow kitchen. Once my boys are finished using the tower, I can quickly fold it up in two simple steps and tuck it away for storage. It folds to only 7" thick—a major space saver! And at 24 pounds, it is very easy for me to move. The Learning Tower does not fold up, so if you've got a smaller kitchen like mine, it would probably get in the way often.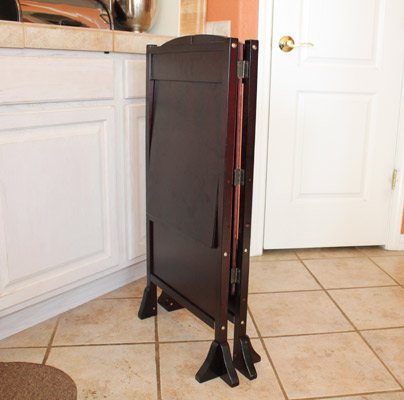 The weight limit for the Safety Tower is 125 pounds, while the Learning Tower has been tested to hold up to 500 pounds. This doesn't seem like a big deal, because by the time kids reach 125 pounds, they generally won't be using a kitchen tower.
The Safety Tower was designed for use by one child, while the Learning Tower can hold two children. This has not been an issue for me as of yet, but if my boys ever start fighting over the tower, I may need to buy another one. And that's OK, because…
The Safety Tower is significantly cheaper than the Learning Tower. It is priced between $119.96 and $149.95 at One Step Ahead, while the Learning Tower retails for $199.99.
The Learning Tower can be used as more than just a kitchen helper. You can purchase playhouse kits to transform it into a puppet theater and a lemonade/ice cream stand, and another accessory that can turn it into an art easel. While those are pretty cool functions, the additions are pretty costly: The playhouse kits cost $39.99 and the easel attachment costs $49.99. If I want another use for my Safety Tower, I can just throw an old sheet over it and turn it into a fort!
The towers have different age minimums. The Learning Tower is manufacturer-rated for kids as young as 18 months, while the minimum age listed for the Safety Tower is 3. However, my boys can reach the counter very easily with the Safety Tower's platform on the middle height (15" from the ground), and can easily climb in and out of it. Until they are older, though, I'll be sure to supervise them extra closely when they're using the tower, and to fold it up and put it away when I am not in the kitchen.
All in all, both towers have their perks. If you have a large kitchen, have some extra money to spend, and want a tower that's more versatile and can hold two children, go with the Learning Tower. But if you have a smaller kitchen, need a tower you can fold up and store, and want to save some money, go for the Safety Tower. You can't go wrong with either one of them!