I've found the perfect solution for when we eat out, travel, or I've neglected the laundry. Kipiis Bib Clips.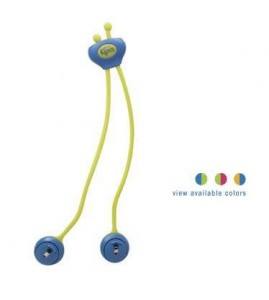 Kipiis ("Kip-eez") Bib Clips let you make anything a bib— napkin, cloth diaper, kitchen towel. Just clip the two rounded fasteners onto whatever's handy, adjust the back—and voilà! Your child is covered. Our Bib Clips are designed with your flexible lifestyle in mind. They make a smart addition to your diaper bag, glove box, kitchen drawer, or pocket.
We like to eat out and if I bring a cloth bib, I need to bring a bag (which is one more thing to remember, er… forget) or I'll end up with mush all over the inside of my diaper bag. I like to be as eco-friendly as possibly so I try to avoid disposable bibs. Kipiis to the rescue! They have saved me more times than I can count on two hands.
The Kipiis Bib Clips are super compact; I keep one in my diaper bag and one in the car at all times. Adjusting the fit is customizable and simple with the back adjuster which slides up and down on the two straps. I've found it's best to slide the clip to the largest adjustment position, clip the napkin, place over the child's head then slide the back adjuster to fit. That way you're not fighting with a hungry child to clip the napkin and if your little one is anything like mine, once he sees you put the napkin in the clip, he will know he can take the napkin out of the clip. Plus, having it on your child before adjusting the size kind of gives you some leverage with the back adjuster. It's not hard to adjust but it's not slippery either.
The clips are made of ABS resin for durability and colorfastness and after having ours for two years, they still look practically new. The straps are a soft, flexible thermoplastic rubber which allows it to have that customizable fit and it wont irritate your child's neck.
When fully extended, the two straps (including the clips) measure 9-3/8″ which easily fits a small child up to an adult. It's sized to meet safety standards but I wouldn't suggest leaving your child unattended with one.
Here's the Kipiis on my 1-year-old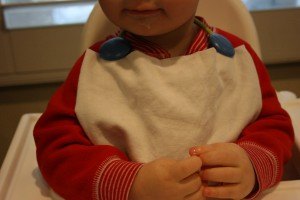 Here's the Kipiis on my 3-year-old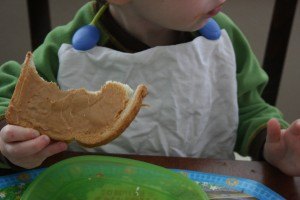 I could use it on my 8-year-old but I won't subject him to the embarrassment (unless he's eating lobster).
It rarely gets dirty but if it does, or if your child decides to chew on the clips, it's really easy to clean. You can wipe it clean with a napkin, baby wipe or even toss it in the dishwasher (top rack only).
My only complaint (and I wouldn't really call it a complaint) is that the clips don't open wide enough for a thicker towel or napkin. Again, not really a complaint considering I'd rather not worry about my kids pinching their little fingers.
SHOP Kipiis Bib Clips here on Amazon.com or here on Magic Beans