As my twin boys get bigger, their toys get smaller. Play tables, stuffed animals, and activity gyms have given way to Mega Bloks, Little People, and Matchbox cars. In a couple of years, the toys will shrink down even more to things like Legos, action figures, and plastic Army men. These tiny toys have a tendency to get strewn all over the place, making cleanup a nightmare.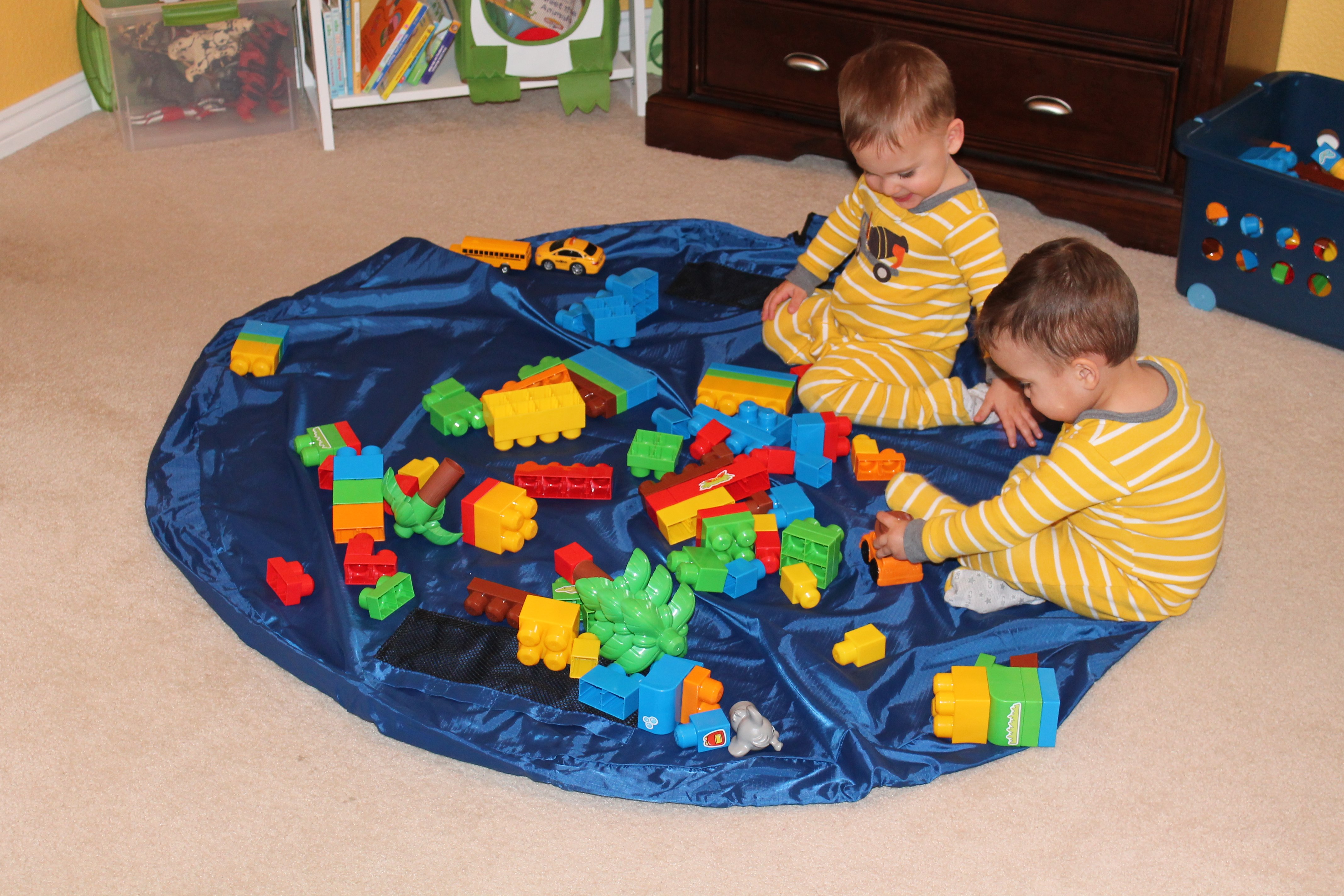 Luckily, my friend Stephanie alerted me to a great solution to this problem! She emailed me and told me I just had to review an innovative organizational item called the Lay-N-Go. It's an activity mat, cleanup/storage solution, and carry bag all in one. And from here on out, it's totally going to make my life easier!
The concept is simple: You spread the Lay-N-Go out on the floor. Your kids play with their little toys on it. When playtime is over, you pull the drawstring and, in a matter of seconds, the Lay-N-Go folds up over the toys and becomes a completely sealed storage bag! You can then use the wide nylon shoulder strap to easily carry the bag from room to room or for traveling.
We tried out the Lay-N-Go in our boys' room while playing with their Mega Bloks and little cars. (We like to build big structures with "garages" and tunnels for the cars.) I did have a few concerns about it. For one, I was worried the boys wouldn't want to be confined to the mat, since they typically like to spread their toys out throughout the room. But to my delight, they were actually thrilled to play on the mat! It was a fun treat for them to be on a different surface. Plus, with a 5-foot diameter, the Lay-N-Go covers a lot of ground. For once, the boys' blocks stayed in one area!
I also worried that it might be tricky to pull the Lay-N-Go together. When it came time to close it up, I had my husband stand on the other side of it because I thought he'd have to fold it up as I pulled the drawstring. Boy, was I wrong. As soon as I started pulling the string, the whole thing began to magically close up around the toys. Then, all we had to do was slide the cord lock down to seal it closed.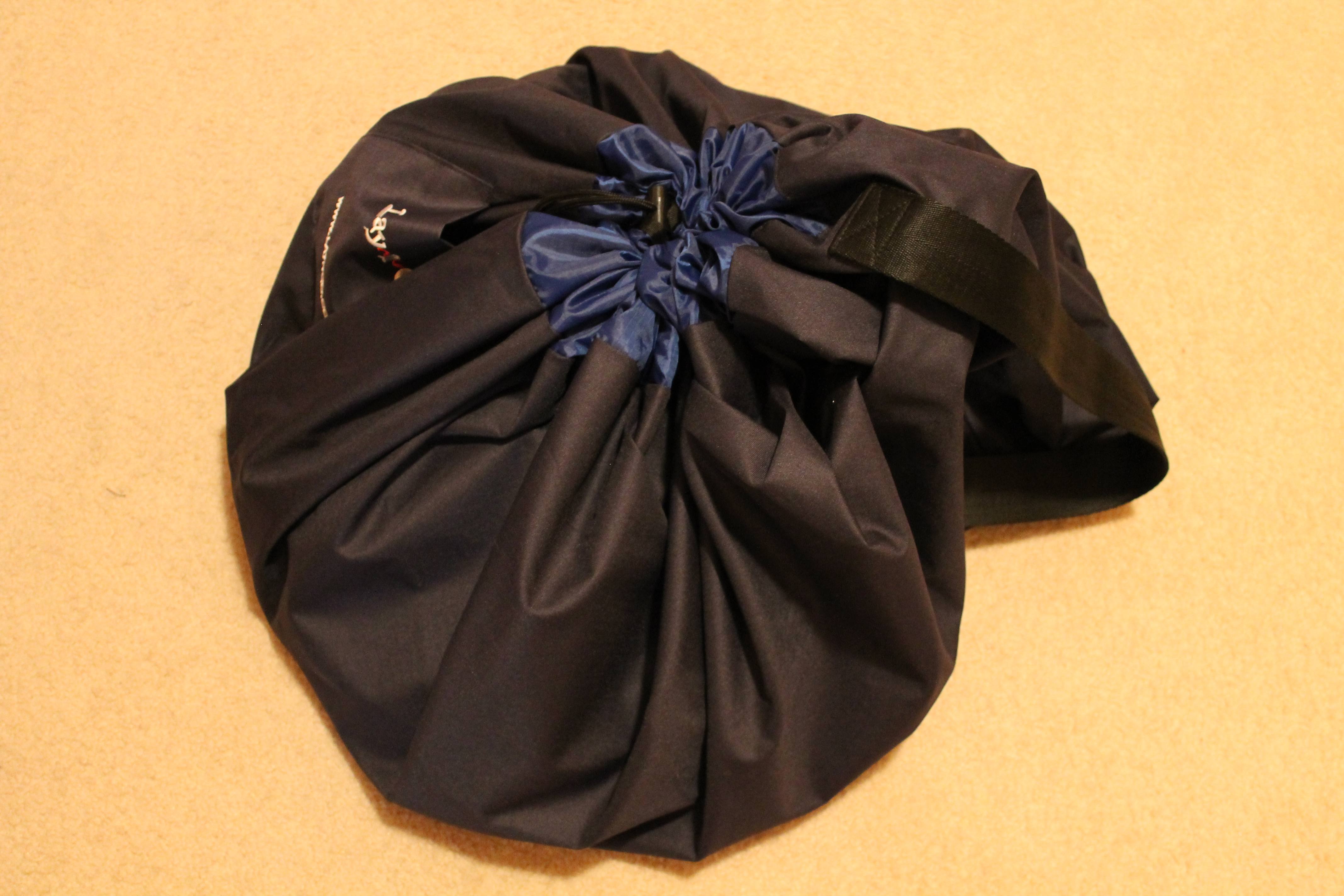 "This is ingenious!" my husband exclaimed as I shoved the Lay-N-Go into the boys' closet.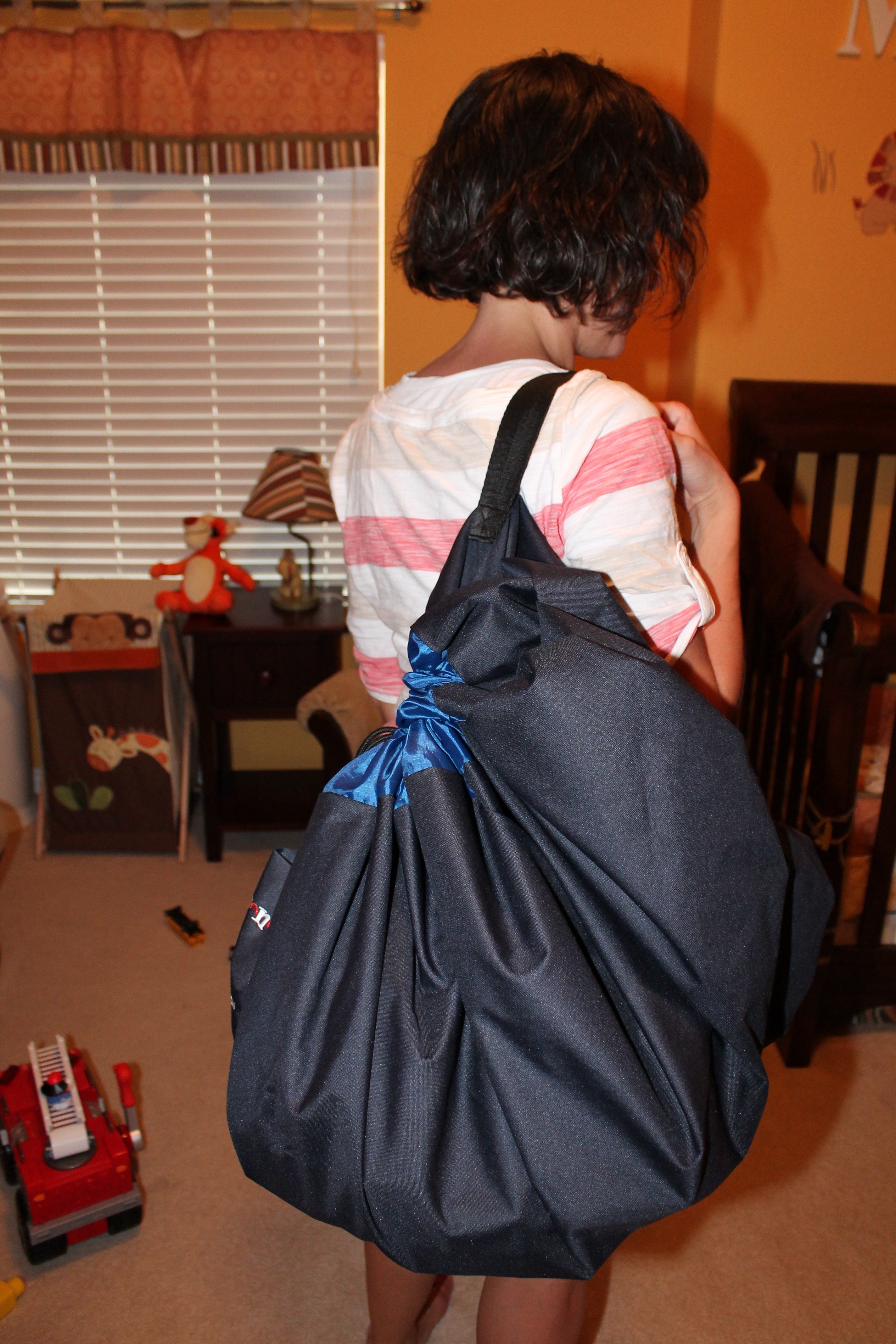 Seriously, it is ingenious. While evening cleanup usually takes us several minutes and subjects us to a great deal of whining and screaming as we try to wrangle the boys to put their toys away, the Lay-N-Go allowed us to clean up in a matter of seconds.
The Lay-N-Go comes in blue, green, or pink and retails for $64.95. The nylon lining is durable, comfortable to play on, and has a water-repellant surface that's easy to wipe clean. It is also lead-free and pthalate-free. There are four mesh 7″-by-6″ pockets on the play side in which to store favorite toys so kids can find them more easily when you open it back up. A velcroed storage pocket on the front contains the drawstring when carrying the bag.
There are also two smaller Lay-N-Go products—the Lay-N-Go Lite and the Lay-N-Go Cosmo. Retailing for $24.95, the Lay-N-Go Lite is an 18-inch version of the Lay-N-Go that's meant to be used when traveling. But we are totally going to use our full-size Lay-N-Go during our upcoming move from Colorado to California. We can't believe how easy it's going to be to transport all the boys' little toys from hotel to hotel, and then to clean up the hotel rooms!
The 20-inch Lay-N-Go Cosmo is meant for cosmetics. It comes in black for $29.95, and in silver or gold for $34.95. Since I don't use a lot of cosmetics I am satisfied with my regular makeup bag. But if you tend to travel with lots of makeup, brushes, and creams, I can definitely see how it can come in handy!
The Lay-N-Go has been featured on Fox News, MSNBC, and in countless other media outlets. It's also won several awards, including the Mom's Choice Award and the Toy Man Award of Excellence. To learn more and/or to purchase a Lay-N-Go, visit layngo.com.
*Disclosure: Thanks to Lay-N-Go for sending the product for our review. As always, all our thoughts, opinions and statements are our own.