Learn the Alphabet with the VTech Touch and Teach Turtle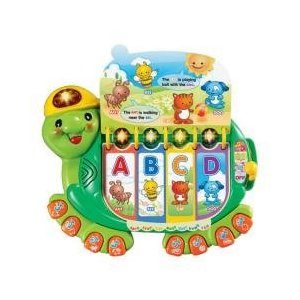 Forget your regular old cutesy turtle who walks slowly and hides in his shell, this is a turtle that can sing, read, teach the alphabet and dance. Okay, he can't dance, but he can do the rest.
We recently received the V-Tech Touch and Teach Turtle as a gift, and although my daughter isn't the biggest fan of it so far, I can see that there are plenty of benefits to this toy. Right now, she is too into building things, reading books or playing with Thomas the Tank Engine (what is it about this smiling train that kids love so much?) So it's tough to win her over.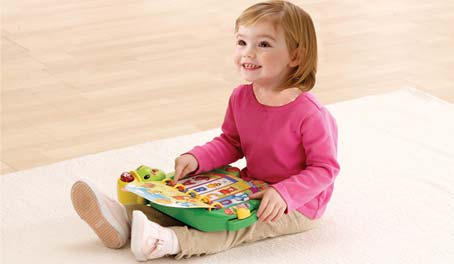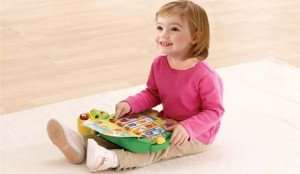 The Touch and Teach Turtle is like a book that talks and sings to you. Except guess what? You can't tear out the pages! Which is something my toddler seems to do a lot these days.
There are 8 pages for your child to turn, so 16 pages in total, with the letters of the alphabet and a corresponding object next to it on the bottom part of the book. The top pages have pictures of fun stories using those objects, and the last page introduces your child to the basic shapes. It has three modes: letter mode, story mode and music mode. Letter mode focuses on the alphabet and asks questions like "Can you find the letter H?" and even applauds your child when they do! Story mode goes through the picture on the top part of the page, and music mode is for party time. It plays sound effects and melodies that are enough to get that adorable toddler wiggle going.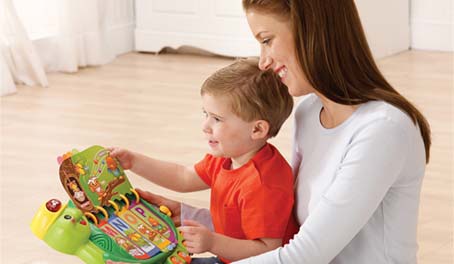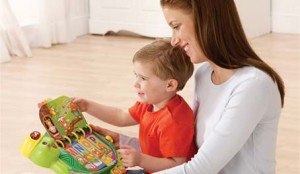 On the turtle's helmet there is a question button that when pressed, asks things like "Can you find the number four?" His feet are both numbers and objects that play sound effects. There is a lot going on with this turtle, and his flashing lights and engaging personality should have your child playing on it for a while. It has two volume levels and an off button, but I must say, even on the lower volume setting, it's still pretty loud. So even though this will toy will keep your toddler sitting still for a while, prepare for noise and lots of it. The handle makes it easily transportable and it comfortably sits on your toddler's lap.
The family that gave us this gift had one for their 2 year old son and he absolutely loved it. The Touch and Teach Turtle is recommended for ages 12 – 36 months, retails for $19.99 and requires 2 AA batteries which are included.