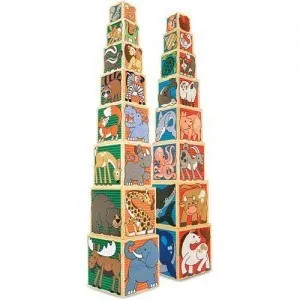 Melissa and Doug are well known for their entertaining and educational wooden toys, and our recent purchase of their Wooden Animal Nesting Blocks are just that. Colorful and bright, and with four different animal themes on each side of the block, you can help your child learn the names and sounds, while watching them stack these blocks on top of each other.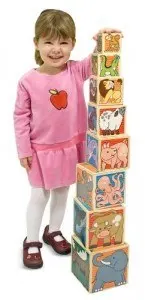 There are eight blocks which can be stacked or, because they are hollow with the bottom side of the block open, they can be put inside one another so they only take up the space of one block when it's time to tidy up. Each side shows a different animal from one of four habitats: sea creatures along with jungle, farmyard and forest animals.
They are very fun and have really helped my 17 month old daughter learn several animal sounds. She gets very excited when we pull these out to play, and so do I, because I know how much she loves animals- which toddler doesn't? Keep in mind that because they are made of wood they are a little heavy, so do be weary of a child throwing them at another child. The eight blocks stand at around 2 feet tall, and Melissa and Doug recommend that they be used by children aged 2 years and up.