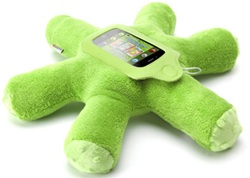 My kids are drawn to my iPhone like bees to honey!  If I'm not using my phone (or even if I am!), my 3 and 5 year old are begging to play games and listen to music on it.  And we all know, that kids that age (especially the 3 year old!) are not the most careful creatures on earth!  Plus, iPhones aren't cheap!  An iPhone can't withstand the multiple drops that are sure to happen in the hands of a child. 
So, what to do? Well, if you are me, in times of desperation to keep them quiet, you hand over your expensive phone hoping that won't be the last time that it works!  You hope they won't drop it…call 911…or email business associates a whole bunch of jibber jabber!  Well, we just found a great gizmo that can help you with one of the three!  You are on your own with the emailing and crank calls! 
We just discovered the Woogie!  The Woogie is a brand-new, huggable case and media player for iPod touch and iPhone.  The Woogie is a plush, huggable stuffed animal (not sure what animal – kind of like a 6 leg octopus!) that doubles as a protective case for your iPhone.  A protective pocket velcroes shut to hold your iPhone or iPod touch secure, while a touch-through screen protector lets you choose movies, apps, or music for your child. Plus, we love that the Woogie has a built-in speaker that is powered by 2 AAA batteries, or you can plug in headphones. And those six legs (or arms?) can be positioned to prop it up for viewing, or to sit comfortably in your child's lap.  All this fun AND it is protecting your iPhone!  Brilliant!! The Woogie retails for $19.99 and is available from the Griffin Website.
SHOP Woogie