This is a Sponsored post written by me on behalf of Dreams Resorts & Spas. All opinions are 100% mine.
I have always had a love of travel. Even when I started having kids 9 years ago, I didn't want my traveling days to end. I have wanted to take the kids to amazing places so that they can experience as much as they can. Luckily, I have a job that affords me the luxury to travel with the family. That's one of the reasons I added "travel" to Baby Gizmo years back. I wanted to help other parents make a smart Family travel decision when planning a trip with kids.
We are in the heart of winter in Chicago. A cold and snowy winter at that! What happens when it drops below zero at my house? I start planning vacation. I start looking around for a warm, family-friendly destination to get the heck out of town.
In my recent searches, I've learned a little more about a group of nine Unlimited-Luxury® (the company's name for "all-inclusive") resorts. Dreams Resorts & Spas are award-winning, tropical beachfront resorts in Mexico and Dominican Republic. Yes, "tropical beachfront" got my attention.
Many times when parents hear All-inclusive luxury resort they think couples only. They think those are the honeymoon resorts that aren't designed for kids. That doesn't apply to Dreams Resorts & Spas because these family-friendly, Unlimited-Luxury (again, code word for "all-inclusive"!) resorts have amazing pools, kids clubs, teen clubs, and spacious suites. It's everything I look for in a great resort to visit with the family. Sure, they are great for honeymoons, weddings and couple retreats, but that isn't want I'm searching for right now. I'm all about kids. That's what happens when you have a 4, 6 and 8 year old!
Three of the Dreams Resorts & Spas caught my eye! I'm just trying to decide which one is the best for me. Oh yeah, and if you help me decide, I could win a trip there and YOU (one of the Baby Gizmo readers!) can win a trip there. It's a blogger who shares the most wins kind of thing. Since I get to travel quite a bit, I'm not so worried about winning for myself but I'm doing this for one of you! If I win, one of you win! Okay, we'll get back to this whole winning thing at the end. Let's talk about the resort.
The first one that caught my eye was the Dreams La Romana on the southeast coast of the Dominican Republic. This resort has tons of things for parents AND kids. It has an "Explorer's Club" for 3-12 year old with arts and crafts, treasure hunts, music, sandcastle contests, playground, game rooms and more! Even though my kids are too young, there is also a "Core Zone" for teens 13-17.
I love that the entire Explorer's Club staff is American Red Cross certified, both in CPR and First Aid, and parents get a pager should they be needed for any reason.
For the parents, there is aerobics in the sea, dance lessons on the beach, a casino, movies on the beach (this one is for kids too!) and a mechanical bull. Yes, the mechanical bull seems out of place for a luxury resort, but it sounds fun so it's worth a mention!
The second resort that looks fun is the Dream Tulum Resort & Spa in Riviera Maya, Mexico. This location is just minutes from the Mayan Ruins of Tulum and just added swim out suites. How sweet does that sound?!?
Dream Tulum Resort & Spa also has the Explorer's Club and Core Zone for the teens with similar activities the Dominican Republic location. Plus, you can deep sea fish, become a culinary wiz with cocktail and cooking lessons (my dad would LOVE that!!), explore the ocean with catamarans and kayaks or compete against fellows guests in the Beach Olympics. The fact that it is set on a secluded stretch of sugar-white sand beach doesn't sound too bad either.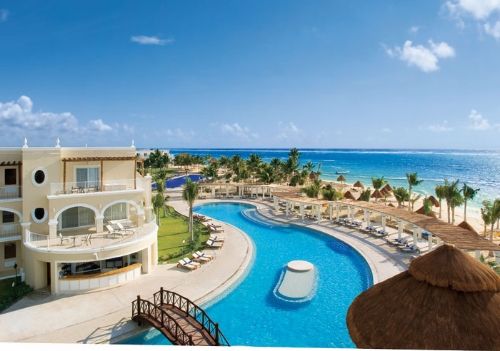 Third on my list is the Dreams Villamagna Nuevo Vallarta in Riviera Nayarit, Mexico located on Banderas Bay with amazing views of the Sierra Madre Mountains. Mountains AND sea = amazing! It has the same great kid and teen programs, but this one has bike tours, wave runners, water skiing and green fees (for golf!) INCLUDED. I love that there isn't an additional fee for those activities! If I want to step it up, I can always go to their scuba diving center for an additional fee. They also have this cool looking euro-bungee for the adventurous at heart!
All three resorts are known to have amazing restaurants with gourmet dining that reservations are NEVER required and there isn't a wristband in sight!
A few other signature features/amenities I can expect at all Dreams Resorts & Spas (not just the three I mentioned) as part of the brand's Unlimited-Luxury® vacation concept, where everything is included:
Spacious suites with standout amenities like 24-hour room service and daily restocked mini bars.
Average of 5 gourmet a la carte dining options ranging from Mexican cuisine to Italian, French and more.
Lively bars serving unlimited premium brand beverages. Great for when the kids are participating in the kids programs!
Explorer's Kids Club (ages 3-12) and Core Zone Teens Club (ages 13-17) with supervised activities by specially trained staff at no extra cost
Unlimited Connectivity, a suite of interactive apps allowing guests to call send and receive international calls without incurring roaming charges, create personalized profiles to contact staff directly, receive up-to-date daily activity calendars and more. I love that this is included because international calling can really add up!
Dreams Spa by Pevonia offers a la carte treatment options ranging from face and body to massage and salon, and even treatments for teens and kids. All you have to say is "SPA" to me and I'm on board!
They all sound amazing, right?!? How does one choose just one? Well, that is our goal today! Help me "Choose My Escape" (from the Chicago winter)!
Please leave a comment with the resort that you think sounds the most fun and which activity at the resort stood out to you!
Then if you help me "SHARE" this post (Facebook, Twitter, Instagram…pick your poison really!), we might win a trip for two to one of these resorts! Yep, if I win, we get to pick one of our readers who participated by commenting and "sharing" to win a free trip for two!
That's it – just leave a blog comment and "share". Easy-peasy!