LG DEBUTS BLACK STAINLESS STEEL KITCHEN APPLIANCES
This is a sponsored post but keep reading to enter to win an entire kitchen appliance suite.
Most of you know that I moved about 18 months ago into a completely new house. We featured much of it in our At Home with Baby Gizmo Video Series when I shared many of my favorite rooms with you. One of the rooms that I said was my favorite (and is STILL my favorite!) is the kitchen! The kitchen is the heart of the home and where my family generally likes to hang out. Who doesn't like to hang out by the food, right?!
Now that we are settled in, I've started looking around to see how I can make my house even better. When you build a house, sometimes you can't upgrade everything that you'd like and you tell yourself that after a few years, this and that will be upgraded. That is how I felt about my appliances. I didn't really pick the appliances, it's just what my builder puts in his houses. They are are good but they aren't fantastic.
Well, I just found my "fantastic" when it comes to appliances! LG debuted their "Black Stainless Steel" kitchen appliances at a big event last night in NYC, and I'm a little obsessed. I think it is time for an upgrade for my kitchen!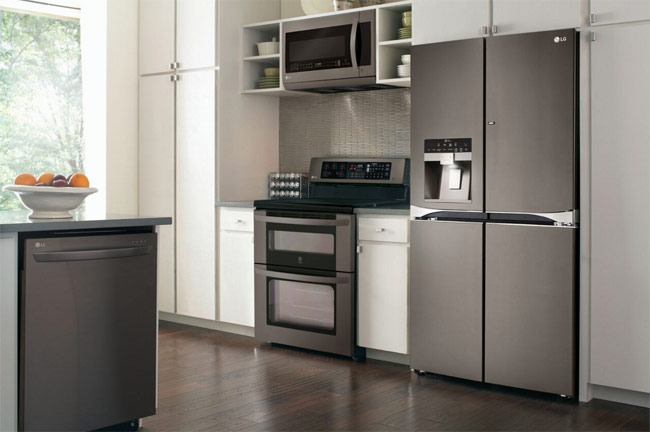 At that LG event, HGTV design stars David Bromstad and Emily Henderson co-hosted "Limitless Design," a first-of-its-kind showcase of kitchen design possibilities presented in a way never done before – bringing Pinterest boards from the digital world to the real world.
The event featured the LG's new black stainless finish, that is available in an array of new refrigerators, ranges, dishwashers and microwaves. This is an exciting evolution to the traditional stainless steel that has become a mainstay in tens of millions of American kitchens. The modern update features a timeless aesthetic that seamlessly complements a range of infinite kitchen design styles and colors. Its warm, satin-smooth and sophisticated finish is fingerprint and smudge resistant, making it easier than ever to have a premium kitchen that is effortless to maintain.
Did you hear that? FINGERPRINT AND SMUDGE RESISTANT!! That is a mom's dream! Sure, my appliances said that, but I can be the first to tell you after wiping countless smudges and fingerprints off them, my current appliances aren't really fingerprint resistant. See why I'm obsessed with these new ones?!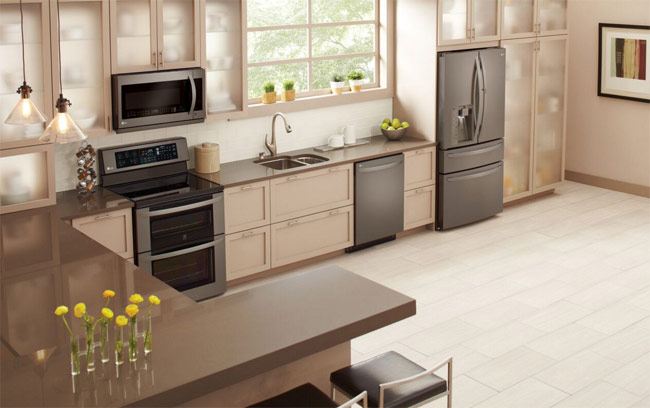 Would you like to win a complete kitchen suite of LG Black Stainless Steel Series appliances? Who wouldn't, right?!? Well, LG is giving two packages away to two lucky winners!! Here's what you need to do:
To give kitchen design enthusiasts across the nation a unique opportunity to showcase their Pinterest skills, LG Electronics invites consumers to take part in the LG Limitless Design Contest and create their own kitchen design Pinterest boards inspired by Black Stainless Steel. The contest, which runs through Jan. 29, 2016, encourages participants to pin elements that inspire and embody the theme each entrant selects (i.e., rustic country, beach house, American classic, retro chic, etc.). Boards will be judged based on creativity, diversity of pins and the contestants' abilities to deliver on a distinct theme and/or tell a strong story.
Two grand prize winners will be selected and receive a complete kitchen suite of LG Black Stainless Steel Series appliances, $25,000 and a design consultation with Henderson or Bromstad to completely make over their kitchens. Pinterest fans can visit HGTV.com/LGContest to enter.
Here is my Pinterest board with my kitchen inspiration:
Just in case you need a little extra inspiration on kitchen design, here are HGTV Design Star Emily Henderson's Tips for Limitless Kitchen Design Possibilities
Bring It All Together With Black..
Just like in your wardrobe, black is a timeless and versatile color that should be incorporated in every room to help ground the space while injecting a bold look and feel. I personally love the new black stainless steel series that LG has introduced, which has a beautiful warm and satin smooth finish that complements a wide variety of kitchen styles and designs. Just like that little black dress, LG's Black Stainless Steel Series is an investment that will never go out of style.
Don't Be Afraid to Mix & Match!.
There are stylistic combinations that will forever trend, like black and
white or brass and copper with natural and wooden finishes. Don't be afraid to try new combinations and break the mold. What's so great about the new LG Black Stainless Steel appliances is that they will seamlessly complement a range of kitchen styles so you can't go wrong when adding your personal touch.
Choose Products That Are Easy to Maintain.
The LG Black Stainless Steel Series appliances are smudge-resistant, perfect for a mom like me who loves to keep my home clean and picture-perfect but knows how extremely difficult that can be with kids running around. As an LG Black Stainless Steel appliance owner and mom of two, one being an adorable toddler who likes to touch everything, now I
don't have to worry about those tiny little fingerprints.
Designing a new kitchen can be expensive, but there are definitely elements worth investing in, specifically appliances. LG Black Stainless Steel Series is a fresh new take on the popular stainless steel category, which has grown in popularity at a rapid pace and now is in more than
50% of households in the U.S. So you know you're choosing something that will be an investment that both stands the test of time while infusing a new, elevated style that is all your own.
From with my family, cooking with the kids and just hanging out, the kitchen that gets a lot of traffic and can quickly becomes messy. A clever and creative technique to organize your kitchen is to incorporate open shelving or glass-front cabinets. They both add a cool, updated look to kitchens and are savvy means of displaying all of your beautiful
dishes and stemware.
Paint existing cabinets white and buy new hardware. Try brass handles or
pulls and swap your lights for updated fixtures and swatch plates for new ones. Also, try adding a rug. Yes, you may add a rug to the kitchen, as it adds yet another layer of texture and color.
Add a Dash of Personality.
Your kitchen counter should always be free of clutter and appliances, but don't be afraid to use decorative accents to dress up your counter top, because the kitchen should feel like the rest of the rooms in your house—lived in with touches of style and personality. Here's a list of
my countertop staples: ceramic utensil holders, vintage salt and pepper shakers, brass or wooden utensils, glass canisters, wooden bowls for fruits and veggies, an enamel teapot, a stack of vintage cookbooks and brass or glass vases filled with beautiful flora. A chalkboard is a fun touch too. Not only handy for writing down grocery lists and reminders, but kids can play on it while mom or dad prepares dinner.
If you have kids, remember to child-proof your kitchen like you would any other room in the house. Move cleaning supplies and sharp objects into inaccessible cabinets. Place tupperware in a low drawer as it has the power to entertain kids for hours. Buy magnets for your fridge. I know, beautiful appliances like LG's Black Stainless Steel refrigerators should really be left alone but my child makes the cutest artwork out of them. I simply can't resist!
*Disclosure: This is a sponsored post by LG. As always, all thoughts, statements and opinions are my own.