My Little Pony Equestria Girls Dolls Video Review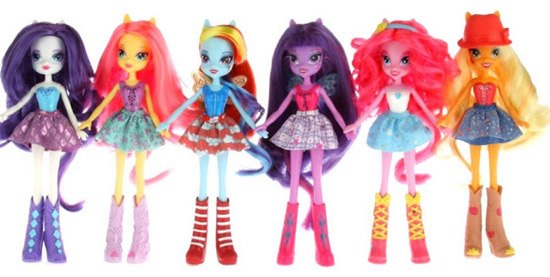 We are focusing on the older girls today (ages 5-12) with our Baby Gizmo inside look at another hot, new holiday toy! My Little Ponies have been around for a long time but Hasbro has put a new spin on them for 2013. In the new My Little Pony Equestria Girls animated series, the ponies enter an alternate world when they cross through the magic mirror to become teenage girls at Canterlot High.
Seriously, ponies to hip, cool girls with fabulous long hair, chic outfits and punked out boots to match – what girl wouldn't love these?!? They had my daughter's attention immediately!
There are six dolls to choose from, and luckily, they are reasonably priced at $12.99 ($19.99 if she comes with a pony!).
To get an up close and personal look at the My Little Pony Equestria Dolls, watch our Lil' Baby Gizmo testers show them to you in today's video…