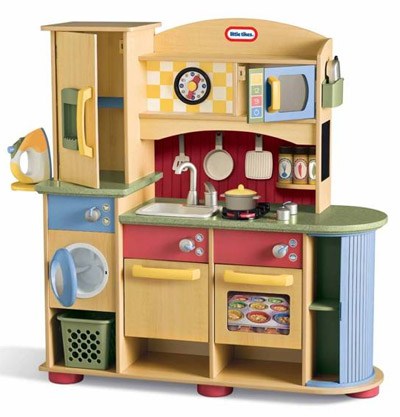 With a busy 2 and 4 year old in the house, we decided to surprise the kids with a new kitchen for their playroom for Christmas.  We looked for the perfect gender neutral kitchen that would be easy on the eyes because the playroom is right off our kitchen. 
The main feature we were looking for was that it be made of wood.  Since I would be looking at this toy kitchen daily, I didn't want to look at one of those huge plastic (covered in stickers) kitchens.  Plus, I knew if it had stickers on it – my 2 year old would rip them off by the end of the first day.  Like many parents I absolutely adored the PBK Kitchens but just couldn't justify the outrageously high price tag for each piece. And just one piece doesn't make a complete kitchen – you need all the pieces, right? 
So, the next best kitchen for us to get the kids was the Little Tikes Deluxe Wooden Kitchen & Laundry Center.  This very popular kitchen just came out in 2009 and retails for $199.  We bought the kitchen this month and managed to order it during one of the days that it wasn't out of stock.   
Size:  We loved that this Little Tikes Kitchen was large enough for 2 kids to play but not an overwhelming space hog.  Measuring 44"L x 14.5"W x 40.5"H, we were able to easily fit it against one wall of the playroom.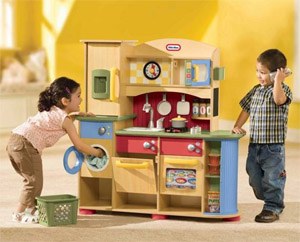 Assembly:  The assembly is by far the worst thing about the Little Tikes Deluxe Wooden Kitchen & Laundry Center.  You will need loads of patience to put this toy together.  I'm talking 2-3 hours of patience!  There are very detailed instructions that are easy to follow with all the pieces being very well marked but there are many, many steps.  It's not hard to put together but there are so many pieces and screws that it is very, very time consuming.  It took us 2 ½ hours! 
Features:  The entire kitchen is made of durable wood except for the handles, knobs, washer/dryer, stove burners and accessories.  I love that there are absolutely no stickers for your little ones to peel off.  This Little Tikes Kitchen features a double burner stovetop, oven and dishwasher all sporting clicking knobs.  The front of the oven has a magic oven door that changes the image depending on what angle you look at it from.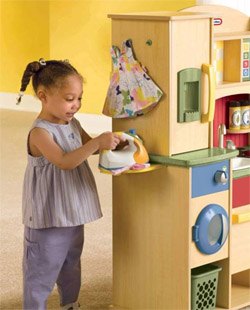 I love the look of the green granite-look countertop and our kids loved the laundry center that sports a washer/dryer, timer, laundry basket, pull-out ironing board with iron and clothes hooks.  I do think the washer/dryer is on the very small side and it would be great if Little Tikes would make it a bit larger. Plus, the cover on the washer/dryer always comes off the hinge!  My son is always carrying the cover around the house which annoys me because it is a brand new kitchen.  Little Tikes definitely needs to fix how the washer/dryer cover attaches to the kitchen.  A pretend refrigerator with ice dispenser, microwave, clock, double sink, and telephone are also notable features.  
There are lots of shelves for your little cook to store things in and even a small chalkboard to display that day's menu on.  Besides the plastic laundry basket, the kitchen also includes plastic pots and pans with accessories and spice jars.
Appearance & Durability:  I love the color scheme of blues, reds, yellows and greens that blends fabulously with our playroom.  Since we have two boys and one girl, my husband is very happy that the colors are gender neutral and we don't have a pink kitchen screaming at us every time we look in the playroom.  Yes, boys can cook and play with kitchens but bringing home a pink one would be too much for my husband. 
With the kitchen fully assembled, I think it is very sturdy and durable. It is very heavy and even has two hooks on the back to attach it to the wall to eliminate any possibility that it could tip over.  With the weight, I don't think it would though.   
Overall, we are very happy with our choice of toy kitchen.  My only minor changes would be a larger washer/dryer with a cover that stays on, bigger hooks on the outer wall to hold aprons and maybe a few more interactive buttons that beep.  The Little Tikes Wooden Kitchen & Laundry Center has lots of features that make it a hit with kids plus it is very easy on the eyes for parents.