Love Animals? Have a Panda Day!
Car rides can be such a challenge with kids. I don't know about you and your fancy minivan, but mine is loud. Like, super L-O-U-D. If the kids aren't fussing, they're singing at the top of their lungs or begging for snacks. To calm the storm we've started playing games in the car. Most recently, The Animal Game.
It's goes like this … I think of an animal and start sharing clues. It's color, what it eats, where it lives, the sound it makes, what letter it starts with, etc. The kids guess and whoever guesses correctly gets to think of the next animal! It's pretty fun the first 10 rounds. We're probably on round 1,000, but it has stopped the fussing so I tolerate guessing "cow" (my 2 year olds favorite) and "platypus" (my 4 year olds favorite) over and over again 🙂
My favorite animal to toss into the animals game is a panda! They've been one of my personal favorite animals ever since I was a kid and so, not only have I taught the kids about pandas through the animals game, we're also planning a whole PANDA DAY! It's going to be awesome with outfits, snacks, books and more! If you have a Panda fan in the family, take a peek at my brainstorm board …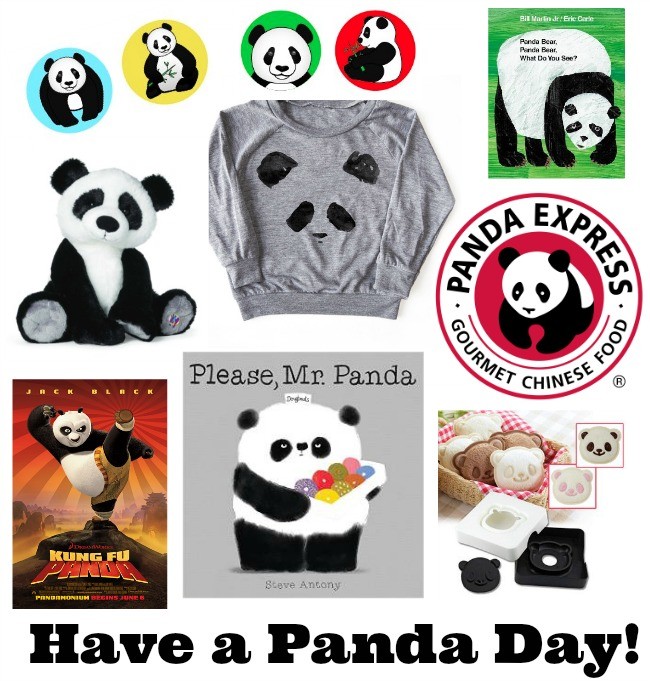 First up, we'll get dressed in the morning in some Kid + Kind panda tops! Something for girls, boys or babies in either the raglan, tee or romper! For breakfast, sweet panda sandwiches filled with cheese and bacon or just jam!
Storytime will include panda bear snuggles and fabulous panda books ranging from classics like Eric Carle's Panda Bear, Panda Bear What Do You See to the new, Please Mr. Panda. Panda Kisses and A Book For Kids About Pandas will also make the line up between rest and bedtime stories.
We know how much kids love crafting and there are a bazillion panda inspired art options out there …
For real life learning the WWF has a plethora of information related to pandas since they are one of the most endangered species. I know my 4 year old will appreciate scrolling the website and learning alongside me. And, we can't forget the live panda cam feed from San Diego Zoo!
Dinner will bring us none other than Panda Express followed with a panda movie of the Kung Fu variety 🙂 Although, I'll put my vote in for my childhood favorite, The Amazing Panda Adventure. Last, but not least, dessert! It'll be a toss up between panda cupcakes and panda cookies … what would you choose to end an exciting panda day?