Growing up I journaled often, wrote fictional stories in my spare time, and sent mail regularly to my friends and pen pals. Handwriting and the written word has always been a huge part of my life.
Nowadays it seems most of my words are typed – in emails, on social media, here. For a while, when I wrote out a list or a quick note I stared at my handwriting, not quite recognizing it. It was sad. I remember hours spent perfecting my scrawl of half printing half cursive and wondered where it went. Well, it seems that without practice, handwriting is one of those things that falls by the wayside.
So, as my daughter begins to learn her letters and practice writing, I decided to as well. We're bringing back the lost art of letters with something we call Mail Day Monday.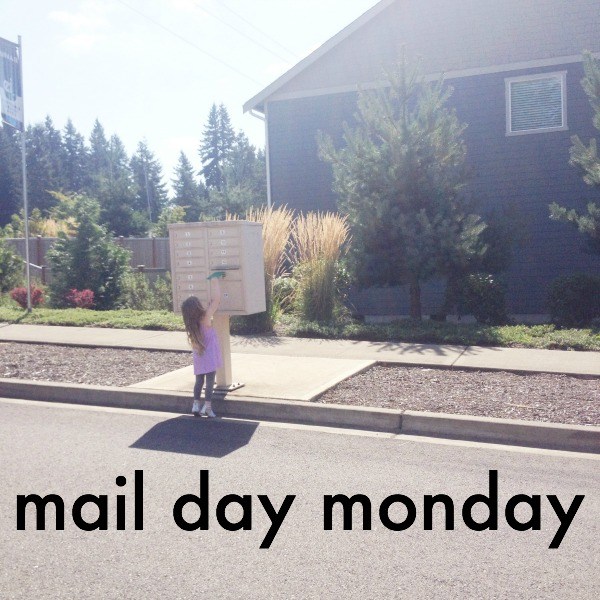 Each week, Jemma and I choose a friend or family member to send a card to. I've got a whole basket of cards from my letter writing days and whether it be a birthday, thank you or pretty picture we add our words, address it and march off to the mail box.
Let's face it, EVERYONE loves receiving snail mail – especially when it isn't a bill or something needing to add to the to do list. Happy mail is the best mail!
So, this week – choose your mail day and decide who's mailbox you'll brighten. It could be …
A real grandma or a grandma-figure in your life
A grandpa or dad – maybe at his work address for a fun surprise there
A faraway cousin
A friend from school
Your own mailman – then you don't even need a stamp!
One of mama's childhood friend's children
A thank you to your doctor's office or favorite nurse
A missionary
An activity teacher – ballet, gymnastics, swim, etc.
An aunt or uncle
Children love drawing pictures, practicing their names and asking a simple question to learn more about those they love. Mail Day Monday has been a welcome addition to our weekly activities – I hope you'll benefit from it too!