In the past 12 months I have spent 7 months away from home.  Some time was spent driving, some on vacation, some visiting friends and relatives and a LOT of time in hotel rooms.  These new experiences have given me some insight on how to survive on the road with two toddlers! 
Step 1:  Packing light (enough to be able to carry all your bags) means going DISPOSABLE
I have always used these Take n Toss utensils but I fell in love with them in the hotels.  They are easy to clean even in a bathroom sink but once your extended stay is over they are cheap enough to just recycle and be done with leaving room in your suitcase for the real necessities.  The Take n Toss straw cups are my absolute favorite cups and they are the cheapest too.  They are not spill proof but they are spill resistant and Thing 2 doesn't need the power of a hoover to get the liquid out.
Step 2: Liquid and powder free detergents
Detergent isn't cheap enough for me to throw it away unused so you need a detergent that can be packed up but not take up valuable real estate in your luggage.  Here are my favorites: 
Purex 3 in 1 sheets: I love that with these sheets I didn't have to worry about getting dryer sheets.  They also take up almost no space at all while packing.  Please be aware of some pretty nasty amazon reviews alleging this detergent to have caused spots on button down shirts.  I didn't have any problems but I have only used these while away from home.
Dropps Laundry Pacs: These take up just a tad more space then the Purex sheets and require seperate dryer sheets but if you want to avoid the potential problems other Purex users have reported these are a great option.
Step 3: Everyday toys that can travel small
Unfortunately most hotels are rarely situated within walking distance of great playgrounds and parks.  This means you will be providing your own entertainment for the children except this entertainment needs to fit in your bags with all of your other essential belongings.  I managed to pack these toys along with 10 days worth of clothes for everyone in the family.
Animalz: A simple but small collection of these toys make for great playmates.
Cars: This is a classic toy for a reason.  Its small, its quiet and can entertain just about any child for hours.
Gears:  This toy takes up the most space in the bag but also had the most attention in the hotel room.  These gears do come in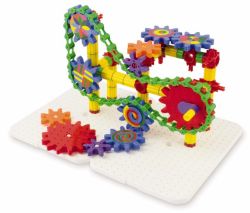 their own convenient tool box which makes life just a tiny bit easier in the hotel.  If your child is a future science or mechanic geek then this toy is for them.
Playdoh: This one requires constant supervision.  I thought it was one that would actually give me some time to shower in peace but I came out to find purple playdoh shoved into the hotel carpet.  Sorry Hilton!  Thing 1 was gracious enough to do it behind the couch though so I don't think any future patrons will ever even notice.
Sticker Book
: What kid doesn't love stickers?  These reusable stickers are genius.  Thing 1 can not get enough of his sticker books.  They are a great toy for quietly distracting older siblings while trying to lay down younger ones for nap time. 
When all else fails a TV with Disney Junior almost always works!
Step 4: A do it all stroller!

I have always been well prepared in the stroller department which is a nice way of saying I own a lot of strollers.  Even expensive well built strollers are disasters if used on the wrong occasion.  So what do you bring for an extended vacation?  Will you be driving or walking to do errands?  Will you live on the first floor or are climbing stairs required?  Will there be space for the stroller in the hotel or do you need to have space in the car's trunk?
For one trip I knew I would be in a large room with ample space for a stroller meaning that the fold was not important.  I also knew I would be able to walk to accomplish errands so a large basket and a second seat for my occasional walker would be crucial.  Finally we were driving so air travel restrictions would not be an issue.  For this trip my all terrain double was a dream and worked out perfectly.
The next trip required air travel.  We also ended up in a room on the third floor with no elevator.  Nothing was in walking distance so driving would be required for all errands.  In this instance a full featured single with Valco Hitchhiker was perfect.  The single fit great in the trunk of our sedan rental with plenty of room to spare for groceries.  The stroller had enough features to make a long day at the zoo comfortable and the Hitchhiker option gave Thing 1 a much needed rest.
A double jogger would have been a nightmare in scenario 2 and a full featured single would not have been as convenient in scenario 1.  Think carefully before deciding what stroller deserves to make the big trip.