Making Back-to-School Smooth and Successful for Child, Parent and Nanny
Making Back-to-School Smooth and Successful for Child, Parent and Nanny
By: Erin Krex, First Class Care, Inc.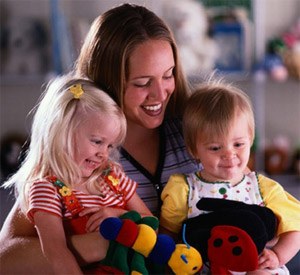 It seems almost impossible to believe that back-to-school time is upon us.  As parents prep the backpacks and help kids adjust to early wake-ups, it's important to make sure your nanny is included so that the transition back to class is a smooth one for your child and the entire family.  Here are some tips to start the school year off right for everyone:
Invite your nanny along to meet the teacher or visit the classroom.   It's helpful for the teacher to know all the adults who care for the child and ultimately will make your child more comfortable to know that everyone is connected.
Be sure that parents and the nanny are comfortable with the school drop-off and pick-up process.   Even if your child takes the bus most days, be sure your nanny knows how to quickly get to the school and how to enter in case she ever needs to pick up a sick child.
Have the nanny meet the bus driver.  Make time to discuss any concerns you might have about the bus ride with her.  Ask your nanny to pay close attention to your child's mood when he gets off the bus and to report any problems to the parents immediately.
Post all school information in the house including the school name, address phone number, name of teacher, bus route number, number of bus company and hours of the school day.  Tell your nanny to program the school's telephone number in her cell phone.
Make a plan for homework and backpack paperwork. Designate a place in your house for your nanny to leave information that comes home with your child including homework and projects that need to be completed.
Be sure that all the adults who care for the child are listening extra carefully those first few days.  Make time to meet with your nanny at the beginning of school to discuss her thoughts on your child's transition back to class.
Erin Krex is a mom and the founder and owner of First Class Care, Inc., Chicago's premiere domestic placement agency. Erin believes that outstanding childcare is fundamental for creating harmony at home. Erin is an active member of APNA (Association of Premier Nanny Agencies) and was on the INA (lnternational Nanny Association) Board of Directors for four years. Erin has been honored with StartUp Nation's Leading Moms in Business award three years in a row and also holds the title of 2010 APNA Agency of the Year winner. As a business owner and working mother with domestic help, Erin frequently writes and speaks on subjects related to best practices for both families and employees. Erin is Bump Club Chicago's resident childcare expert and provides classes to families about how to hire a nanny. To date, Erin has placed more than 3,000 nannies all across the Chicago area.  http://www.firstclasscare.com/ You can find her on Twitter at @FirstClassCare