McFarland USA Kevin Costner Interview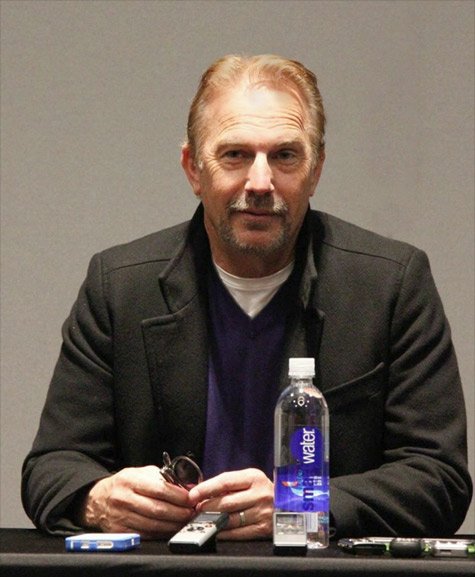 He was exactly what I expected. To be honest, I didn't know what I expected but when he walked in the room, I immediately decided THAT is what I expected! Kevin came in the room in a long black jacket, sunglasses and oozing confidence. He sat down, said good morning and wanted to know what this "room of mommies" was all about. He was charming, funny and very relatable.
He broke the ice by asking about us before the questions began flying at him about his new film. That is an example of the real Kevin.
Kevin (of course, we are on first-name basis!) was cool as a cucumber and answered as the bloggers shouted questions at him about his new movie McFarland USA.
He was exactly what I expected from Kevin as a person and not the big box office Hollywood actor. Maybe it was the fact that he came from another press room that was packed to standing room only with over a hundred journalists and we were a sort of "safe room" on this press junket day (seriously, what are a bunch of "moms" going to do?) but he made jokes and even unexpectedly dropped the f-bomb but in the most charming way. It made me love him even more that he was just so real and not guarded.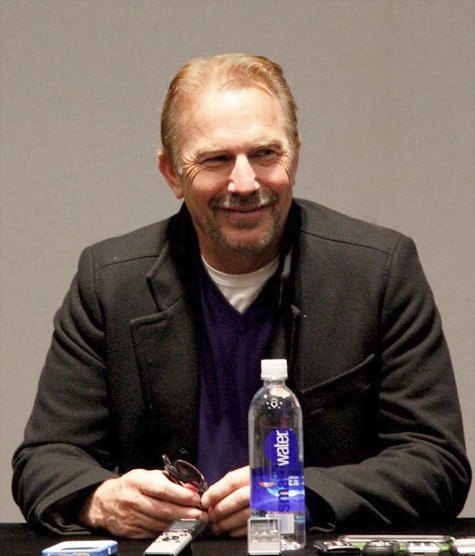 McFarland, USA is based on the true story of a 1987 cross country team from a predominantly Latino high school, McFarland High School, in McFarland, California. The film stars Kevin Costner as Jim White, the school's coach who leads the team through several local social issues to win a championship. Directed by Niki Caro and produced by Walt Disney Pictures, the film is scheduled to be released on February 20, 2015.
He talked about how it was easy to fill the big shoes of portraying the real Jim White and naturally falling into a father-type role to the boys in the film.
Here is a snippet of our interview with Kevin Costner:
Q:    So what was the most rewarding part about making this movie?
Costner :    I'll tell you, I've had such a journey in the business.  You know, I wanted a direction like probably everybody about what are you gonna do in your life.  And when I found movies, to me, it was like recess.  I wasn't very good in school but when that bell went and I could go out and play and make up my own life and do whatever I wanted to do, that's what I kind of wanted in life.  Now that may sound like Peter Pan but that's what I wanted.
I wanted to be absolutely interested in everything that I did.  And that began to happen for me.  So as I conduct my career going forward, it's obviously more than just movies.  Movies are a small part of my life.  They're an important part.  They're the tip of the iceberg that the rest of the world sees, but they're a very small part of my life.  And the rewarding part of something about McFarland is that, I don't plan my life so much to the point that I miss something like McFarland, a little story about Latinos and, and a community that I actually participated against in high school.
I played against McFarland in baseball.  I lived in Visalia, up in the central valley so the important thing for me was that I was able to participate in this movie and highlight a culture that we see all the time, driving down our highways, looking off to the left and right, and somehow we just keep driving, right?  We're not supposed to text and we're not supposed to stop our car to look.  But that is how the food gets to us.
And movies have been a joy for me.  And so one that would highlight this little town and there's little McFarlands everywhere in America, I like that.  For me it's a very important part of my filmography to be a part of this movie.
Q:    So what kind of training did you have to do for the film?
Costner :    Training?  I hate running and so that's why I enjoyed being the coach.  One time I ran with them, and as you see in the movie, I quit.  I played the coach part really well. I sat down and had a Coca Cola.  I didn't have to train for this really.  It was pretty spelled out for me in the script, what I would do, which was, it was a sport I was unfamiliar with.
It was one I would try to have to educate myself with.  It was one I would have to coach without facilities, that probably the schools we would be competing against had.  So I had to try to be resourceful, and the script gave me those opportunities to be that.  So there was not really any training involved for me.  There was just being heavily involved in these young men's lives.
There was so much more about the movie than the finish line.  The finish line's for them.  You can give young people something to shoot for and what we realize watching this movie is that when we do, they can somehow exceed beyond their own expectations.  So we realize that's actually in front of all our children.  And if you really want to get specific about it, it's actually in front of us, too.  Wherever you're at in your life, there is a chance to do something else in your life. We're not done.
We're not done at all.  We're here, you're doing your job but what you want to be in your life is still in front of you.  The same things that we offer our children, we shouldn't be so ignorant to not offer up to ourselves.
Q:   How much time did you spend with the real Jim White?
Costner:  I met him before shooting and then he would come to the set and he would talk and he was just kind of seeing everything, all the equipment, all the people, all the trucks for the very first time. Wondering like everybody, who watches a movie for this first time, how come it takes this long?
I was able to glean things off of him, not necessarily change them — what was scripted, 'cause we took a little license with his character but not with the story, not with the outcome and not with the nine championships.
Q:    What is it about sports films that you find so appealing?
Costner:  Well there's a lot of sports films that come to me that I never do because they're not very appealing.  They are too much about sports or they're too obvious or they're too whatever.  When I run into one, the best ones are about people, obviously, and there's less sports in it than you would imagine.  The ones that try to make a wall-to-wall sports movie might as well make a documentary or watch that on ESPN.
Q:    What was it like working with the boys?  Mr. White in real life is like a father figure to them.  Were you kind of like a father figure to the boys on set?
Costner:    I didn't try to be.  I think that you understand that I'm in that position where that could happen, so it's better to let that happen than to just go in and be Yoda and be able to have all this stuff that you can tell them.  It's more authentic when they actually come to you and you're not just spouting off.  Nothing was off limits when they would come to me to talk to me.  And they began to understand that and I think hopefully appreciate that.
And it was important for me for them to be good.  It was important for me to let them know that they needed to be even more prepared for Nicky (director), that that's who gave them a big shot in their life.  And they owe it to be as prepared as they can, every day.  And so I would talk to them a lot about professionalism, what you do, because there's plenty of fun, right?
Suddenly the bell rang for them too, right?  It's recess.  They're out playing too, and they're getting paid for it.  You can get carried away with that and forget that you have a job.  And so we talked about that.  And then the more comfortable they began, they wanted to know about all the girls I kissed.  And, of course, I told them if you want to keep kissing girls, the best way to do that is to not talk about it.
Q:   What was the most emotional part of the movie for you?
Costner:  One of the highlights of the movie is where it's supposed to be.  It's before the last race.  They've gone from not knowing anything about what was possible to sensing that everything was suddenly possible, and what happened?  They found themselves in the last race, and they saw the buses drive up that were bigger than their bus, shinier.
They saw kids come out of the buses in uniforms that were better.  The kids were bigger.  So, all of a sudden they started to shrink back.  They started to go back in their minds to McFarland.  They suddenly weren't gonna be able to maybe compete at this level.  And that's where men, older men and older woman will always be at their most useful, to look at them and see the fear in somebody's eyes, the doubt in somebody's eyes, and to say no, you belong here.
When you make someone feel like they belong, they start to feel like giants.  And what happened?  They won.  And they continued to win, and it was all because somebody said it's possible if you're willing to work at it.  So, an emotional thing for me always is, I hope somebody talks to my sons or daughters that way should I not be around, about what's possible.
And I think that's what we all want for even ourselves, but more importantly we always want it for our children.  So that was the most emotional.