I was in NYC this weekend attending one of the biggest blog conferences for women – BlogHer. I know most of you don't care or know anything about BlogHer so I'll just tell you I was there to get tips to make Baby Gizmo better. That is not the point of my story.
So, I'm walking through the lobby of the NY Hilton and guess who was standing there? The Pioneer freaking Woman! Yes, Ree Drummond. THE top dog in the blogging world! You know, the amazing redhead (that in her own words was a "spoiled city girl") who met her dream guy who just happened to be a cowboy. Yes, a REAL chaps-wearing cowboy!  Long (amazing) story short, she fell in love, moved to the middle of nowhere to a real working cattle ranch in Oklahoma and started a family. And a blog. The Pioneer Woman.
And you know what? She is just one of those people that I just think is absolutely authentic. She is who she is but she has so many layers. She's a housewife. A mom. A homeschooler. A fabulous cook. An award-winning author of the most amazing cookbooks. A Food Network Star. A photographer. A blogger. A writer. An amazing person.
You think I'm going to make out with her now, don't you?!? 🙂
I'm not.
But we are besties. Complete BFFs. In my head.
Okay, enough gushing on Ree and back to the NY Hilton.
I'm walking through the hotel on my way to an event and she is standing there with her two daughters. Now, I have to admit that I don't know exactly how old her daughters are but I would guess that they are 14-15ish. They are both A-D-O-R-A-B-L-E. Seriously, so cute. Tall, thin, wholesome and just so darn cute. As the girls stood there shoulder to shoulder patiently waiting as a couple randoms were chatting Ree's ear off, they just radiated politeness. I could just tell Ree was raising them right on the ranch. Okay, back off the Ree-gushing again.
All this observation was from a distance but when I eyed one of the girls' bags, I knew I had to approach. I HAD to know what this adorable bag was that she was holding so that I could share it with you all. I confidently (but not stalker-like at all!) walked up to them and complimented the bag. Later I found out that the bag was an Orla Kiely. This is the bag: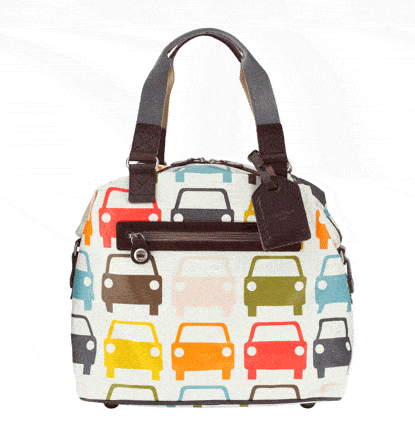 How can you not love that bag?!? So cute, right? The girls thanked me in an ever-so-geniune way and then I turned to Ree.
She is like a celebrity to me! She is BIG TIME, people! I calmly told Ree that I thought she was great and held my breath that I wasn't intruding by asking for a photo with her.
You know what? She is THE nicest person ever! She smiled, said thank you, and replied "Absolutely!".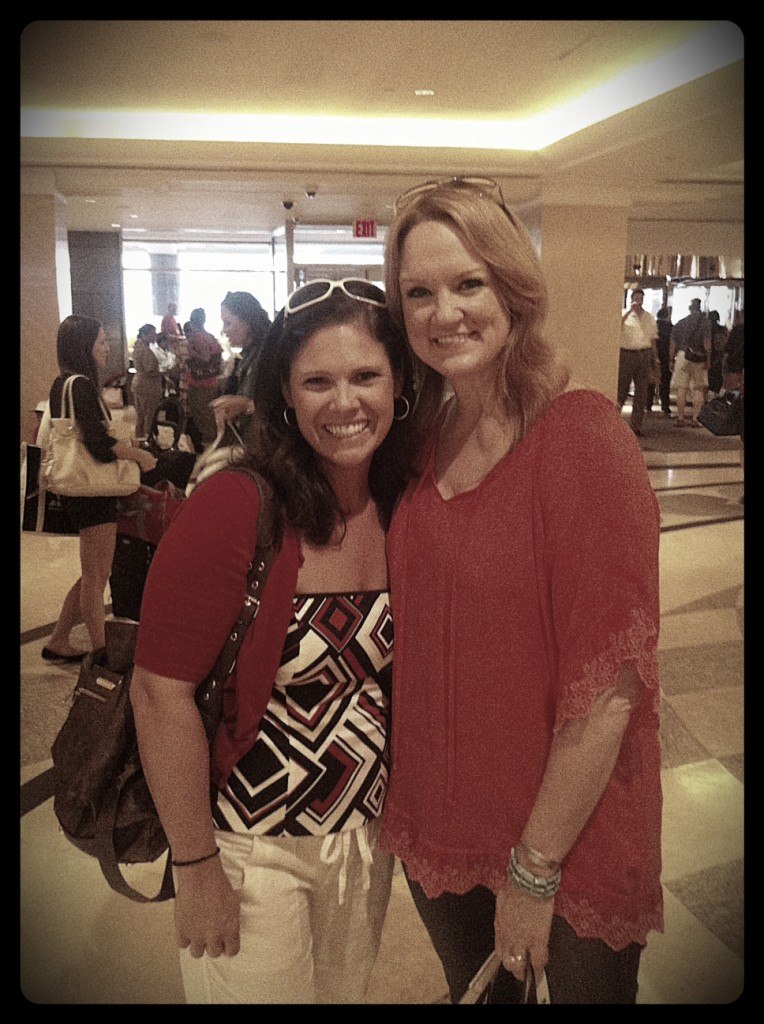 We are now besties. In my head. Love her.