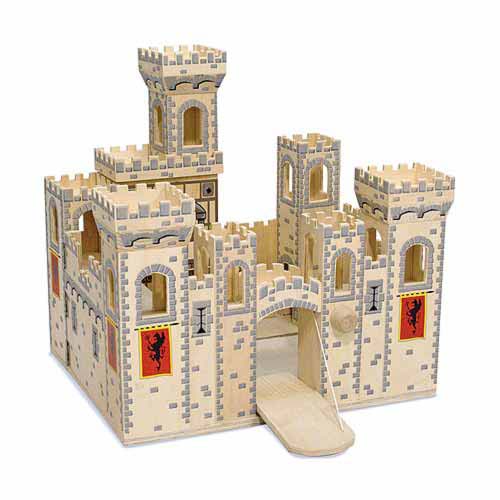 If you're looking for a 'big ticket' item for a toddler, especially a boy, be sure to check out the Melissa and Doug Medieval Castle. In short, it is AWESOME.
My son loves to play pretend. He spends a lot of time at his cousin's house playing with her princess castle. I knew I wanted to get him his own house or building of some sort to play with his Little People figures. While I truly have no problem with buying him things meant for girls (and let's be honest, a princess castle is obviously aimed at girls), I wanted to find something slightly more gender neutral.
Well, much to my surprise, his grandma found this castle for him and turned it into a great Christmas gift this year. The castle itself doesn't include any figures or accessories, so she also purchased a few adorable 'knight' sets – including these Little People knights, this catapult set, and this Mike the Knight play set. (Melissa and Doug sells their own wooden figures, but we don't personally own them so I can't speak to them.)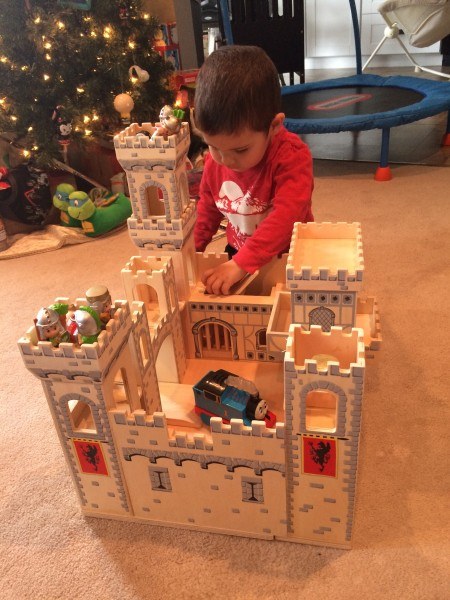 Christmas was over three months ago now, and my son still plays with this castle every single day. Moms, you know – that's saying a LOT! It is so incredibly made – with wood, like most Melissa and Doug items, and is very sturdy. It is hinged so it opens up wide. This is great because two kids can play with this at the same time. But closed up, it doesn't take up much space at all. It is so thoughtfully built – including a working trap door and 'jail cell', hidden towers and tunnels, and even a functional drawbridge.
The best part of the castle has been watching my son create story lines for his knights and really engage in imaginative play. He genuinely loves this castle and I feel so confident recommending it to anyone looking to enhance their toddler's creative play time. It currently retails for $66.79 and makes a great gift!
BUY The Melissa and Doug Deluxe Folding Medieval Castle HERE