Breastfeeding didn't work out for me with Thing 1. I was lucky enough to stay home full time though so I made the decision to pump. Breastfeeding is worlds easier then pumping but one plus to pumping is I had plenty of excess milk. This made me a bit of an expert on milk storage by the time I finished my 10 months of exclusively pumping.
Milk Storage Bags
Pros
With the use of some tape (sometimes included) you can pump directly into the bag preventing any loss of milk.
No extra steps in storing. Pump into bag. Seal bag. Mark Date. Throw in Freezer. Done.
No bottles to clean.
Cons
Some bags don't stack in the freezer well.
Some bags can leak during thawing if the bag was punctured or too much milk was in the bag.
Stores in 5-6 oz which may be inconvenient when thawing if you baby eats smaller or larger amounts.
Pricey if you need a lot (like I did).
Favorites
Lansinoh Storage Bags: These bags are thin but just as durable as the thicker Medela bags. They lay flater and store better. They also have a double seal to prevent leaks. These bags can hold a good 6 oz.
Trays
Pros
Easy to use amounts. Usually 1 or 2 oz which makes thawing the right amount easy.
Easy to store.
Cons
Multiple steps needed for storage. Pump into bottle. Pour into trays. Empty trays into freezer bags. Mark date on freezer bag.
Favorites
Sensible Lines Milk Trays: These trays freeze your milk into 1 oz pieces. They have a long and thin shape so they can fit into bottles more easily while thawing. They are a bit pricey but you can invest in just 1 or 2 trays. Let milk freeze overnight and transfer to freezer bags in the morning. Don't forget to mark the date range on your freezer bag.
Bottles/Liners
Pros
Pump directly into the bottle so no milk is lost during pumping or thawing.
Less clean-up since no other supplies are needed for storage
Best for fridge storage if milk will be used within the week.
Cons
Pricey for freezer storage if you need a lot.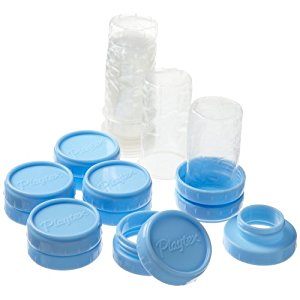 Favorites
Playtex Drop-In System: I loved this system. After months and months of pumping and cleaning and pumping and cleaning this system became a blessing. It does add to your cost since you need to continually buy liners but it cuts down on supplies that need to be cleaned considerably. Adapters are included so you can pump directly into the liners. The liners are then placed into rings with lids that can be stored in the fridge or freezer. At feeding time just drop the liner into a Playtex bottle and you are ready.
Tips for other full timers
If you don't feel like cleaning your pump materials after every cleaning you can buy multiple sets. A cheaper option is to rince off the pump supplies and place in a ziplock bag, then put the bag into the fridge. This reduces your cleaning to just once at the end of the night.
Get yourself a hands free device. Its a life saver to have your hands back but don't expect to be able to do any real chores during this time.