Mobi DXR Touch Baby Video Monitor Review (VIDEO)
Video monitors can be a God-send to nervous, new parents by giving them a little piece of mind that their tiny, precious bundle of joy is perfectly fine as they sleep. No matter how big or small your home is, you know that I firmly believe that a good video monitor is a worthwhile investment that you can use past the baby stage. They allow you to keep an eye on your curious (read: naughty) toddler at bedtime and if you are into the big brother thing, sneak a peek at your grade-schooler in their room to make sure they are actually doing their homework and not playing Minecraft.
Since you can't just open up a video monitor and try it out in the store, finding a good one that has all the bells and whistles that you care about can be tricky.
Today we are going to take a look at the MobiCam DXR Touch. This monitor has some innovative features that we like and some that we think need improvement. Just keepin' it real here at Baby Gizmo!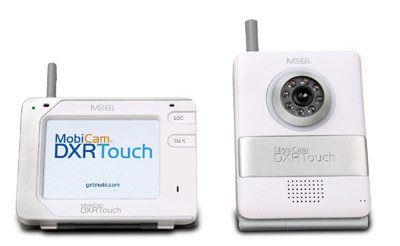 PARENT UNIT:
The parent unit is compact (4.25″ x 3″) and fits easily in your hand. It features a large 3.5″ touch screen and a handy attached cover to protect it. The parent unit works on a rechargeable battery (that charges when you plug it in!) and features a built-in stand which is really the screen cover folded backwards. I would love to see a belt clip added to the parent unit for on-the-go around the house.
CAMERA:
The camera features:
Digital zoom with pan & tilt. It is very important to note that it ONLY pans and tilts while in the zoom mode. That means that this camera

does not

physically move and pan the room like other baby monitors.
The camera can work with the included AC cord OR you can operate with a battery for when an outlet isn't convenient. Our only problem with this is that the camera battery does not come with the monitor and must be purchased directly from Mobi separately. Boooo for sold separately batteries!
One thing we want to mention about the camera is that the power cord falls out very easily. Barely bump the camera and the cord will pop right out turning the camera off. It can be annoying to restart the camera every time so we'd like to see a plug that actually stays in.
CAMERA MOUNT:
There are four ways to mount the camera – table stand, wall mount, door/drawer edge mount and strap mount.
Table Stand: This is pretty standard to be able to set the monitor on a dresser or table. The DXR Touch has a rubberized piece on the bottom to keep it in place but we did find that if you try to angle the camera down too much, the entire camera flips over. Watch our video to see that in action!
Door/Drawer Mount: We LOVE the door/drawer mount and wish other monitors had this option.
Strap Mount: We like the idea of the strap mount but think it should only be mounted to a crib with a newborn. If the baby can move, the camera needs to be at least 3 feet away with no possibility that the baby can reach the cord.
Wall Mount: This is standard on a video monitor camera.
PICTURE QUALITY:
This is where the DXR Touch suffers the most. To be perfectly honest, the picture just isn't as good as other cheaper monitors on the market. We found it to be fuzzy/blurry compared to the other crystal clear images of other brands even in a well-lit room. The clearest image on the parent unit screen is the opening brand logo.
TWO-WAY TALK:
Two-way talk is one of my favorite features on a baby monitor. It allows you to talk into the parent unit like a walkie-talkie so that your child can hear you on the camera's speaker. We think the volume on the DXR Touch camera it is a bit loud and echo-y though. A volume control for the two-way talk would be appreciated so that we don't scare the diaper off the baby when we are just trying to soothe them.
NIGHT VISION:
Yes, it is black and white at night (like all the monitors with this feature!) but this night vision needs work. The picture is very, very grainy and fuzzy making it hard to make out any specific features of the baby. Sure, if you get really close to the baby, it gets better, but for safety we need to keep the monitor at least 3 feet away.
RANGE:
The company advertises that it has an 800 ft range but we found we lost the sound and picture periodically just walking around my two-story house.
PHOTO/VIDEO OPTION:
One unique feature of the DXR Touch is the ability to take photos and videos from the parent unit. By adding a SD card (does not come with it!), you can take still shots or video directly from your nursery cam. This is a good idea in theory but we didn't try it out because if the parent unit doesn't have a great picture to begin with, why would we want to record that for later?
Honestly, if we want photos or video of our baby, it probably wouldn't be through their baby monitor. We'd rather just take much better quality photos and videos with our smart phone if we really wanted to capture those moments in their crib.
The nursery camera can also be viewed via computer and used as a webcam. Another great idea IF you are a parent that would take advantage of this feature frequently but we don't think it is a must-have feature or worth the extra cost for those who wouldn't.
OTHER FEATURES:
Soft night light that you can turn on and off with the parent unit. It is basically a light ring around the camera that turns on and off.
Lullabies and nature sounds that you can activate by the parent unit. The sounds have a volume control but we think even the softest option could be a little quieter.
Temperature indicator displays the temp in the baby's room on the parent unit. You can even set an alarm to go off when the room gets too hot or too cold.
Accepts up to 4 cameras which you can view one at a time or all at once with a four way split screen.
PRICE:
The MobiCam DXR Touch is pricier than most video monitors at $299 and that is probably due to the extra photo/video and webcam features. Honestly, we wouldn't use those features so we'd like to see them improve the quality of the picture on the parent unit and drop the price to compete with other video monitors.
*Disclosure: We were sent a Mobi DXR Touch for review consideration. As always, all thoughts, opinions and statements are our own.