Mom Goals with the Austlen Entourage
Mom goals: we all have them. Whether it is to be a good mom and raise great kids, or just to get more sleep at night, we all have goals. Just like everyone is different, we all might have different goals.
Today, we share one woman's mom goals that just happens to include the new Austlen Entourage stroller. Yep, the stroller that claims to do it all. It's a single. A double. A travel system. Sit n Stand. AND it can hold all the things. We are talking about a 150lb weight capacity with kids and cargo! It is capable of holding a full size cooler and your child, for Pete's sake!
Didn't think a stroller like this existed? Think again. The Austlen Entourage stroller does it all.
First, it's a single stroller for you and just your one babe.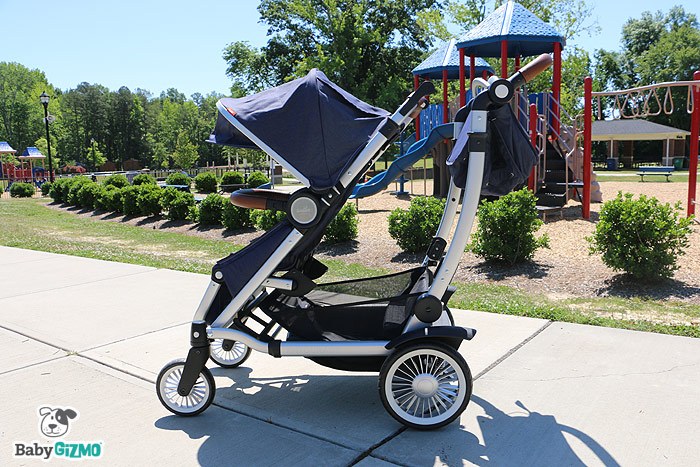 But sometimes, that one child needs a TON of stuff. So, you add the Cargo Bag (sold separately), expand the stroller by easily sliding it apart, and you have plenty of room for ALL. THE. THINGS. including a full-size cooler.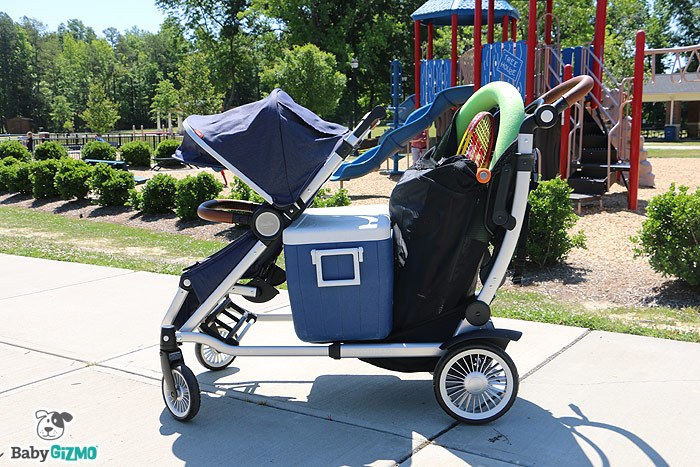 Then baby #2 comes along and you'd still like to use your beloved stroller, right? No problem. Add the second seat, and voila, it turns into a double!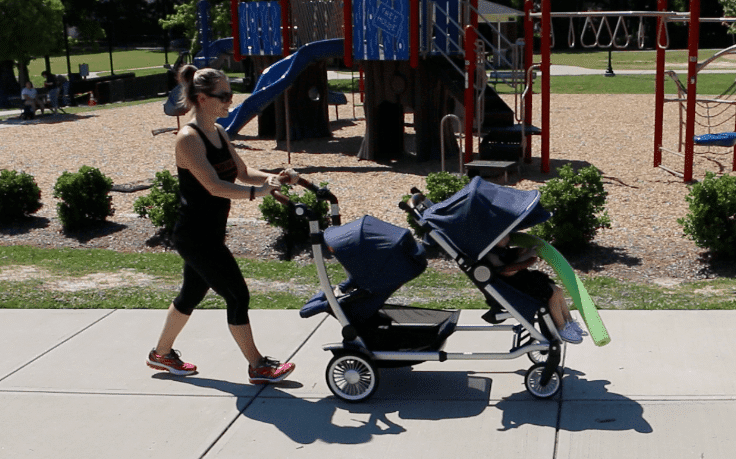 That's not all, people! You want a travel system? Done. Travel system. As a matter of fact, you can do a travel system with a second seat, a travel system with the rear bench OR even a double stroller system with two car seats. Boom.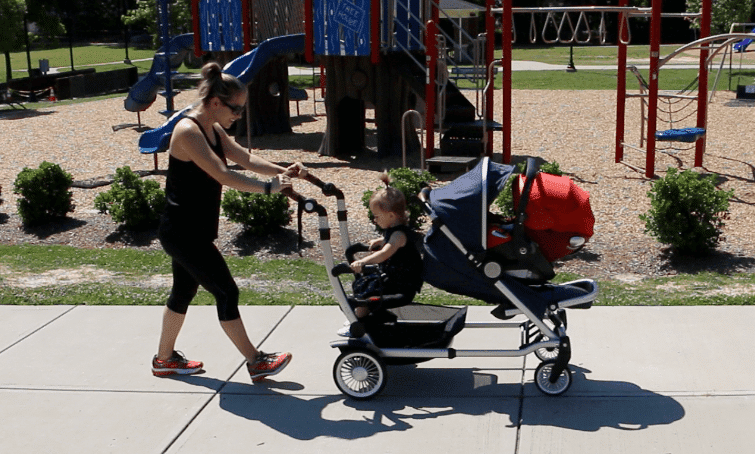 That's just the tip of the iceberg when it comes to versatility with the Austlen Entourage. You can hear more about the configurations in our video HERE or HERE.
Let's move on to some of the other details of the stroller. It has an adjustable, leatherette handle and comes with a handy market tote that can hold all the baby essentials that you want quick access to.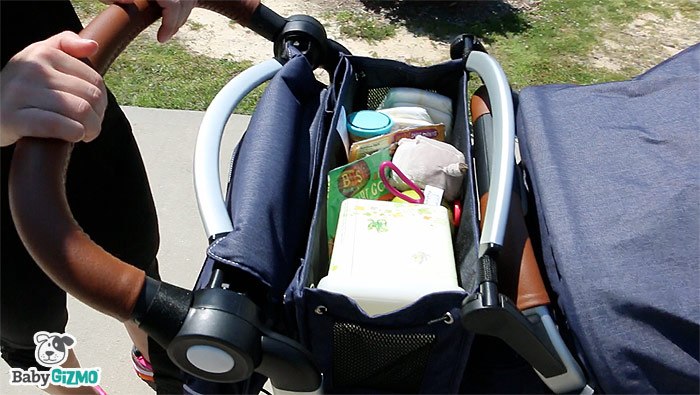 There is also a huge basket that can hold a very large diaper bag in case the market tote wasn't enough.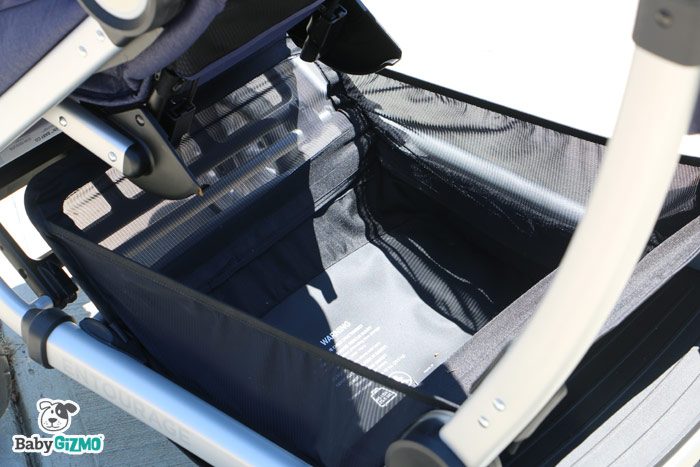 The stroller also features large wheels that are suitable for mommy terrain such as grass, playground mulch and small gravel.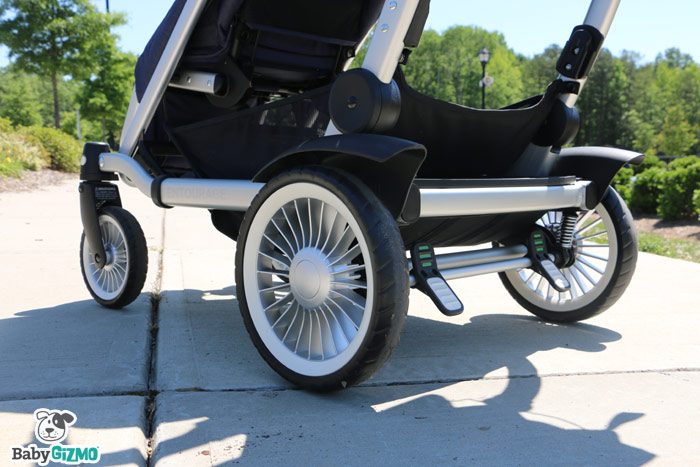 While the wheels are great for smooth terrain, Austlen knows that many parents will want to take their Entourage to beach. I mean, it can hold a cooler AND all the things so why wouldn't you take it to the beach? So, we are excited that Austlen announced their new Beach Wheels that are available for pre-order now! Yep, they are dual-surface beach wheels that roll smoothly from the beach to the boardwalk, so they have outstanding performance no matter the terrain. You can see the new beach wheels in action HERE.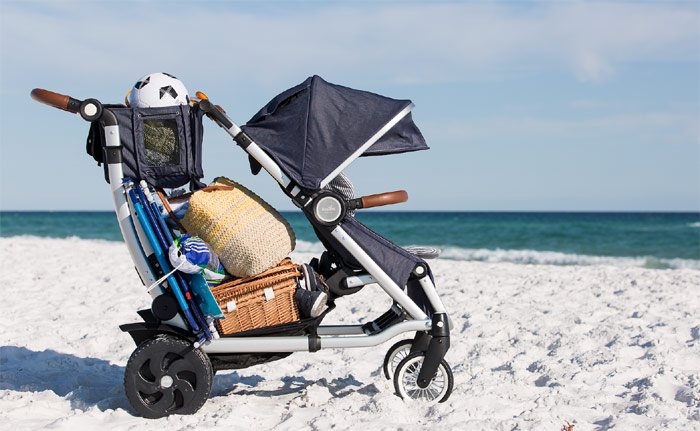 And finally, if you haven't made this stroller your "mom goals" yet, check out the fact that it has a standing fold AND you can fold it with the seat (or bench) attached.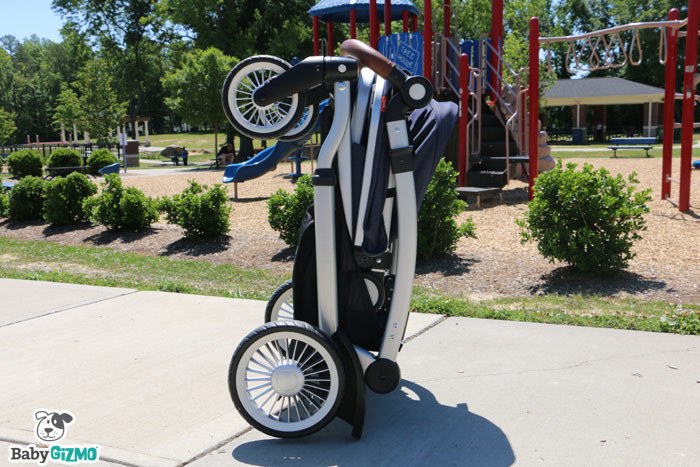 Yep, the Austlen Entourage is pretty fantastic. It's a single that transforms to a double and has the capability to carry all the things. For more information on the Austlen, you can visit their website at www.austlen.com or you can purchase an Entourage on Amazon.com.