I grew up visiting Disneyland often. Not because we lived in California, but because my half sister did. Oh lucky stars!!! Visits to see her always included a trip to the Magic Kingdom. I remember when Toon Town launched and the first time I was actually excited to ride Pirates of the Caribbean rather than scared. And then California Adventure opened the first time I got to bring a friend along on our trip. Yes, no doubt, I have many amazing memories from Disneyland.
Now, with two children of my own I'm anxiously anticipating our first family vacation to Disneyland. I can't wait to see their faces as we stroll down Main Street and they soak in all the magic. I know my son will be thrilled to see Mickey and Minnie in person … he kind of already has a little crush on Minnie. And my daughter is a self-proclaimed princess so she'll fit right in 🙂
But … the big "but" … when do we go???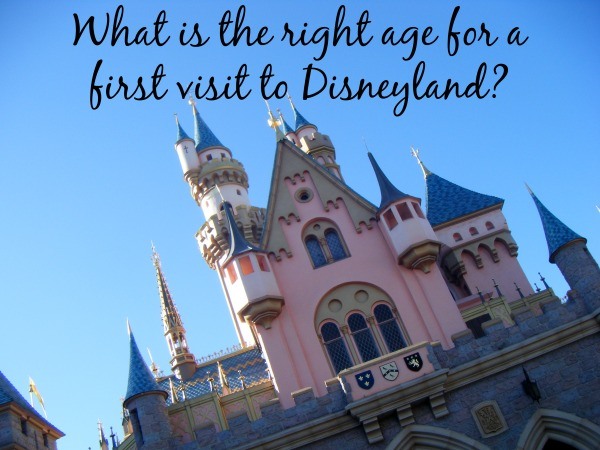 What is the right age for a first visit to Disneyland?
My son is almost 2 and my daughter will be 4 in the fall, I know if we went now, they would love it, but I'm wagering that if they were a bit older we'd all have a more enjoyable visit. Do you agree? From your experience or research, what do you feel is the right age to experience Disneyland?
QUESTIONS FOR TAKING A KIDS TO DISNEYLAND FOR THE FIRST TIME:
How will they handle the flight?
Are they still napping?
Are they potty trained?
How do they handle dressed up people and/or life size characters?
Can they listen to directions?
Do they stay close in public settings?
How do they handle being tired?
How long can they walk?
How tall are they? Does it align with what rides they will enjoy?
Now it's your turn to chime in! What other things should I consider? What would you say is the right age for Disneyland? Leave us a comment and let us know!