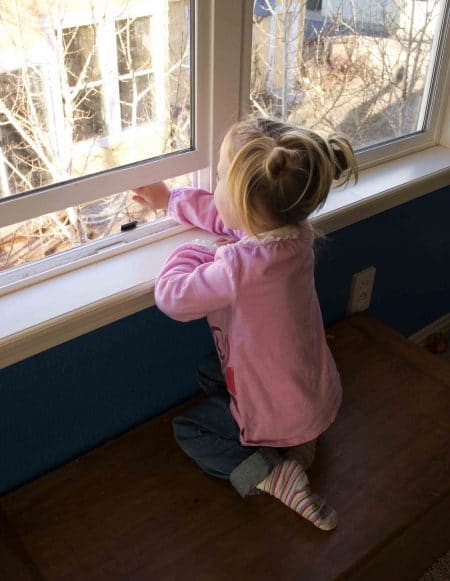 During the summer months, as the temperatures rise, windows everywhere are left open. We tend to think nothing of it, but one mom is warning parents to be aware after her son fell 12 feet through an open window and is now in intensive care.
A post by the Unmumsy Mum Facebook page reads:
I have this morning received a message from a mum who is absolutely distraught following an incident on Friday where her 4-year-old son fell out of a window at a friend's house, dropping 12 feet to the concrete below. He had been playing with his friends and siblings in the garden just SECONDS before and unbeknown to his mum had taken himself upstairs to wave at his sister from the window when he slipped. He is now medically sedated in hospital with multiple internal and external injuries and in her message his mum said that the sound of his body hitting the floor will stay with her forever. She has asked me to post something on my page to raise awareness about the dangers of open windows and I would very much like to support her in doing so. I would be really grateful if comments could steer clear of judgment about this incident (it saddens me to have to say this, but I know only too well how these comment threads pan out). She has chosen to share this warning because she says, 'I want all parents to ensure they have taken every precaution to keep their babies safe.' Sending all the love to the family xx
Just three weeks ago, a 3 year old boy died after falling from a window in his home. The boy was playing near a window which did have a screen, but the screen buckled when he fell on it causing tragedy for the parents.
"According to CPSC data, falls from windows result in an average of about eight deaths yearly to children five years or younger, while an estimated 3,300 children ages five and younger are treated each year in U.S. hospital emergency departments. On average, one of every three children, about 34 percent, required hospitalization after falling from a window.
These deaths and injuries frequently occur when kids push themselves against window screens or climb onto furniture located next to an open window. These incidents increase dramatically during the spring and summer months."
To practice window safety, consider the following safety tips:
Keep play areas away from windows.
Keep furniture away from windows in case children climb on them.
Keep windows closed and locked, especially when children are playing.
Screens are designed to keep bugs out, not children in. They can't support the weight of a child.
Consider installing hardware that only allow the window to open a few inches.
Talk to your children about window safety, but don't assume they will always follow your advice.