Shhh … I've got a little secret. When my twins wake up in the morning, I turn the monitor off and pretend I don't hear them for a bit so I can check Facebook and drink a cup of coffee.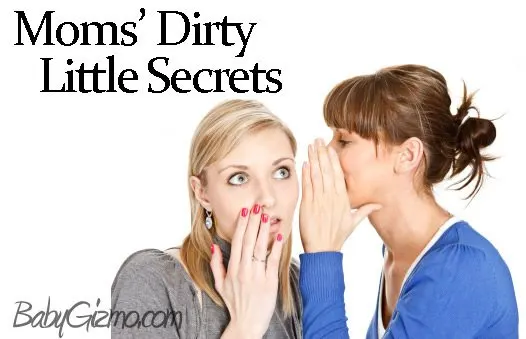 While I'm at it, I've got a few more confessions to make:
Sometimes when we're out, I'll sneak some goldfish out of the boys' snack cups when they're not looking.
I hid their beloved, yet extremely annoying musical Elmo guitar under the couch and didn't pull it out even after watching my son wander around the living room aimlessly for 15 minutes saying, "Elmo? Elmo?"
Sometimes I'll sit in my car in the parking lot for an extra 10 minutes after leaving the grocery store while the boys are home with my husband, then tell hubby only one checkout lane was open and the line was long.
Whew! I feel better now that I've gotten those things off my chest. But it seems I'm not the only mom with dirty little secrets. Parenting.com partnered with TODAY Moms on Today.com and surveyed more than 25,000 women to find out how moms really live their lives and how they feel about their kids, partners, and other moms. Respondents made some pretty juicy confessions:
49% of working moms said they've sent their kids to school sick.
More than half of the moms said they'd choose a good night's sleep over mind-blowing sex.
18% admitted that their kids have nearly gotten hurt because they were busy texting or surfing the Web. Yikes!
Nearly 18% confessed to medicating their child before a long car trip or a flight. 8% said they sometimes do it on a regular night at home, just to get some peace and quiet!
88% admitted to judging other parents.
almost 14% fessed up to having a favorite a child.
Nearly 84% said they've used their kids as an excuse to get out of social obligations. One mom confessed to taking it a step further: "I have used obligations for the kids—homework, projects, laundry—to get out of sex," she wrote.
Read the rest of the mom confessions here. Then, tell us: What are your dirty little secrets?