The Nano is Mountain Buggy's most compact strollers that is easy to fold and small enough to fit in an overhead compartment of many airplanes. It was introduced last year and has been a big hit among avid traveling parents. It's lightweight and compact but big on features!
MOUNTAIN BUGGY NANO VIDEO
SEAT
The Mountain Buggy Nano seat has a 44 lb weight capacity and is suitable from birth (when used with an infant car seat). It measures 13 1/2″ wide with an 18″ seat back and a measurement of 27″ from seat back to canopy. The deep recline is done with a strap system and is great for a nap. There is an adjustable, padded, 5-point harness with a hard-to-do buckle for safety. Well, the buckle is easy for mom but difficult for curious toddlers to master.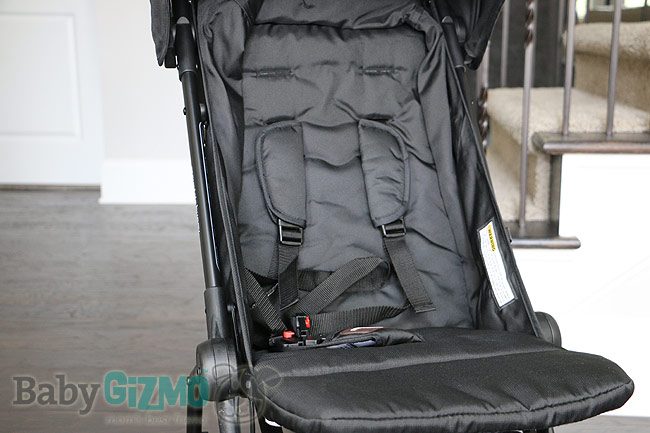 CANOPY
The canopy on the Nano is decent with two full panels and a pop-out sun visor. While it doesn't necessarily have a peek-a-boo window on top, there is a really large mesh window on the back of the canopy that acts as the back of the seat fabric to allow air to circulate through the seat.
HANDLE
The handle is tall measuring 40″ from ground to handle but certainly isn't the tallest handle on the market. If you are super tall, you might want to test this stroller out first before committing.
BASKET
When parents travel, we carry a lot of extra essentials with us. The Nano has a decent size basket (for a travel stroller) that is accessible from both front and back to accommodate these extras.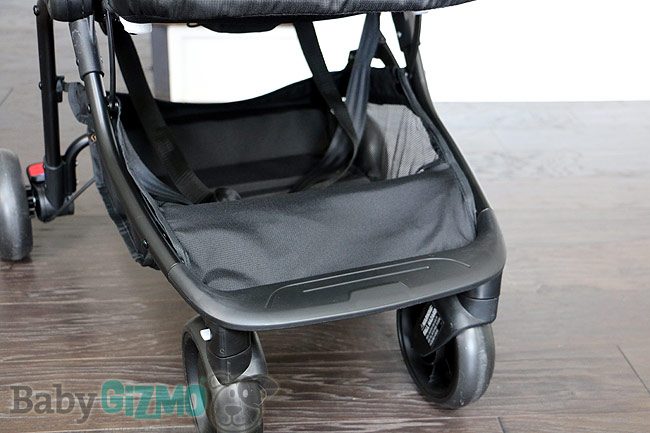 WHEELS
Rolling on 5 1/2″ EVA tires and with rear wheel suspension, the Nano is easy to push even with one hand. The front wheels are swivel wheels that can lock straight for grass, gravel and playground mulch, but know that this is not an all-terrain stroller.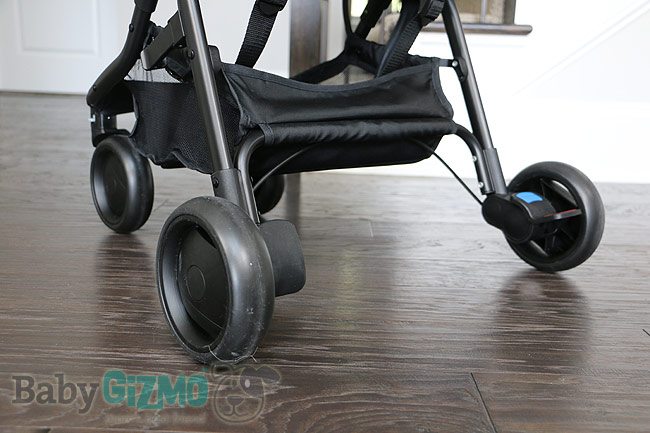 FOLD/UNFOLD
No one has time for a hard-to-fold buggy on-the-go, so we are pleased that the Nano folds easily! Sure, it takes two hands to fold it but it can be done in mere seconds and even comes with an auto lock. Unfolding is just as easy! Watch our video review to see it in action.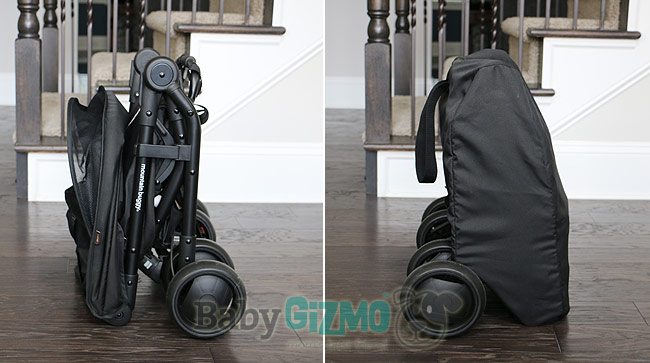 MOUNTAIN BUGGY NANO TRAVEL SYSTEM
While many super lightweight strollers can't handle an infant car seat, the Nano can, making it a travel system. With the integrated straps under the seat, the Nano accepts most major brands of infant car seats making the stroller suitable from birth.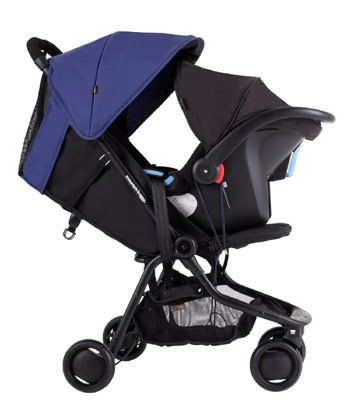 WRAP-UP
The Mountain Buggy Nano retails for $199 and is available now. It is small on space but big on features and could be the travel stroller for you!
Buy the Mountain Buggy Nano on Amazon.com.
*Affiliate links were used in this article.
OTHER GREAT TRAVEL STROLLERS