ABC Expo News
Mountain Buggy has big new for 2011!  Two new double strollers and a fun ride-on scooter that attaches to a stroller!
Mountain Buggy Duet
Let's start with the biggest news first!  Mountain Buggy is bringing out the slimmest side-by-side stroller ever!  (Okay, at least so far until others start to copy them!)  The Mountain Buggy Duet won't be available probably until Summer 2011 but it might just be worth waiting for.  The Duet will be a slim 26″ across!  That is about the same width as the Mountain Buggy Urban Jungle Single.  How, you ask?  Truthfully, we aren't really sure!  We saw it.  We measured the seats at 11 1/2 inches across each.  And we measured the stroller at its  widest point – the canopies.  26 inches!  So, this double stroller will glide through even your smaller doors!  Since it was a prototype, we couldn't push it around.  So, we'll have to report on the maneuverability when it comes out.  The notable features we do know about are:
26″ wide
11 1/2″ wide seats
Flat seat reclines
Adjustable handle
No suspension
Will accommodate 2 infant car seats!  (We'll believe this when we see it!)
Will take 2 carrycots
Probably retail for $599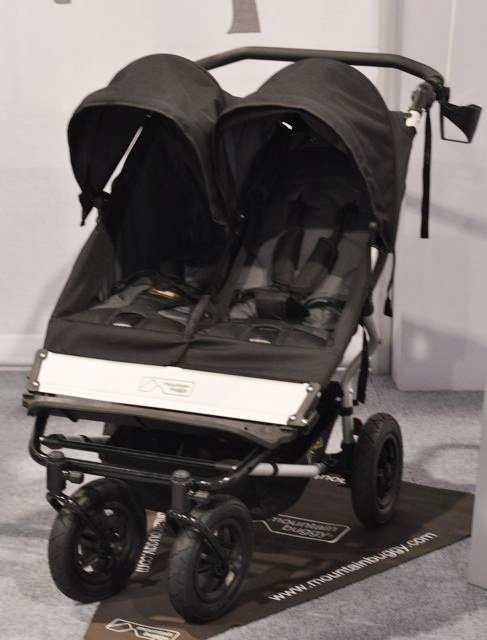 MB + One Stroller

The MB + One is a new tandem stroller that Mountain Buggy will introduce in Spring 2011.   It has a front/back seating design, 110 lb total weight capacity yet will not be as long as your traditional tandem stroller.
Notable Features:
Adjustable handlebar
Huge canopy
Can be a double or a single
In double mode, the front seat will have no recline
Big basket
12″ wheels so you can jog with it
Takes a carrycot in the rear seat
Auto transport lock
Lockable front swivel wheels

Mountain Buggy Free Rider
And last, but not least, the Mountain Buggy Free Rider.  This is a ride-on scooter that will attach to the Mountain Buggy Duo and Urban Jungle (to start!) to give your older toddler/child a fun ride.  You'll be able to attach it to the back of the Duo to make it a triple.  Plus, a fun feature of the Free Rider is that it is a ride-on (like a buggy board) when attached but can be used by itself as a scooter.  So, the Free Rider does double duty.  Plus, a little birdie told us that they are working on the Free Rider having the ability to attach to competitors' strollers as well.
The Free Rider will be available in December 2010 and retail for $99.