Movie Review: Disney Aladdin
Can I just start this movie review off by telling you that I was not looking forward to going to see Disney's live-action Aladdin? From the time the teaser trailer was released, I did not hear good things. Each trailer or sneak peek brought new complaints. It was too much like the cartoon. It wasn't enough like the cartoon. Why was Will Smith's Genie blue? Why wasn't he blue? Why was Jafar hotter than Aladdin? Why was Aladdin wearing a shirt? And then the clip of "Prince Ali" came out and people were just generally over it, complaining about how low-energy the song was.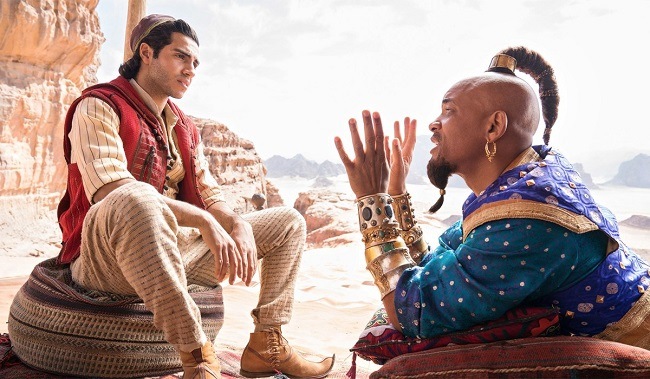 Sadly, the movie met my expectations. With three exceptions, I was bored to tears. The only thing that kept me from checking my watching repeatedly throughout the movie was that my watch is digital and I didn't want to be a distraction to the other movie-goers. But to give a totally honest review, though, I have to tell you I was out voted. My movie-loving daughter proclaimed it, "Awesome," and my husband thought it was a "fun interpretation of the movie." He liked the blending of cultures in the movie, including the Bollywood feel.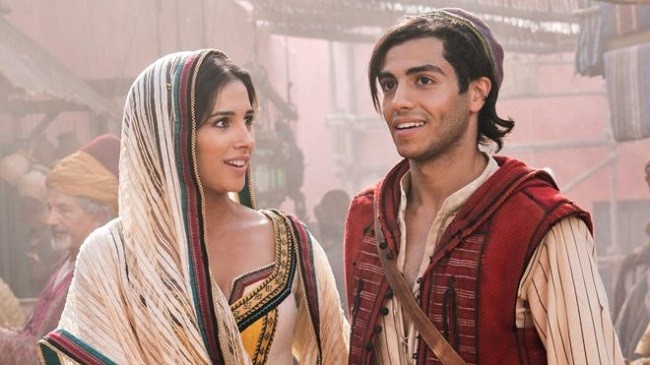 The film tells the story of orphaned thief Aladdin who unknowingly meets undercover princess Jasmine in the market. Upon discovering her true identity, he is offered the chance to gain enough wealth to impress the princess, with whom he has fallen in love. The offer was made by the sultan's royal vizier Jafar, who wants Aladdin to obtain a magic lamp for him. In the end, he double-crosses Aladdin. Unfortunately for Jafar, his plan fails, leaving Aladdin in possession of lamp and its powers—and Jafar will stop at nothing to get the lamp back.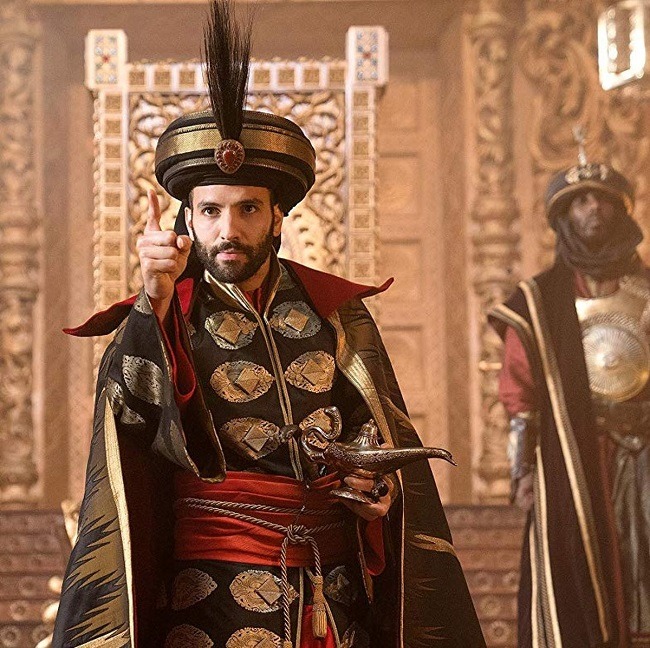 For those who are familiar with the 1992 animated version of the movie, know that this one is a little more mature and edgy. If you've read A Whole New World: A Twisted Tale by Liz Braswell, some bits and pieces of the film may seem reminiscent of that book, which is intended for middle-high- to high-school-aged readers. The fact that it features actual people also makes the tense and scary parts more intense. How old should your kids be to go see this PG-rated film? Common Sense Media rates Aladdin ages 8 and up, versus 6 and up for the animated version. My daughter said it's appropriate for seven-year-olds if they're brave, otherwise you should wait until you're eight because a couple of scenes (the Cave of Wonders; Jafar taking over the kingdom) are really scary.
On the positive side, Jasmine is a very strong character in the movie. As far as Disney princesses go, she was a positive role model in the animated film, but she proves herself to be a true leader in this version of Aladdin. For those wondering how Will Smith did in his turn as Genie, he was generally pretty good! (Except for the "Prince Ali" scene, which was just embarrassing to watch.) He really made Genie his own. Oh, and Aladdin's last wish? That scene was touching in the original film, but also played for laughs. In this version, it's a beautiful scene with just a touch of humor—absolutely lovely.
So my final movie review: while my husband and kid enjoyed the film, I can't recommend this one for just the three scenes I enjoyed. (And honestly, the theater was silent during the funny scenes—no one reacted. I don't think I'm the only one who was underwhelmed.) I'd say wait for it to come out on video or streaming. You can watch the original till then.
Have you seen Aladdin? What's your take? Share your movie review in the comments.
PS: If you do go, keep your eyes peeled for some fun Disney World Easter eggs throughout the film!