Right after we saw our first preview for Dolittle my husband gave me a big grin and said, "We're going to see that one!" Then I noticed it was from the producer of Alice and Wonderland and Maleficent and I thought maybe we wouldn't, figuring it would skew towards an audience a little older than our daughter. However, Common Sense Media gave it a rating of 8 years old and up, so off we went on opening night! Here's my movie review for you.
First the plot. When we meet Dr. Dolittle, a formerly famous doctor and veterinarian in England, he has become a mysterious recluse after the death of his wife seven years prior. Now, though, Queen Victoria is gravely ill and has requested his help. As it happens, the cure for her illness is one that can only be obtained after a long and dangerous adventure. Dolittle is joined by a group of ragtag animal friends and a stowaway "apprentice," who aid him in his quest for the miracle cure.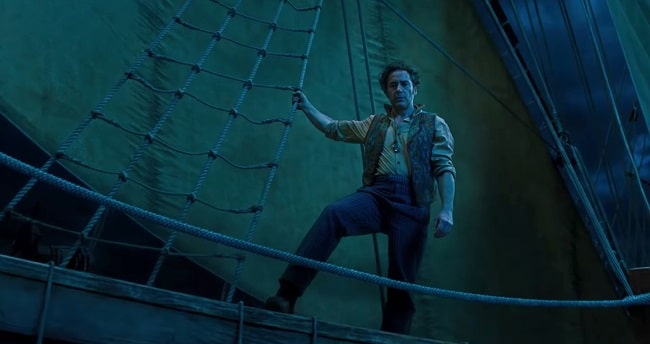 How was it? Not bad! My husband liked the story and the humor, although there was some potty humor at the end that he felt went on too long. He acknowledged that there were some scary parts, but noted that whenever the movie got scary, it introduced comedy to lighten things up. My eight-year-old just thought it was too scary for her. (She only named two really suspenseful parts, but apparently, they really stuck with her.) She liked it enough to have a favorite part, but it's a spoiler, so I can't share it here. I appreciated the seamless way the animated animals fit into the live-action film. I was worried about how the visual effects were going to turn out (see: CATS) , but they were good! Oh, and I loved the score—and the song during the credits, too.
How old should you have to be to see Dolittle? My daughter says nine or ten and up, but that eight and up window is pretty spot-on. This movie is an adventure film, and characters spend a lot of time in danger. Some of that danger involves weapons (guns, cannons, knives, poison). In fact, one of the earliest scenes is of an animal getting shot, although the shooting is implied, not shown. It can all be a bit much for younger viewers.
Overall, Dolittle's messages about bravery, sticking together, not giving up, and helping others are positive ones. The movie was fun, making this a good choice for a family movie. And it's worth catching in theaters, too: grand adventures are always a little more enjoyable on the big screen.
PS: There's a scene after the end of the first song during the credits. Stick around for a couple of minutes after the movie ends.