I'm sure you've all heard of the movie Ferdinand—I mean, they've done so much marketing at this point, who hasn't? (Hanna Andersson PJs? Really? Super cute, though!) Movies that market this heavily make me nervous. It seems like the movie company is worried that people won't like the movie and that negative word-of-mouth advertising will lead to no viewers. On the other hand, some fool decided to release Ferdinand on the same day as Star Wars: The Last Jedi, so I guess some heavy marketing is called for in this case. Because I'm not completely crazy, we're skipping Star Wars opening night and going to a matinee the next day instead, so I was able to surprise my daughter and took her to see Ferdinand on its opening day. Here's my movie review!
Ferdinand is based on the classic children's book The Story of Ferdinand by Munro Leaf. If, like me, you've never read it here's the gist: Ferdinand is bull who would rather sit in a field and smell flowers than fight. When he ends up in the bull ring, he refuses to fight the matador. It may seem like a stretch to turn a 34 page book into a 107 minute movie, but it really works!
I enjoyed the movie and the humor was great! Admittedly, I laughed more than my daughter and we laughed more than the four other people in theater (no, I'm not miscounting; it's a small town), but they seemed pretty stressed from the time they were in the lobby on. The story moved nicely and didn't have any boring parts that had me looking at my watch wondering when the movie would finally end. In fact, the only time I looked at my watch was to check how long it took me before I cried the first time (twenty-two minutes after the lights went down, which, counting previews, is maybe ten minutes into the movie?). This was a Pixar-level tear-jerker folks!
Okay, so I obviously liked it, but what did the six-year-old think? This is a direct quote, "Awesome!" That opinion was followed a moment later by, "There were some scary parts." By scary, she means tense—and this is a very true observation. As in the book, Ferdinand ends up in the bull ring, which my daughter said was the scariest part. The happiest part according to her was the very last scene, which I can't tell you about because spoilers.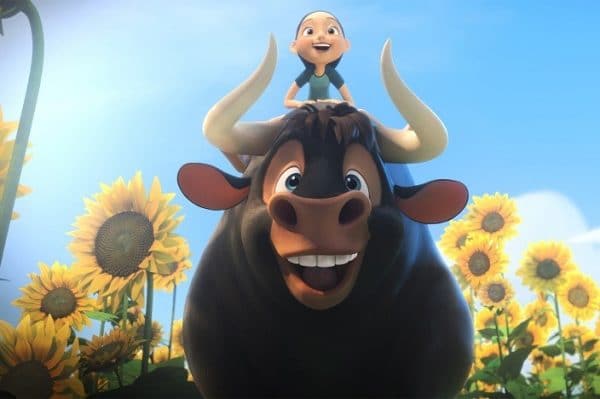 With three animated films currently in theaters (The Star, Coco, and Ferdinand) and then Star Wars on top of those, why spend your movie-seeing dollars on Ferdinand? Within the first few minutes I immediately recognized that this movie is one big opportunity to introduce a teachable moment about bullying. Throughout the film, Ferdinand worked hard to be true to himself and avoid giving like-for-like to his bullies. When one character made fun of what brings Ferdinand joy and asked if Ferdinand thought everyone should do what Ferdinand does, Ferdinand responded that what he did made him happy, and that others should do what brings them joy. To build on that message, the movie also promotes discussion about following tradition for tradition's sake as opposed to following one's dream. That can easily bridge into a conversation about thinking for oneself and not doing something just because "everyone else is." With a main character who refuses to fight, the movie also promotes non-violence.
That all being said, a couple of caveats. (For those who have read my past movie reviews, you know I frequently reference Common Sense Media when I talk about concerns parents may have when taking their child to see a movie. In this case, I kind of rolled my eyes at  many of the things they highlighted as "need to knows." Feel free to check out their take, though!) Depending on the age of your child, you might want to have a conversation about bullfighting ahead of time. My daughter and I ended up having the conversation after the movie, as she was processing what all she saw. Also, [MINOR SPOILER ALERT], there is frank talk about underperforming bulls being sent "the chophouse." The imagery that accompanies the dialogue makes it very clear to many of us what that means. It wasn't particularly clear for my daughter, though, so I had to explain what was meant by "chophouse," and where beef comes from. And leather. During that conversation, I pointed out that my bag is leather, and now we can all think about the fact I carry around the dead skin of some adorable, lovable, yet underperforming bull. Yay! Moving on.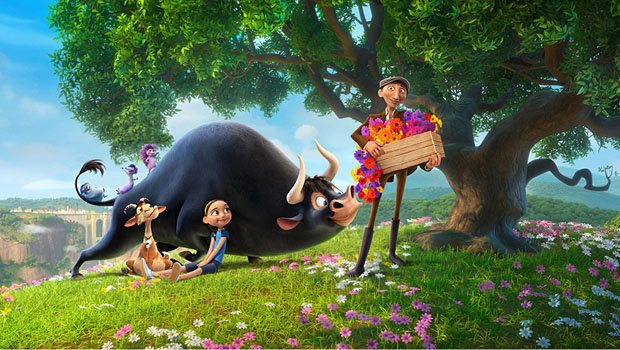 The film is rated PG and Common Sense Media says it's appropriate for ages six and up. While I probably would have taken my daughter to see this when she was four or five, that's because I believe she wouldn't have had the questions she had after seeing the movie at six. If you have a sensitive child, you might want to wait for the movie to be released for home viewing so you can pause if things get intense. There's parental loss, real and implied violence (it is bullfighting, after all), bullying, and the whole chophouse thing. It can be a lot for some kids to process.
Overall, Ferdinand is a heartwarming film with some great messages. I'm a big fan of entertainment media that also provides conversation starters and an opportunity to talk about my family's values; I'm sneaky that way. The animation is bright and fun, and the film is enjoyable to watch. Take a couple hours and check it out!