I have a confession: my family is a house divided. My husband believes in "No trees before turkeys," and he should consider himself lucky that I wait until November 1 to start playing Christmas music. Which means that of course we found ourselves at the first possible showing of The Nutcracker and the Four Realms—you know "for work." Hee hee. Here's my movie review!
I have always loved The Nutcracker. I love the music (and find the trivia shared in Walt Disney's Fantasia that its composer Pyotr Ilyich Tchaikovsky didn't really care for it to be funny). My daughter and I enjoy reading different retellings of the story. I love the ballet and have seen it staged in multiple ways; I think my daughter has seen it three different ways herself. Obviously, we've been pretty excited to see this movie since we saw the first trailer.
The story line here is quite different from ballet. Familiar characters do make their appearances: Clara, Fritz, Drosselmeyer, the Sugar Plum Fairy, Mother Ginger, the Nutcracker, and even a character whose name will be familiar to those who've read E.T.A. Hoffman's The Nutcracker and the Mouse King. The story, though, is quite different from what we've come to expect.
The Stahlbaum family is not a happy one, having recently lost the family matriarch—and the big Christmas party does not take place at their home as we're accustomed, but at Godfather Drosselmeyer's, where a gift leads Clara to a magical land. Once there, Clara discovers that the land is a kingdom made up of three realms at war with a fourth, from which a magical key must be retrieved to save kingdom. Clara teams up with the trusty Nutcracker to undertake the quest.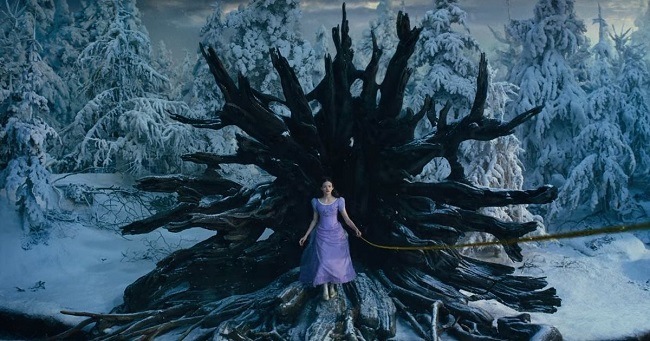 There's plenty to love here. There's a female hero. The hero ends up with a pretty equal partnership with her "sidekick," showing no one can—or should—go it alone. While there's a not a ton of diversity in the casting of the main characters, there's some—and it's in two highly visible characters in the Nutcracker story: the Nutcracker himself and Drosselmeyer.
Clara is very much into STEM, which is evident from the very first moment we meet her, and it is something that is recognized and celebrated about her. Viewers see characters make mistakes and then see them own up those mistakes and try to make things right. And I'm a sucker for costumes, so I'm also going to toss out: the costuming is so pretty! Also, the movie has a run time of just an hour and 40 minutes. I was expecting it to be Star Wars-length and was legitimately stunned when I looked at my watch as we left the theater—and we stayed for the credits and everything!
One more thing. The movie's composer James Newton Howard makes use of Tchaikovsky's score, incorporating it and adding to it, as well as mixing it up and using it out of order. For those who know and love the music, this adds a fun and unexpected dimension to the film. (And for fans of Fantasia, there are a couple little Easter eggs in the film, at least one of which involves this fun use of the music.) If you are a music lover or you have a music lover in your house—particularly a fan of The Nutcracker—this is just an extra layer to appreciate.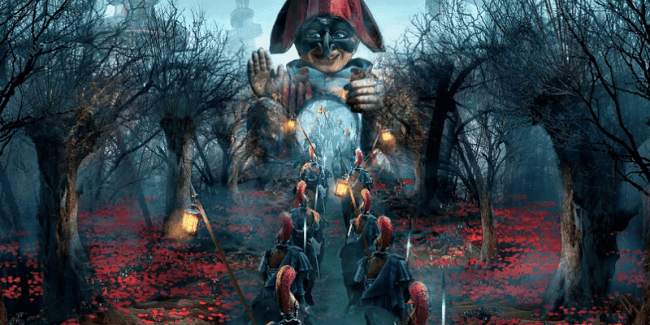 As always, I chatted with my seven-year-old after the film and she said, "It was good—a little bit scary, but not too much." The scary part was something I can't share with you because spoilers, but it was the climactic scene near the end; her father and I think she means "suspenseful," rather than scary. Her favorite part was the end of the movie.
She thinks this movie is suitable for kids age seven and up (as always, she says the same age she is). When her father asked if she thought it would be okay for younger kids, like a six-year-old, she said no because of how scary it is. He replied that a five-year-old her would have enjoyed the movie, and that's his overall assessment: that the movie would be suitable for kindergarteners and up. He said that the Mouse King is probably the scariest thing in the movie, but that the film's action wasn't too intense.
I'm inclined to agree. If you think back to older movies like The Labyrinth or even the Fire Swamp with the R.O.U.S in The Princess Bride and all the atmospheric creepiness with the fog and mist and the dead trees, that's what the Fourth Realm is like. But the creatures in The Nutcracker and the Four Realms are CGI or creepy clown-like figures instead of weird 1980s-era puppets or people in rat suits, and sometimes our ability to make things look more real ups their ability to scare viewers, which isn't always a good thing.
There are moments of peril, where characters are danger, but no one's really in trouble for long and much of the danger is from non-human characters. With my daughter at least, that usually makes a difference in how scary something is. (For what it's worth, Common Sense Media is saying the movie is suitable for ages 8 and up, with parents and kids on the site saying 7 and up.)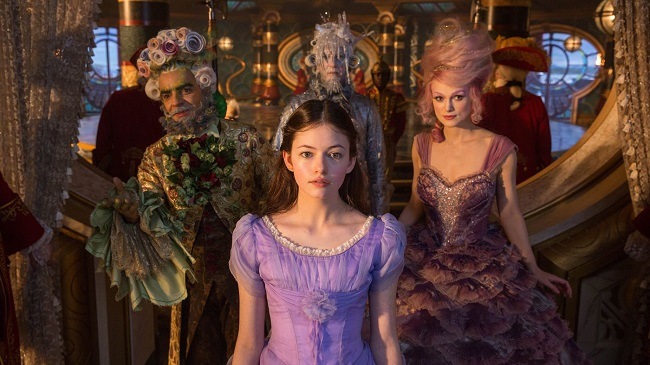 All in all, we really enjoyed the movie! Aside from everything I already said, it was a simple story, it didn't drag, and it was generally fun to look at. And before you ask: there is no post-credit scene. BUT. If you really didn't think that a few minutes of Misty Copeland dancing in the middle of the movie (oh, did I forget to mention that?) was enough, then you are going to love the credits.
Stay in your seat for a few minutes to watch her dance solo before another dancer joins in (Sergei Polunin, I believe). Then a third dancer whose name I cannot find anywhere comes onto the screen for a couple hip-hop or modern dance solos that are just gorgeous. The three of them together are amazing. Stay. In. Your Seats.
So, go. Even if you're a "no trees before turkeys" person, it's only Christmassy for the first few minutes and then someone says Christmas again once at the end. Otherwise it's just snowy. You'll be fine. And the rest of us will enjoy sneaking in some holiday spirit while we all enjoy a good family movie.