What's a pregnant mom of a toddler to do when it's 90 degrees Fahrenheit out with 80% humidity? Well, other than downing chocolate ice cream and crying on account of her swollen feet, she goes swimming, of course.
During my second pregnancy, going swimming with my toddler was my "thing." It's what I did to stay cool, get some easy prenatal exercise in that didn't require me to break a sweat. Oh, and swimming also allowed me to more easily play with my toddler outside.
Our community has a pool, so, I can say that we went swimming often. "How often?" You ask? Oh, well, at least three times a week, sometimes everyday, because, usually, it was just that hot. Our community pool has a kiddie pool that is OK. But it was the cooler, bug-free, adult sized pool that piqued my daughter's interest. I couldn't get a body double, so as a pregnant mom with a rambunctious toddler, to use the adult pool more easily, I began looking for products that I thought could make our time more enjoyable.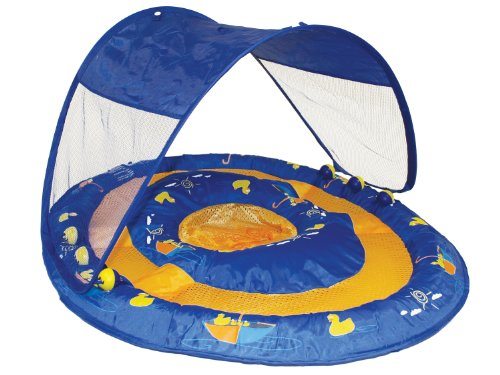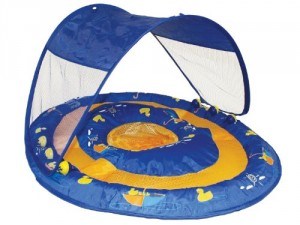 The Swimways Baby Spring Float Sun Canopy was a product that I found early in my search. It's a flotation device with a mesh seat (the yellow, middle part in the picture above) that children can fit their legs into and sit to float. The outer ring of the float is the part that you blow into to fill it with air, while the inner ring (the yellow ring in the picture above) is made of mesh.  I purchased my float in blue.
I'll cut the chase and say that I love the Baby Spring Float Sun Canopy. Most of all, I like that it actually works. Yeah. That's always nice. The float keeps my baby afloat and keeps its air pressure throughout its usage. Here's some other things about our canopy that I love:
The Sun canopy actually does block out the sun, making outdoor swims more pleasant for toddlers and babies.
It doesn't require that parents hold the baby. In placing my toddler in it, I stay close by, but she does not need me to support her weight throughout using it.
 It folds up compact and fits in an, almost, fashionable mesh shoulder bag that is lightweight.
It takes only a few seconds to set up. All you need to do is unfold it, blow into the outer ring and you're done.
The mesh ring can hold small, lightweight water toys, which makes it more fun for your child to be in the float.
The canopy attaches and detaches very easily.
Final Verdict
So, yeah, the Baby Spring Float Sun Canopy is pretty awesome and I would recommend it to other parents. Even though it's a bit pricey at $39.99, it's well worth your money. It's a great swim float that actually works and that can be used, I think, for years after its purchase.