As a new mom, I was super obsessed with providing my daughter with only organic foods. Although my mom and others insisted that anything less than organic wouldn't cause my children to melt, I didn't really believe them.
So, I bought Sprout baby food, an organic and super fresh line designed by Chef Tyler Florence.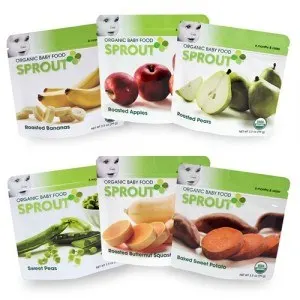 That's right—The Tyler Florence. I'm like his foodie groupie. Seriously. I love his show on Food Network TV and his approach to cooking with the freshest ingredients, so I was happy to find that his baby food line respected his goals of providing fresh taste and natural and simple ingredients.
The Spout line offers three levels of baby food for your child's growing tastes and eating abilities. The starter foods are smooth purees. The intermediate foods are still mostly smooth but feature some texture for older children who are able to "mush." The advanced foods offer more flavor, chunkier textures, larger portions, and more protein options. One of my daughter's favorite advanced textures (that I even came to enjoy) was the Lasagna.
I used these baby foods a lot as a busy working mom, but when I became a stay at home mom and couldn't really afford to pay over a dollar for a pouch of baby food, I began making my own baby foods at home, which was more economical and practical for me.
But let's get back to the post at hand. Sprout Baby Food is a great baby food line. If money isn't an issue, I highly recommend this line for parents who want their children to eat organic, fresh flavors.