"My Brest Friend is My Best Friend"
I purchased a My Brest Friend Deluxe Nursing Pillow during my first pregnancy. Then, I had little idea about the ins and outs of breastfeeding, but I did know enough to make sure I, at least, had the right gear to look like I knew what I was doing. So, I got a My Brest Friend.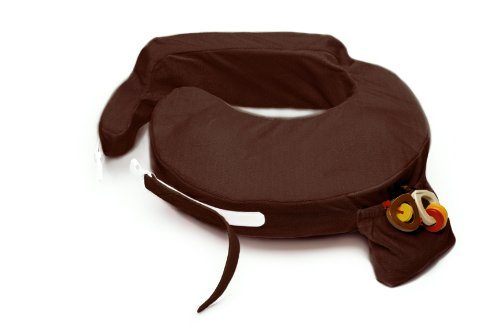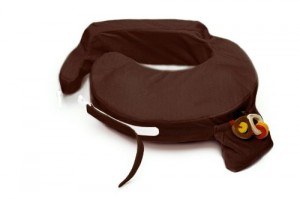 What is the My Brest Friend?
My Brest Friend is a nursing pillow that "was designed to properly support mom and baby during breastfeeding." It's a crescent shaped pillow that fully wraps around the wearer's body with an easy to use "silent release strap" that "snaps" into place. The strap of the pillow can be used by moms to offer loose or tight wrap around the body. The tighter wrap comes in handy when I need to nurse while standing. (The original design fits waists up to 44 inches, but the Twins Plus Pillow fits larger sizes.)
So, it's a nursing pillow. But, it's not just any nursing pillow. It's your Brest (Best + Breast = Brest. Ha! Get it!) friend. And as a true friend, it's there to support you, my mommy friend. Oh, and it won't tell your secrets or ignore your calls or… (ahem). What?? I'm kidding about those last two.
Unlike the Boppy pillow, which I also considered as a first-time pregnant mom, My Brest Friend offers a firmer support. The pillow is mostly flat, but features raised portions at the locations where baby's head lies and where mom would naturally rest her elbows to assist with a baby latching on her breast. Also, and when you and baby become breastfeeding champs, you can even use this pillow with no hands! In other words, your baby can nurse on the pillow without you doing the work of supporting your baby's body.
Some other things that I absolutely adore about this pillow are:
The backrest is designed to help prevent a sore back and neck.
The cover fits on the foam pillow with a zipper. The cover is 100% cotton and machine washable.
The cover features a pocket that you can use to store things.
The pillow is easy to use and remove with just one hand (comes in handy when you have a toddler and baby to care for)
It can be adjusted on mom's body to assist in a variety of breastfeeding holds (i.e, football hold, newborn hold, cradle hold, etc.)
I used My Brest Friend all the time as a first-time breastfeeding mom. But, as my first got older, I used it less, and with my second daughter, I use it even less, but I continue to use it on some occasions.
I purchased My Brest Friend Deluxe for $44 from Babies R' Us. I also purchased a spare cover from Walmart for around $20 bucks to have a cover to rotate when one needs to be washed.
Would I recommend this product to other moms? Yes, especially for new, breastfeeding moms. This is a product that will make sure that mom and baby are comfortable during their breastfeeding experiences.