My Brest Friend Nursing Pillow Review
Like many new moms, when I was pregnant with my first, I researched everything that had to do with babies. No surprise, one of my biggest excitements, and worries, was breastfeeding. How did it work? How did it feel? What would I need in order to be successful? I may not have known much, but I DID know that I wanted to be comfortable, and I wanted my baby supported better than any squishy, misshapen pillow I had at my house. Enter the My Brest Friend!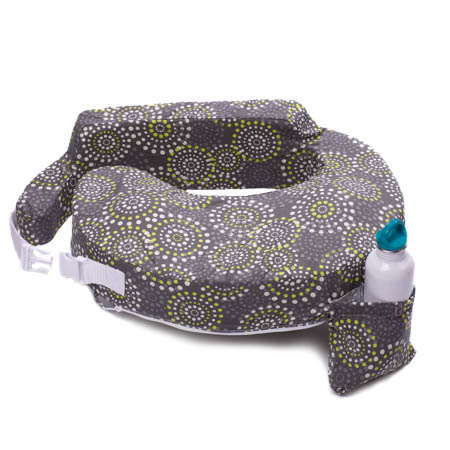 This product brags they are the "only nursing pillow designed to perfectly position baby for latch-on while supporting mom's body." While I doubt it's the ONLY nursing pillow to do this, I can't deny that I found this pillow to really hold up to its promises. Here are some reasons why I will be using this pillow again with my next baby:
The pillow wraps around your body and clicks together at your side, allowing your lower back to be supported without you having to awkwardly stuff five pillows behind you.
The strap that holds the pillow to you is adjustable, meaning I can tighten and loosen it however my constantly changing post partum body desires. And the release clip isn't obnoxiously loud.
The crescent shape of the foam is comfortable for baby but firm enough that she doesn't roll forward or back as easily as other pillows I've tried.
It has a little pocket that hangs off the side so you can put your nipple cream, TV remote, or whatever else in there for easy access. I always stuff mine with packs of gummies, since breastfeeding makes me so hungry.
The cover is machine washable, which is great, because your baby will spit up all over it. Probably multiple times before you take the chance to wash it. No judgment. We all stink like soiled milk every now and then.
They also have a pillow option for twins!
And did I mention the built in back support? Yeah, I love that. (True—this product, like any other, cannot satisfy every single mother so some may not find it as comfortable or supportive as I did, but at least give the idea some credit.)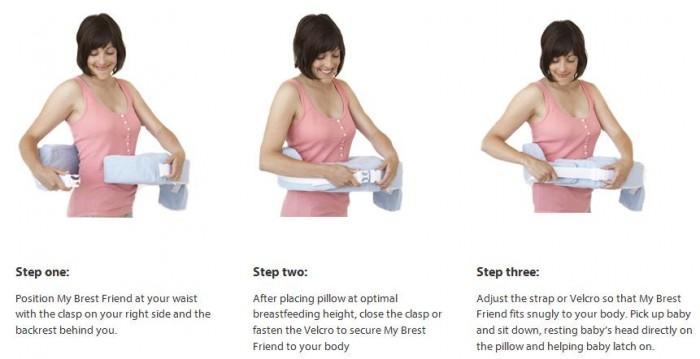 The only thing I found that I didn't like with this pillow is how it doesn't work nearly as well if it's unbuckled. So I can't get lazy and leave it undone during those midnight feedings. But guys, I'm stretching for a "con" with this thing. It really is a popular pillow. I HAVE heard, however, that some C-section mommas preferred a pillow that didn't sit so close to their tummy right after their surgery. Since I haven't had a C-section before, I'll just trust that this pillow might not be as comfortable in that case.
Here's one more tip for you: When you order the My Brest Friend Nursing Pillow, it comes with custom plastic packaging that slips around it perfectly. If you put this packaging back around the foam, and THEN put the fabric cover over it, you save your foam from any spills or spit up soaking into it! It's important to point out, however, that doing this makes your pillow a little louder when you move it around, since the plastic crinkles. But that never bothered the baby or me. It's up to you! You can find cleaning care for the My Brest Friend on their website.
Would you recommend this pillow to other moms? I think it's an obvious yes. And hey—If you don't like it as much as I do, at least you didn't break the bank trying it out! It is available in a range of colors and patterns, and starts at $29.99.