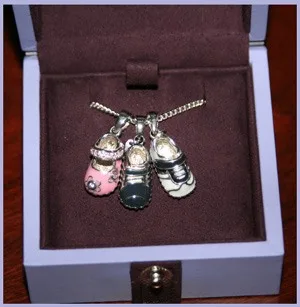 My husband really did a great job on my Christmas gift this year. Even though we always say that we won't get each other anything because we could save the money to do something else (like have the carpets cleaned – romantic, I know!), he knows that is a trick. If he really doesn't get me anything, he runs the risk of me being devastated and holding it over his head until the next holiday when he has the chance to make it up to me. This year we said the same thing. No gifts for each other. I don't even know why we say that anymore because neither of us follow that at all.
The Christmas after my first baby was born he got me the chic "Mama" necklace. He got me a knock-off, of course, because we don't spend $3,000 on an everyday necklace that the kids may break. If I were Gwenyth Paltrow, I'd spring for the expensive one. But I'm not. So, I won't. I still wear that Mama necklace all the time and get compliments on it everywhere I go.
This year he wanted to make it special and do something that focused on the kids again. Now, that we have settled into a routine with three kids, he thought I could use something to brag about them a bit more. He wanted to get me an updated mama necklace. He went searching the internet. Charms. Hearts. Diamonds. Even homemade jewelry on Etsy. He wanted to find the perfect necklace but he wanted me to like it. So, he decided to spill the beans on his idea and let me help him pick out what I would like.
I immediately thought of the baby shoe charms that I have been eyeing for a couple years. But I looked around. He showed me all kinds of mama necklaces online and honestly I just had my heart set on the baby shoe charms. And not just any baby shoe charms. The pediped shoe charms. We love pediped shoes in my house and my kids have worn them since they were babies. When they introduced shoe charms, I was smitten. What is cuter than tiny baby shoes? Tiny baby shoe charms that you wear to brag that you are a mama!
So, that was what I told him I wanted. And that is what he ordered. What a good husband, right?
The necklace just came today! Well, it was actually three necklaces, but I'll get to that. When I opened up the box, I was even more impressed than I even thought I would be. The packaging is exquisite! The adorable, purple keepsake jewelry box comes in a fabulous matching purple outer box. The presentation was unbelievable!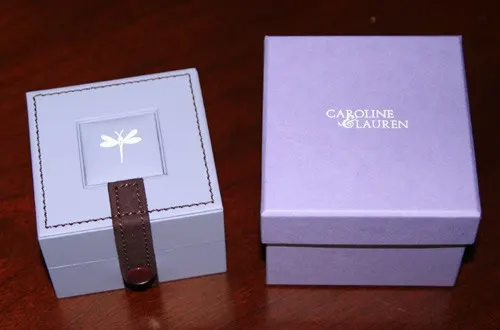 These pediped charms necklaces are gorgeous replicas made by Caroline & Lauren of a few pediped shoes. Since I have three babies, I picked out three different charms. You have 8 to choose from: three boy and five girl options. I picked the Abigail Pink, Jake and the Kyle White/Navy. The charms were just tiny enough to be super cute but big enough to actually see. The charms measure approximately ¾" x ¼". Each charm comes on a separate sterling silver chain that is available in two lengths: small (16") – great for a child and medium (18") – great for mom. Since they don't sell the charms separately, I had to order three separate necklaces. No big deal because I can always use the two spare chains for pendants that my kids broke the chains for.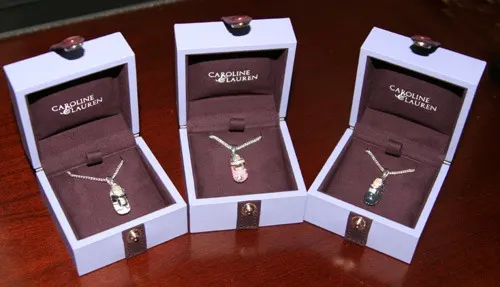 I can't say enough good things about these pediped shoe charms. They are adorable. The packaging is gorgeous. And they give me the chance to wear something that represents each of my three kiddos.
So, how much do the charms cost you ask? Each charm is $95. A bit expensive, I know, especially if you have quite a few kids. But wait!!! I can't buy anything full price so I wanted to let you in on a little secret! I got my charms 50% off! That's right! Kinderbliss.com carries the pediped shoe charms and they are having a site-wide 50% off sale on EVERYTHING!! Including shoe charms!! (Just use the code: HOLIDAY) So, instead of $95, we only paid $47.50 each. So worth it!! Believe me, I searched the internet and these charms are full price everywhere else! The 50% off sale was supposed to end a week and a half ago but they have extended it. For how long? We don't know. So, if you want to get yourself a little after-holiday gift, these charms are fantastic! PS. Husbands, these shoe charms are a fabulous present for your wife when she has a baby. (Some like to call it a "push present"!)
SHOP pediped shoe charms for 50% off at Kinderbliss.com
or
SHOP pediped shoe charms for retail price of $95 at pediped.com