Ever since they were about 9 months old, my twins have continued to get more and more active. We have to strap them into their Graco Tablefit High Chairs when we are at home, but what about when we are out? The My Little Seat Travel High Chair has completely saved us.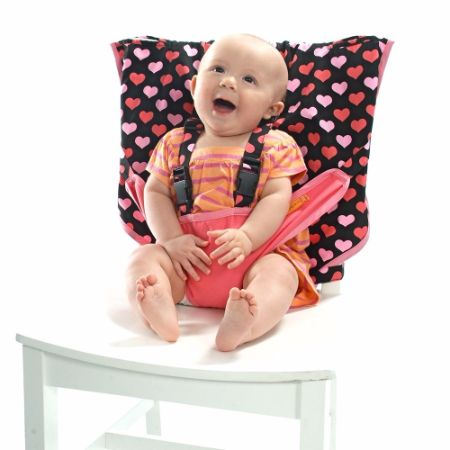 Having two active little ones, running around and driving me bananas at a restaurant or at a family dinner does not make for a relaxing evening. I kept thinking about spending the holidays at Great Grandma's house and wondering, "How in the world are we going to make it through our holiday dinner with these wild girls?"
I found the My Little Seat Travel High Chair on Amazon and quickly snatched them up. I was thrilled when they arrived! They are really well constructed of a firm but soft and comfortable fabric.
The My Little Seat Travel High Chair attaches easily to any shape chair, and keeps your baby or toddler strapped in for meal time. We used the chair on my 2-year-old twins, and they were comfortable but definitely not able to get free.
The chair was the envy of every other parent in our family. We tested it out with a 1-year-old toddler and a slightly younger infant. Both were able to sit on their own, but definitely needed to be strapped in during meal times. The My Little Seat Travel High Chair worked well for the older infants all the way up to my crazy twin toddlers!
The part I like best is how compact the fold is. The seats roll right up and fit snuggly in a carry bag about the size of a clutch purse. I easily stored two of the seats in my TWELVElittle Companion Diaper Backpack along with all our other essentials.
I highly recommend the My Little Seat Travel High Chair to moms of busy little ones. It's the easiest, on the go high chair option out there. And at $24.99 you can't beat the price!