Just a few weeks until all the little goblins and ghouls come knocking at our doors! And in preparation, October 12th is officially National Costume Swap Day. So … set your sewing machine aside, mamas, and find a swap near you! You'll save yourself time and money. And if that doesn't make you excited for Halloween, I don't know what will!
Plus, swapping costumes is totally a green thing to do. If half of the families in the US swapped their kid's costumes that would save 6,250 tons from going to the landfill! Bring on the swap!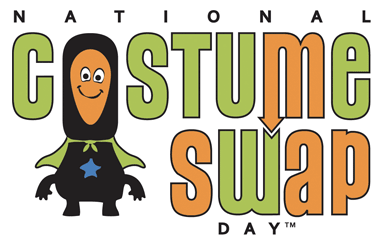 Find a 2013 swap here
If there isn't a swap near you, never fear – there are many ways to find a used, but awesome costume …
Shop at a Just Between Friends Sale
Check out local kid's consignment stores
Browse Goodwill or similar thrift stores, wash up your treasures and you'll be good to go for just a few dollars
Ask your Facebook friends if they're interested in hosting your own mini swap
And last, but not least, this November, consider buying something on super sale for Halloween 2014!
What will your children be dressing up as this year? I'll be marching around our cul-de-sac with a little Dorothy (still on the hunt for red sparkly shoes!) and a chubby giraffe!