Yep, it's time for Barbie to move again! Seriously, Barbie gets a new crib almost once a year. It's hard to blame her though because these dreamhouses that Mattel designs for her are pretty amazing. Wouldn't you want to live in a real Barbie Dreamhouse?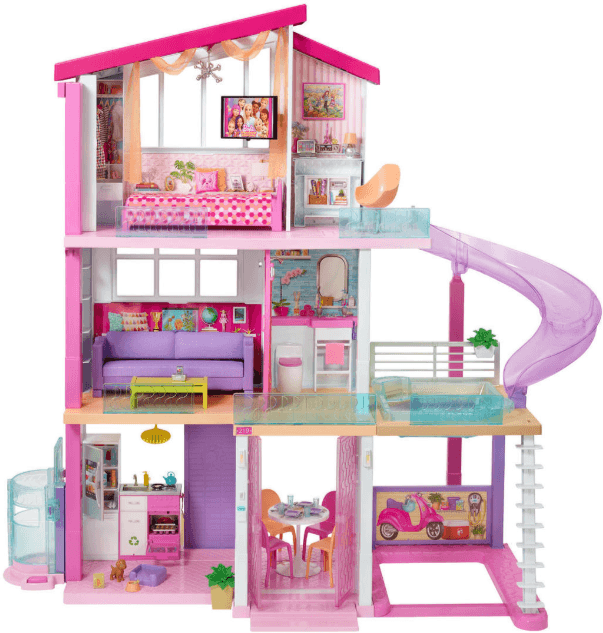 In preparation for the holiday season, Barbie is moving into her new 2018 Dreamhouse that features an elevator, 2nd floor swimming pool, 8 rooms and a garage for her Barbie car, of course.
This house doesn't have the technology that the last "Smart Dreamhouse" did but parents will be excited that the price isn't a "smart home" price either.
This Barbie Dreamhouse measures an impressive 3 feet tall and 4 feet wide and featuring 3 stories, 8 rooms, all-angle play, a working elevator and pool with slide.

Lights and sounds add realistic touches and encourage role-play: place the frying pan on the stove and press for a sizzling sound; do the same with the tea kettle for whistling; open the oven door to see it light up; turn the oven timer for ticking; and push a button on the toilet for a flushing sound!
Two-in-one fun expands the possibilities for play: the couch opens to create bunk beds and the coffee table flips revealing a bed for Chelsea doll (sold separately) to create a guest bedroom; the fireplace turns around to transform a cozy den into a home office; the kitchen sink does double duty with one side featuring a barbecue and shelves and the other with the oven and a recycling bin; and the back of the refrigerator is an outdoor food stand!

Take a peek at this new Barbie Dreamhouse in our YouTube video above. If you want to get a jump on your holiday shopping, we encourage you to get this one early in case it becomes the IT toy of the season.
BUY the Barbie Dreamhouse 2018 HERE
*Disclosure: Thanks to Mattel for sending us this Barbie Dreamhouse for review consideration. Affiliate links have been used in this article.