ABC Expo News
Bumbleride is switching it up for 2011!  They aren't introducing any new strollers BUT they are introducing new collections.  What does that mean?  Well, they are keeping their same great strollers but Bumbleride is offering two new collections that will have different fabric.  Same stroller, different fabric.
Natural Collection
The Bumbleride Natural Collection is for the eco-minded mama that is looking for a more natural choice.  The interior of the stroller will be made of a bamboo, nylon blend that will wick away moisture from the body and is a higher thread count than the other fabrics.  The exterior fabric on the Natural Collection strollers will be made of a recycled polyester blend.  This collection will be available in two fabulous colors:  Ocean (a deep blue) and Walnut (a chocolate brown).  And what we love about these colors are that they are subtle with no funky contrasting colors.  The Natural Collection will be available in Spring 2011.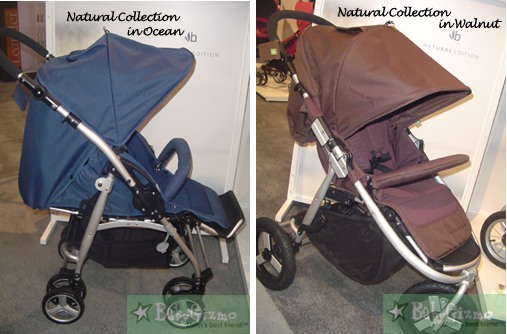 Movement Collection
The Bumbleride Movement Collection is for the sporty mama (or dada!).  This collection will be available on all the Bumbleride stroller EXCEPT the Queen B.  The Movement Collection sports a more stretchy, water resistant fabric.  It will be available in Jet (black/blue) and Fog (Grey/Orange).  The Movement Collection will be available in Spring 2011.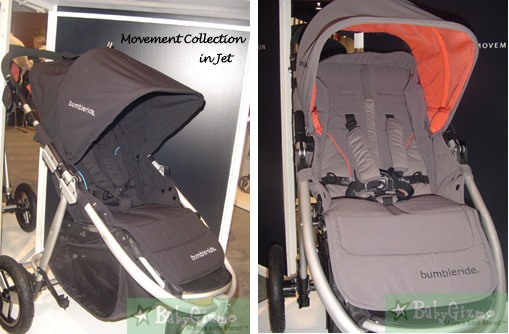 Here are the matching carrycots (sold separately) of the Movement Collection: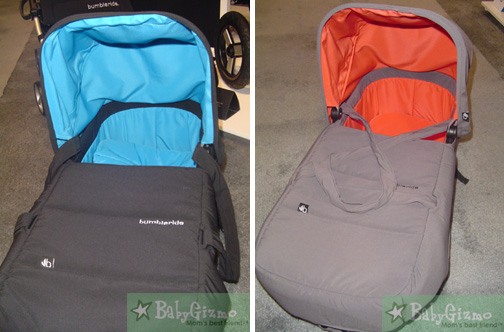 Speaking of carrycots, the 2011 Carrycot will have a bigger footmuff and more lumbar support!
Other Important Changes for 2011:
Queen B 2011 is not going to have pivoting front wheels anymore more like a traditional pram!
Bumbleride Indie Twin 2011 will have the ability to accept TWO infant car seats! (no price change on the 2011 Indie Twin is what we are told)
*PLUS, a Chicco Car Seat Adapter for the 2010 Indie Twin will be available next month!!