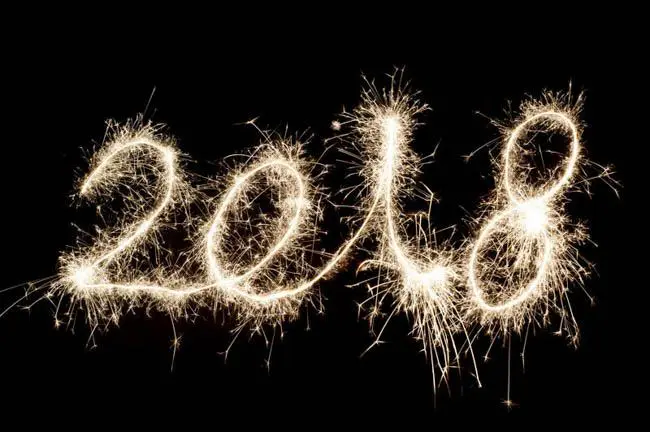 This is it.
This is your chance.
Our chance.
2017 saw terrible things, like huge storms that ripped through homes like paper, fidget spinners, and The Emoji Movie. But it also brought us amazing things like an eclipse, 80 perfect strangers who formed a human chain to save a drowning family, and We Dine Together, a group of high school students who make sure to sit with someone new so no one eats lunch alone. It was a year that, despite whatever happened, is ending. Now, 2018 is beginning and that means it's a new chance. A start over. A new year, a new you—but only if you choose to let it be.
Now is your chance to be a better mom:
To forgive yourself.
To let go of all those moments you lost your patience with your toddler.
To laugh off the time your newborn pooped on your face back in June.
To reconnect with your teenager and take a moment to remember what it was like to be her age.
Now is that chance to try a new product with your brand new baby arriving in March.
Now is your chance to end the excuses and take back your health, mental and physical.
Now is your chance to take that job and reenter the workforce if you want,
Or to quit the miserable career you might have and stay home with the kids.
Now is the time to remember your lessons from 2017 and apply them in the New Year:
To keep practicing your cooking skills because maybe this year, less meals will burn.
To strengthen the friendships you forged last year and beyond.
To give your own parents some slack because now? Now you finally understand what they did for you.
Make promises for 2018 that will make it a better year than the last. Make the promises to your spouse, your kids, your friends, your employees or coworkers but mostly, to yourself:
Promise to take more pictures and actually be in them at least 50% more often.
Promise to bring your kids to the library or the playground more often.
Promise to forgive yourself if you don't go to those places nearly as often as you mean to.
Promise to wish more "Happy Birthdays" that are more than just a two word Facebook post.
Promise to serve your fellow mothers more because you know what it's like to be overwhelmed and feel so alone.
Each new year is a fresh opportunity to adjust, recreate, and begin again what you didn't have the motivation or means to do before. It's a time for attitude adjustments, putting on our big girl pants, and remembering that we are kickass mothers who can do whatever we set our minds to. We will not only "make it through" another year; we will thrive in it.
2018 is coming in just a few days—what are you going to do with it?