Last year I started the year by making goals for myself and my daughter who had just turned 2. Now, before you pin me as the tiger mom, I promise that was not at all the heart behind my New Year's goals for 2013. More so, my goals for her were just a specific sector of my goals – parenting ones that were solely focused on her. At the time, I had a new baby and was worried that the busyness of the coming year would sidetrack my parenting of her. By establishing goals "for my 2 year old", I was able to teach her new things, follow through on promises and help us both transition into our new, daily dynamic with mom, daughter and new baby.
Do you think it would be helpful to set some goals for your children this year? Think through these categories and you'll be on your way in no time …
Academic/Educational – Goals for school achievements, a new subject to explore, reading goal, etc.
Character – Choose a virtue to focus on for the year and discuss things your child can do to fulfill it – for example, courage or compassion, humility or gentleness.
Field Trips – Decide on a new place to visit together, a trip or local adventure.
Physical – Learn to skip or try a dance class, maybe potty training/learning is on your radar …
Language – Commit to new and descriptive words to enhance your child's vocabulary or perhaps introduce sign language or a foreign language.
Boundaries – I'm sure we can all think of something here … media, sweets and the like!
Family – One-on-one dates with a parent? An overnight with a grandparent? Sharing a room with a sibling?
Health – More fruits and veggies? Daily vitamins? Taking thank you bites without complaining?
Of course, you don't need to fill all of these categories, maybe just 3 for each child, 5 if you feel up to it. Post it in their room and work on it throughout the year together. Nab a free printable from The Girl Creative here and start making your list today!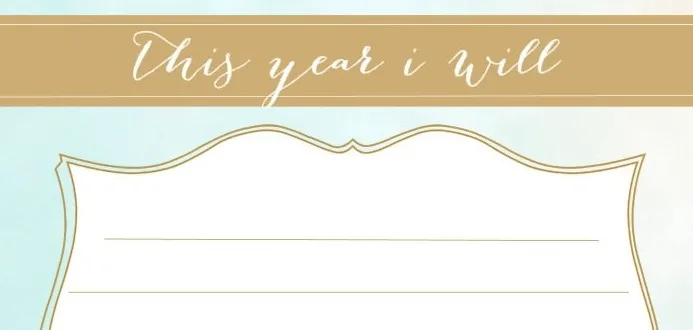 Download the complete, super pretty PDF list over at The Girl Creative