No Babysitter? No Problem! 4 Ideas For a Valentine's Day In!
Have you heard? Valentine's Day is coming up! Right around the corner in fact … and on a Saturday this year! Woohoo! Get those heels dusted, mama, date night is on the horizon!
Oh, wait … no family in the area to watch the kiddos? All the reliable babysitters are taken? Err, no budget for a fancy dinner or weekend getaway? I hear ya. Really, I do. And so, leave those heels in the closet, wipe off the frown of disappointment and get ready for a Valentine's Day in!
After eight years as my husband's sweetheart we've learned to enjoy the getaways as much as our nights at home. It really is true that the person you spend your time with is the most important – so much more than where you spend your time together.
So, don those creative hats and start making plans for a fun and romantic night home! Here's a few ideas to make your 2015 Valentine's Day the best!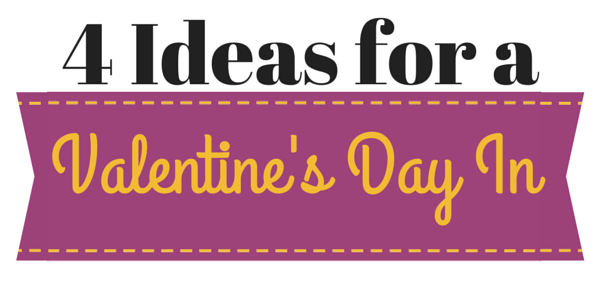 1. Dinner & a Movie
I can hear what you're saying, "BORING!" But remember what I said about your creative hat? Choose a movie and coordinate your meal for a fun themed evening. Watch Mystic Pizza and serve up your favorite Italian pie or plan a breakfast spread while watching The Breakfast Club.
2. Double Date & Board Game
I'm betting you aren't the only couple planning to stay in so why not plan a double date? Grab heart pizzas from Papa Murphy's to feed both families and then tuck all the kids in for a slumber party. Then, let the party begin with Settlers of Catan or Cards Against Humanity. It will be a memorable Valentine's Day!
3. Rewrite Your Vows
Let Valentine's Day be a normal, relaxed Saturday evening with a simple twist – snuggle up on the couch and rewrite your vows together. It takes some thought and may not fall into the category of "fun", but reflecting on your relationship and reevaluating where love has taken you will most definitely be worthwhile.
4. Progressive Dinner
Why not have a progressive dinner at home where you revisit meals you've experienced throughout your relationship – remake the cocktail from the evening you got engaged, or the appetizer from your first date, a delicious meal you recall from your honeymoon, and end with a rendition of your wedding cake for dessert!
Are you staying in for Valentine's Day this year? What are your plans?