Nuna Pepp Stroller Video Review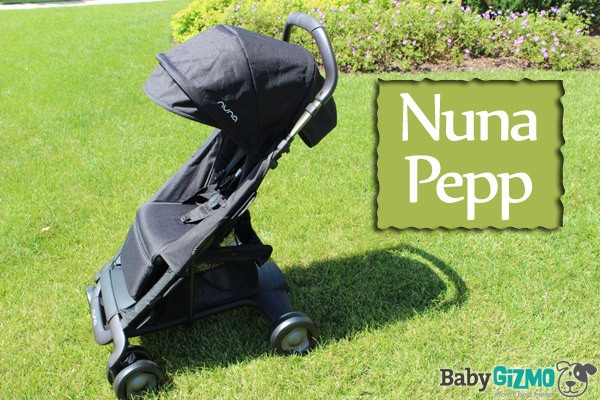 We are big fans of baby gear that is different. Ever since the popular Dutch company, Nuna, brought their unique baby products across the pond late last year, we have been impressed.
Not to overwhelm us, they have launched their products in the US one or two at a time. First, the Leaf and the Sena. Then the Zaaz high chair. Now it's time for a stroller.
That's right, the much-anticipated Nuna Pepp has hit the US market! This travel-friendly buggy is lightweight, easy to fold and sports a unique appearance.
SEAT
The Pepp has a roomy seat measuring 13″ wide, with a 17″ seat back and a measurement of 25″ from back of seat to canopy. It has a 50 lb weight capacity and we think that even a 3-4 year old would be comfy in the seat. The seat has a 5-point, adjustable, padded harness that converts to a 3 point harness but we aren't super happy with the fact that you'll be putting the harness puzzle pieces back together every time you secure your child in the seat. We hope that Nuna changes the harness to make it a solid, 5-point harness (no need to convert to 3-point) or at least makes the straps stay together when removing the child. (You can see what we mean in our Pepp Video Review.)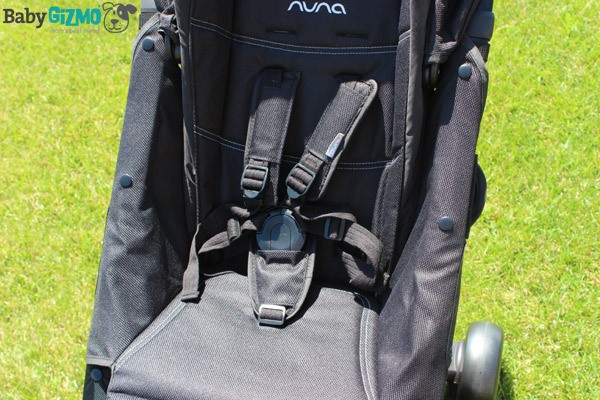 For on-the-go naps, the seat reclines to two positions. Unlike the one-handed bar and strap reclines we are used to seeing, the Pepp seat reclines with zippers. It's not hard to do by any means but we do prefer a one-handed bar. While it is a deep recline, we would recommend it for 3 months and up.
The seat features are rounded out with an adjustable calf rest that has two positions: up and down.
STORAGE
You won't find any cup holders, baby trays or parent consoles on the Pepp. You will find a small basket underneath the seat to hold a few baby essentials. The basket sports high sides and we can fit a small diaper bag in it but just don't expect it to store your monster XL diaper bag. This is very common for lightweight, travel strollers.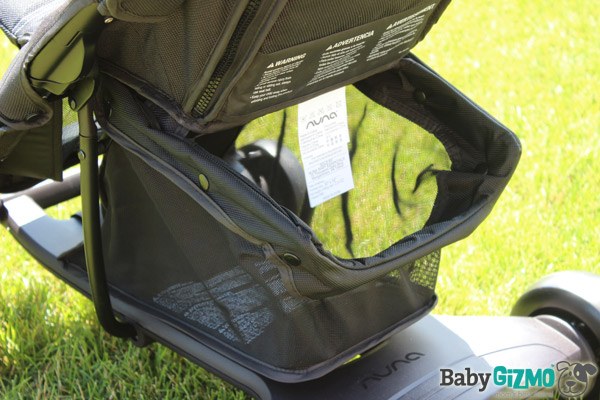 CANOPY
The canopy is a decent size on the Pepp. Not the biggest on the market but not the smallest either. To give a little extra protection, there is a pop out sun visor.
On the back of the canopy, there is a peek-a-boo window to see in at your little rider. Since it is positioned on the back, it may be harder for our taller parents to use it without bending down.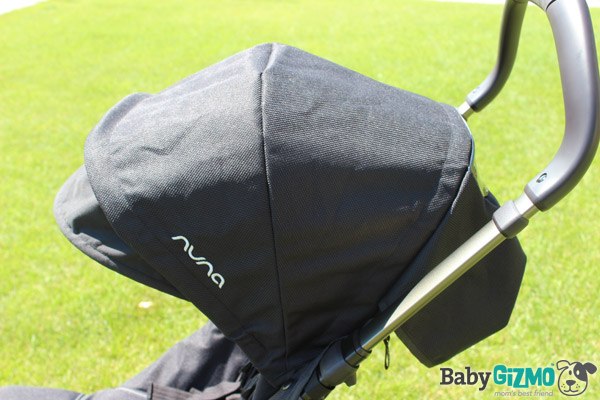 HANDLE
Short and tall parents will both do well with this stroller since it sports an adjustable handle that extend from 36″ to 41″ from ground to handle.
We also love that it has a rubberized gripper in the center of the handle for easier one-handed maneuverability.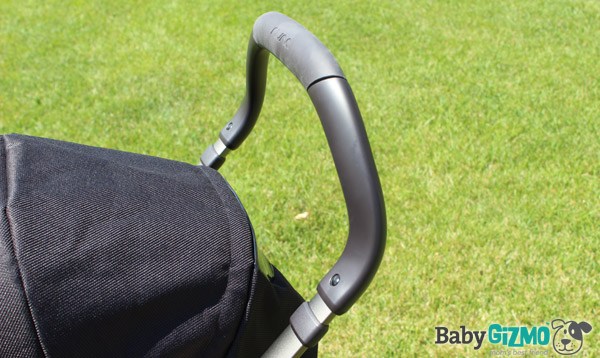 WHEELS
The Peep rolls on 6″ hard, rubber wheels. The front wheels are swivel wheels with the ability to lock straight to tackle minor "mommy terrain" such as grass and playground mulch. The front wheel suspension will absorb some of the bumps for the little rider, but know that this stroller is best on smooth surfaces.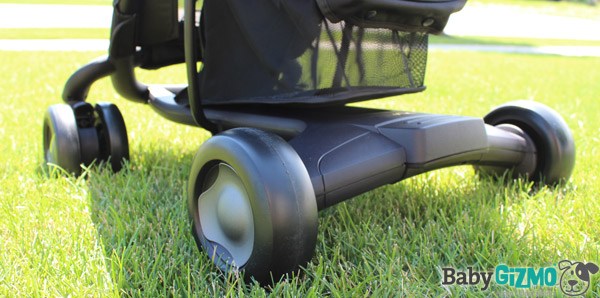 FOLD/UNFOLD
It does take two-hands but very little effort to fold the Pepp. We love the very compact, flat package that it folds into and the ability to roll behind us like luggage while traveling is brilliant. There are two manual, wide, Velcro straps to lock the stroller closed and weighing in at 19 lbs makes it no problem for transporting.
ACCESSORIES
If a travel system is your thing, you will want to grab one of the car seat adapters that will be available next month (August 2013) for the Maxi Cosi, Cybex or Nuna Pipa infant car seats. A foot muff and rain cover are also available to add to the Pepp (sold separately). We'd love to see a travel bag added to the line of Pepp accessories.
WRAP-UP
Overall, the Pepp is a great travel stroller. We would love a modified 5-point harness and a higher peek-a-boo window on the next version, but overall we really like it.
Now that you've read all about the Nuna Pepp, why not see it in action up close and personal in our Baby Gizmo Video Review?