On the Go Snacks Kids Love
Thanks to Horizon for sponsoring this post. 
It's a fact. Your hungry kids will whine a whole lot more than normal. As a mom, I just can't fit all that extra whining in our busy schedule. I have to be one step ahead at all times to make sure to stop them in their tracks before the very first "
I'm hungry
" starts.
This is super important during the hours between when that school bus rolls up and dinnertime. Sure, if we had all the time in the world, I would meet them at the door with an apron on and a tray of freshly baked cookies for them to enjoy as they leisurely do their homework.
Yeah, that isn't happening in my house these days! With all the homework, sports, and after-school activities for three kids, they barely have time to grab a snack as we rush around. If I'm not careful, that excruciating whining and fighting will begin based solely on the fact that they are hungry and don't know how to handle it.
One of the ways that I make sure that I'm ready with snacks, especially for those days that we are rushing back out the door, is to make mini snack grab bags. I take some of my kids' favorite snacks and combine them into a "grab bag" to give them a variety of what they love. Today, we did Horizon Organic Snack Grab Bags.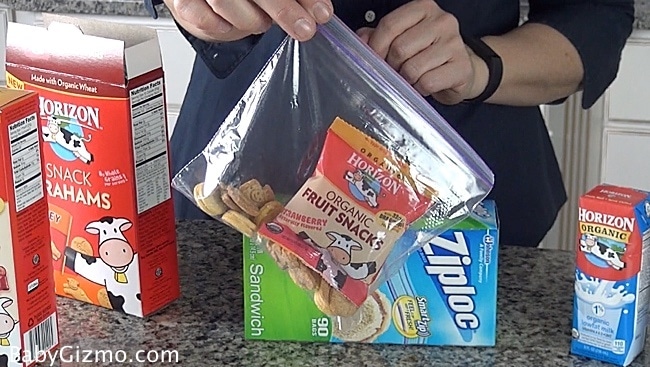 I added the new Horizon Snack Grahams, Horizon Sandwich Crackers and Organic Fruit Snacks to make individual bags that were ready to go when we ran out the door for soccer. I don't put a ton of each item in the bag but just enough to give them a variety.
I'm a big fan of Horizon snacks because they are easy to grab and my kids love them because they taste great.  I like making my snack bags with them because Horizon steers clear of high fructose corn syrup or artificial colors, flavors or preservatives. Plus, the Cheddar Sandwich Crackers are made with certified organic ingredients such as real organic cheese, and the Snack Grahams are made with 8 grams of whole grains and organic wheat.
Sure, I do a ton of fresh fruits, veggies and homemade snacks too, but these are good things I look for when I need to get easy-to-grab snacks for the kids for a treat. My 5 year old usually determines what the snack is going to be for the day (yep, the youngest rules the roost around here!) and these are some of his favorites.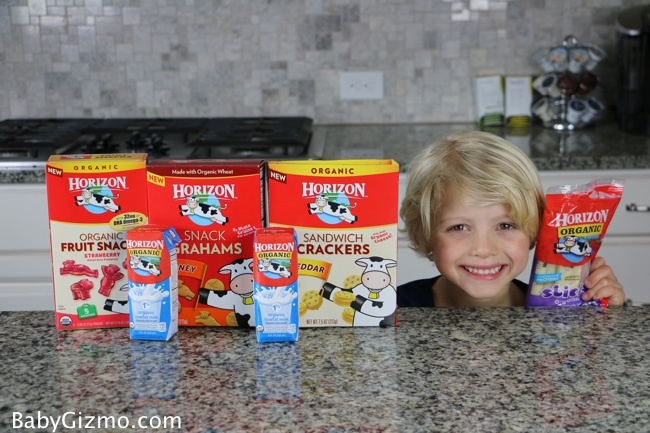 Since we never do the same thing every day, sometimes his snack of choice is cheese sticks and milk boxes. Of course, I'm going to say yes when he is requesting milk and cheese for a snack! The Horizon Organic Milk Boxes and Mozzarella String Cheese Sticks are great sources of calcium and protein so I'm pretty excited when he voluntarily chooses those over cookies.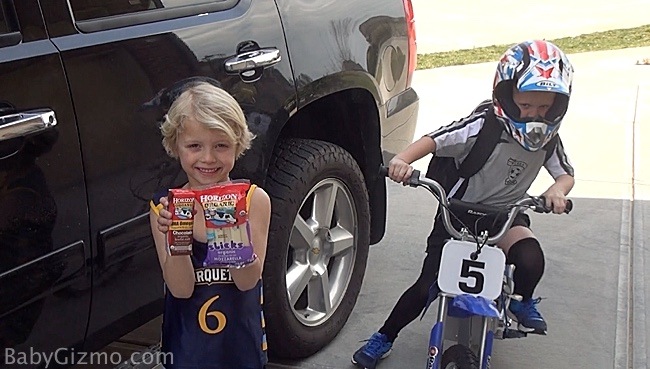 Snack grab bags can be made with any snacks that your kids love. I definitely encourage you to switch it up day after day to keep them guessing and choose things that they not only like but have ingredients that you can feel good about.
Remember if they like the snack you give them, they will eat it, which will hopefully curb the "I'm hungry" whining! If they don't like what you are giving them for snack time, good luck with that because no one's got time for whining. 🙂
If you want to find out more information on the Horizon Organic Snacks that we had today, follow them on their Horizon Organic Facebook Page or Twitter Page.
This is a sponsored conversation written by me on behalf of Horizon Organics. The opinions and text are all mine.