You know we loved the Orbit Baby G2 when we reviewed it a few months ago! (Missed that review?  See and read it here.)   It's a really fab stroller!  Just ask all the chic celebrities (Nicole Richie & Kourtney Kardashian) pushing one.  Okay, we aren't friends with them either!  But if you liked our review, now is your chance to win one for yourself. Orbit Baby is having a pretty cool giveaway for Valentine's Day!
To enter, just "Like" the Orbit Baby Facebook fan page and enter to win the product (Stroller G2, Travel System G2, Bassinet Cradle G2, Sidekick Stroller Board) of your choice.
Here are the prizes: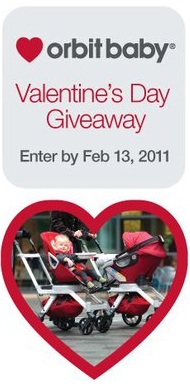 Grand Prize
The winner can select the one Orbit Baby product that they would LOVE to own. Starting Monday, February 7, 2011 and ending Sunday, February 13, 2011. Winner will be announced on Valentine's Day, February 14, 2011.
The winner can choose one of the following Orbit Baby products:
Stroller G2: $750 Value!
Stroller Travel System G2: $900 Value!
Bassinet Cradle G2: $280 Value!
Sidekick Stroller Board for Stroller G2: $120 Value!
2nd Prize
Second prize winner receives a $100 credit voucher to use on shoporbitbaby.com towards the purchase of any Orbit Baby product.
Prize Eligibility
Only persons residing in United States who are at least 18 years of age can enter.
Get all the details at facebook.com/orbitbaby.