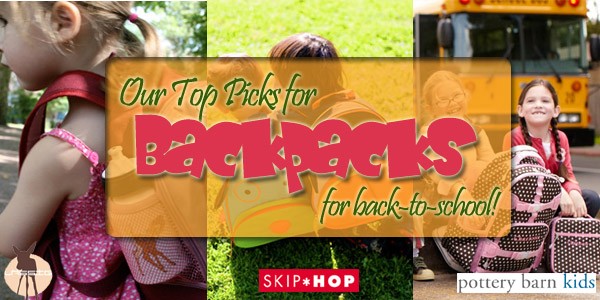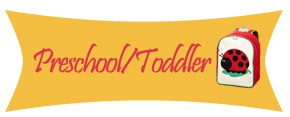 These adorable preschool backpacks are small to fit your toddlers and preschooler's perfectly.  Even though they are called "preschool backpacks", they are big enough for a snack, change of clothes or a few toys but not large enough for a standard folder (a prerequisite to many preschools!).  We use these fabulous backpacks for our little ones so that they can feel like a big kid and tote their own things on the go.
These eco-friendly bags are perfect for your mini book worms.  The small size is perfect for little toddler backs and it features a mesh bottle holder and small zipper pocket on the exterior.  The interior is perfect for a change of clothes, snack and/or a few toys.  Our kids love that there is a bottom zipper compartment on the backpack that is perfect for hiding their "valuables".  Another big hit is the removable zipper pouch on the inside of the bag.  The quality is great and the designs are fun and unique.  24-16-27cm
SHOP Lassig Mini Backpack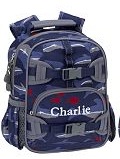 Pottery Barn Kids Preschool Backpack: $26
These adorable PBK preschool backpacks have a bottle pocket and a small zipper pocket on the outside and an interior roomy enough for a little one.  A carry handle completes the backpack on top.  They come in many different colors and styles so there is sure to be a favorite with your child.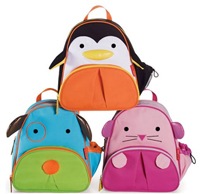 Skip Hop Zoo Packs: $20
The Zoo Packs are adorable backpacks available in a variety of animals!  It has a roomy main compartment complete with two interior pockets for all your preschooler's necessities.  The outside of the bag sports an adjustable side pocket, perfect for a sippy cup or a water bottle, as well as an insulated front pocket, great for snacks or lunch.  The Zoo Pack features padded, adjustable straps plus your standard backpack top carry handle.  The Zoo Pack is BPA-Free, Phthalate-free and PVC Free. 
This pricey backpack would be any princesses dream bag!  A pair of adorable mermaids in an underwater scene are the on front of this precious bag.  An antique map pattern, shades of blue with shimmery polka dots, and aquatic appliqués complete the exterior of this bag.  Comfy padded adjustable straps, inside lining, zip pocket and zip top closure. 13″H x 10″W x 4″D.
–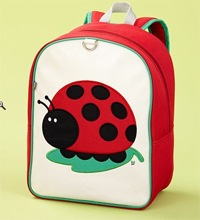 Beatrix Little Ladybug Backpack: $42
While this red and white backpack is missing any exterior pockets, it was too cute for us not to include!  It measures 9″Wx5.5″Dx12″H and is made of durable nylon construction and a laminated canvas front panel. 
SHOP Beatrix Little Ladybug Backpack
–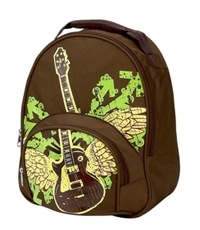 Four Peas Toddler Backpack:  $25
This is a great bag for your little rocker!  The Rocker Toddler Backpack is a chocolate brown bag with very cool dark brown guitar and faded ivory wings. A hip guitar is placed gently on top of a rugged design of green shapes. This toddler backpack is made with 600 denier plus nylon, and is PVC free. It measures 12.50″ tall X 10.5 inches wide by 5.5″ deep and is perfect for children 3 and over. It contains a zipper 3/4 around bag with a pocket on the front that is 5″ tall and a 3/4″ gusset with zipper. There are also 1 in. wide adjustable, padded shoulder straps and a padded carry handle on top.
 SHOP Four Peas Toddler Backpack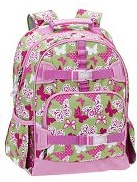 Pottery Barn Kids Mackenzie Backpack: $39-$45
PBK backpacks won't just last one year but multiple years with your little scholar.  They are durable and loaded with pockets including two exterior bottle pockets and an interior laptop pocket.  We suggest the small backpack for your kindergartener and first grader and the large backpack with your older kids. 
–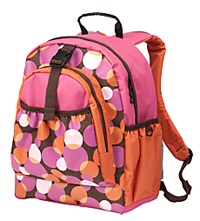 Hanna Anderson Be Right Backpack: $32
Loaded with exterior and interior pockets, this fun backpack has plenty of pockets, padded, adjustable shoulder straps, a rubber grip handle on the tap and is stain and water resistant.  These backpacks come in a variety of colors and patterns for boys and girls.  15 1/2″ x 121/2″ x 6 ½
–
Gap Multi-print DIY junior backpack $24.50
Gap's fabulously cool backpack allows your child to customize it for them. This black and white backpack comes with markers so that your child can color the bag like they want and to ensure that no other kid will have a backpack just like theirs.  The bag sports adjustable, padded straps with a MP3 holder, top padded handle, two side mesh bottle pockets, an exterior zip pocket and a roomy interior.  11″ (L) x 14.5″ (H) x 6″ (W).
–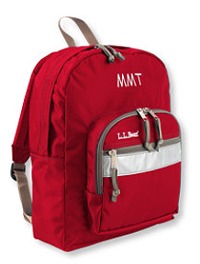 LL Bean Junior Original Book Pack: $22.95
This is a backpack tried and true!  The same great quality as the LL Bean Original Book Packs that have been around for 22 years but in a bit smaller size for your littler ones.  It's available in 6 colors and we love that it sports 3M™ Scotchlite™ Reflective Material on front so that it is highly visible to motorists at night just in case.
SHOP LL Bean Junior Original Book Pack
–
Fleurville Kids' Messenger: $21-$40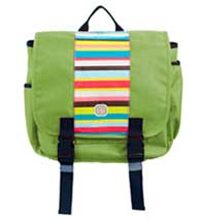 The Fleurville Kids' Messenger bag is perfect for your kids that don't necessarily want a backpack all the time and style is everything. This bag can not only be used as a messenger but as a backpack as well with the included backpack straps that stow away when not in use.  This chic backpack was designed for 5-10 year olds and comes with an adjustable and removable messenger strap, carry handle, removable insulated lunch bag and reflective accents.  10"H x 12″W x 4"D