P.S. I Hate It Here!  Kids' Letters from Camp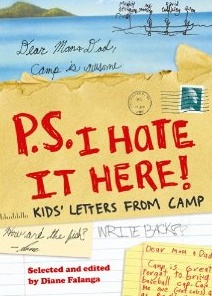 Just in time for camp season, a new hilarious book by Diane Falanga will not only bring back your childhood camp memories but ease your anxieties while your child is away. 
P.S. I Hate it Here: Kids Letters from Camp is comprised of more than 150 actual letters written from kids away at camp covering all the imaginable scenarios of sleep-away camp including loving camp, hating camp, ailments to much, much more.  The author came up with the idea for the book after receiving a homesick letter from her eight-year-old daughter who was away from camp. At first worried, Diane soon began sharing this letter with friends and family, who in turn, began sharing their humorous letters from their kids.
We found that this book is great for moms and dads alike.  Our husbands even sat down to read the letters and found themselves laughing out loud.  One of the dads' favorite letters included: 
Dear Mom & Dad, Grant has his own gun. It is a black 22. cal semi automatic rifle. I got to try it first period. To break the gun in, we just took turns blasting it at targets. I have decided that I don't want a ping-pong table. I really want to get a 22. cal semi automatic black rifle.
P.S. I Hate it Here: Kids Letters from Camp is an easy read, makes a great coffee table book, and is great for the busy mom to pick up and read just a couple letters when all you have are a free couple of minutes.   This collection of letters really captures every imaginable scenario at camp.  We laughed at the requests from kids, the funny ailments, and even the letters begging to be picked up.  The letters are sweet, witty and just downright hilarious. 
The letters are grouped into sections titled:
Just to Let You Know
Camp Ailments
What I Really Need…
Guess What?
Get Me Outta Here!!!
I Like Camp a Lot!
This Is My Supper Letter
P.S.  Thank You
Here are some examples of our favorites in the book:
Dear Dad,

STOP

telling me about all the good tings you guys are doing!  Like the boat going to their house for dinner or the first block party!  You made me very angry!  Love, Your mad daughter
Dear Mom & Dad, I haven't unpacked my stuff yet, I refuse to.  I am hysterically crying!  I hate my life right now!  I haven't been able to eat

anything

(no joking) for breakfast, lunch or dinner since I got here.  I think it is because I am depressed.  I already tried to run away but they caught me.  I just really want to come home!  Love, your unhappy daughter Elizabeth
Dear Family, Camp is so much fun!!  I got ur package the day after I sent the letter.  I love you people so much!  Love, Meredith
I'm still alive!!!  Love, Stanton
We highly recommend P.S. I Hate it Here: Kids Letters from Camp to anyone who's gone to camp, sending a child to camp, or just wants to laugh!