Parents Do Not Follow Car Seat Safety Guidelines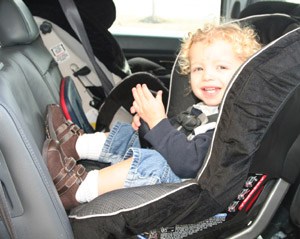 According to a recent survey, many parents are not following the car seat safety guidelines. Since it is still Baby Safety Month, we thought it would be a good idea to post these alarming results of this national survey done by Chicco. Sure, we reminded parents last week during Child Passenger Safety Week by reposting our Child Passenger Safety Best Practice Tips, 5-Point Harness Longer and our Chest Clip Trick videos, but we can never be reminded too much, right?!
In conjunction with Baby Safety Month, Chicco USA is releasing the results of a new national survey that exposes common missteps parents make when it comes to car seat safety.  According to the National Highway Traffic Safety Administration (NHTSA), motor vehicle accidents are the leading cause of death for children between one and 13 years old.  To help keep children safe, Chicco, a leader in juvenile products and car seat safety, is shining a spotlight on this issue and urging parents to follow important car seat safety guidelines.

According to the 2013 Chicco Baby Safety Month Survey, the vast majority of parents recognize that the rear-facing position for children riding in a car seat is the safest.  In fact, nearly 90 percent of parents surveyed said they believe their child should remain rear-facing as long as possible.  However, 58 percent underestimate the minimum age at which it is safe to turn their child's car seat  to forward-facing.

The survey also revealed the alarming statistic that less than one third (31 percent) of parents are following manufacturers safety guidelines as to when to turn their child's car seat from rear- to forward-facing.  Instead, nearly half of parents (49 percent) choose to turn their child's car seat based on comfort, rather than safety.  Top reasons parents transition their child's car seat from rear- to forward-facing include: their child's feet were touching the vehicle seat (31 percent), followed by their child being too uncomfortable (10 percent) or fussy (8 percent) when rear-facing.

"Children should remain rear-facing as long as possible, according to manufacturers' guidelines," said Julie Prom, child passenger safety advocate for Chicco.  "This is the safest way to travel in a motor vehicle.  It is okay for the child's feet to touch the vehicle seatback or even be crossed in front of the child.  Children are comfortable in many positions, unlike us less flexible adults.  It is when a child is turned forward-facing that they are at higher risk for leg injuries, as well as head and neck injuries."

The survey also revealed that many parents report that installing a convertible car seat was difficult (19 percent) and overwhelming (40 percent), yet only 15 percent sought out professional help to install it.  In most cases, certified technicians will inspect child car seats free of charge and show how to correctly install and use it.  Parents can find a car seat inspection station by visiting the NHTSA website.
Are you shocked by the results?
*SURVEY METHODOLOGY
This survey was conducted online within the United States by Chicco from September 9-11, 2013 among 533 parents who currently have a child using a convertible car seat.