Know a child who is curious about the world? A cool monthly subscription program called Little Passports can teach him or her all about geography and different places in a very fun way. Plus, it makes a great alternative holiday gift!
Little Passports is centered around two characters, Sam and Sofia. Each month, they travel to a new place (or places) and mail your child an exciting package.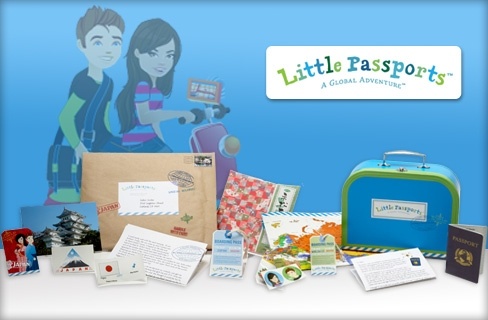 In the World Edition, Sam and Sofia visit one country per month and send your child a package containing a letter, photos, unique souvenirs, stickers, access to online games and activities, and more. A total of 24 monthly adventures is available. The recommended age range is 5 to 10 years old.
In the USA Edition, Sam and Sofia visit two states per month and send your child a travel journal full of activities, stickers, postcards, pop-out models, and access to online content. A total of 26 monthly packages is available for all 50 states, including a first month starter Discovery Kit. This edition is recommended for kids ages 7 to 12.
Both the World and the USA editions range in price from $10.95 per month to $13.95 per month, depending on your monthly plan. Plus, there is currently an Early Bird Special going on that will give you $5 off a 3- or 6-month subscription or $20 off a 12-month subscription. That seems like a very fair price to me for a whole lot of fun! Besides, seeing your child excitedly run to the mailbox each month is priceless. I only wish they had an edition for younger kids so I could get my boys started!
To learn more about Little Passports and to start a subscription, head over to littlepassports.com.